A New True Crime Documentary Has Put This Mind-Bending Case Back Into The Spotlight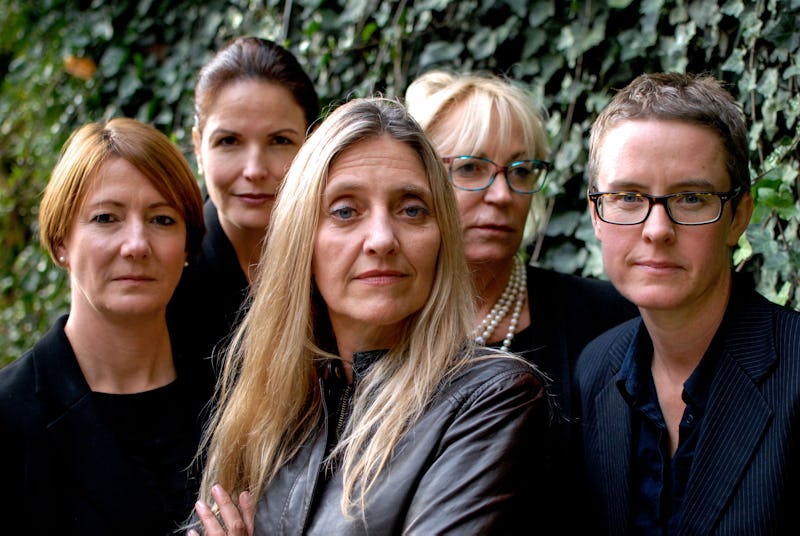 BBC/Raw TV/Nick Mattingly
For UK viewers awaiting their next true crime obsession, the answer may well come in the form of the BBC Two show, Conviction: Murder in Suburbia. The two-part documentary follows Inside Justice investigators as they re-examine the 2002 disappearance of Linda Razzell and subsequent murder conviction of her husband, Glyn. So, who is Glyn Razzell? And why is speculation about his prosecution intriguing enough for its own show?
Glyn Razzell first came to public attention in 2002 when his estranged wife Linda went missing on March 19, 2002 on her way to work at Swindon College in Wiltshire, the Guardian reports. Its believed that on the day of her disappearance, Linda — a 41-year-old learning support assistant — left home at 8.40 a.m. and parked her car on a street near to her workplace but never actually arrived at work. Neither Linda nor her remains have ever been found.
Despite the lack of body, Linda's husband Glyn was charged with murdering Linda in May 2002 and later convicted in November 2003, following a murder trial in which he pleaded not-guilty, the Guardian reports. Glyn Razzell has consistently denied that he committed the crime. The Mirror reports Glyn and Linda were in the midst of divorce proceedings when she disappeared. Indeed, the couple's divorce were reportedly due to be finalised in July 2002 (four months after Linda went missing), according to The Sun, with the prosecution alleging that Glyn killed Linda after she won a court order freezing his bank accounts.
So why is the story back in the news? Well, Glyn has continued to deny his guilt and fight his conviction. A former investment banker, the Mirror reports he has previously suggested Linda staged her own murder — and implicated him in the crime — to start a new life. In scenes from the first Conviction: Murder in Suburbia episode, Glyn still raises the possibility of Linda being alive, as well as denying all involvement in her disappearance and possible death. He tells investigator Louise Shorter: "I had nothing to do with [Linda's] disappearance at all and I don't know whether she's dead or not for sure."
Despite maintaining his innocence, Somerset Live reports Glyn's "numerous appeals" contesting his murder charge have all thus far been rejected. Indeed, vital evidence in Glyn's original murder trial — and what is believed to have been the most significant factor in his ultimate conviction — is the fact that Linda's blood was found in the boot of a friend's car which Glyn was driving on the day she went missing. According to the BBC Two Conviction: Murder in Suburbia episode guide, Glyn has always protested that the blood was planted in the vehicle and that Linda's death was" staged," but it seems this argument has never held up in court.
So, what can we expect from Glyn in Conviction: Murder in Suburbia?
Conviction: Murder in Suburbia follows registered charity Inside Justice as its investigators re-examine the disappearance of Razzell. Led by Louise Shorter, the almost entirely female team — which includes criminal lawyers, ex-police officers, and forensics experts — will review Linda's disappearance, as well as the evidence presented in Glyn's murder trial, to see whether there really has been a miscarriage of justice.
While Glyn Razzell maintains he had no involvement in the disappearance of his estranged wife, viewers at home will have to wait to make up their own minds about the true nature of Linda Razzell's disappearance when Conviction: Murder in Suburbia airs this week or on iPlayer. Let the debate begin.
Conviction: Murder in Suburbia will air at 9 p.m. Tuesday & Wednesday on BBC Two