This Country Artist Has A Song That's Actually Perfect For 'The Bachelorette'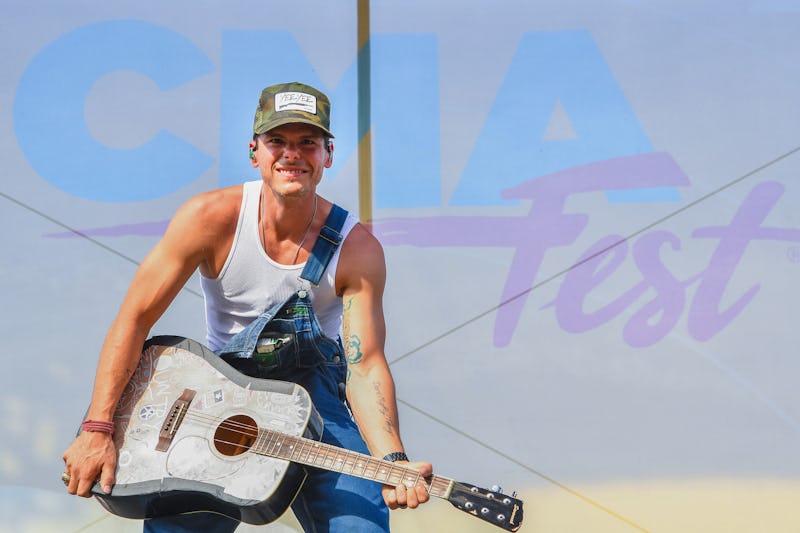 Erika Goldring/Getty Images Entertainment/Getty Images
Becca's season of The Bachelorette has already featured guest appearances from celebrities like comedian Fred Willard and rapper/turn-upper Lil Jon, and it looks like the list of famous faces joining Becca on her journey to love won't end there. As confirmed on his Instagram earlier in June, Granger Smith will perform on The Bachelorette during Monday's show. This news may be met with praise from some and an overwhelming "huh?" from others. So, for viewers who aren't in the know: Who is Granger Smith?
The first thing curious fans need to know about the country singer is that he will be joining a storied Bachelor and Bachelorette tradition: the one-on-one date that miraculously features a performance by a musician. One-on-one dates are common in this franchise, but only a few of them feature a special treat for the lucky couple. Picture it: They move from their meal to a large, open space, usually with quaint yet romantic lighting, and one other surprise guest. This one-on-one date now has a third person involved, and that person is a musical artist singing a song about love.
Smith, per ABC News Radio, will be performing his latest single, "Happens Like That," which features lyrics about falling in love at first sight — which is basically what the contestants of The Bachelorette are counting on from the moment they step out of the limousine. "One look and you never look back," Smith croons.
One-on-one musician dates may seem romantic, but they feel pretty awkward upon further consideration. How much should the couple kiss when there is just one other person in the room looking directly at them? What is it like to play music for people who are too busy making out to pay attention to the performance? Is it rude to make out with someone while another person is playing music specifically for you? And how weird is it to be on a date when the only other person in the room is a rising country music star?
While The Bachelor and The Bachelorette have often featured relatively lesser-known artists in the role of date serenader, Smith won a 2016 BMI Award for his single "Backroad Song." In 2017, he was nominated for Best New Country Artist at the iHeart Radio Music Awards. And he's collaborated with some of the biggest names currently in country music — Smith wrote "Happens Like That" with Florida Georgia Line's Tyler Hubbard, Justin Wilson, and Andy Albert.
Still, Smith has had a long journey in the music industry leading up to his Bachelorette appearance. For the past six years, Granger Smith has been releasing songs both as himself and his alter-ego Earl Dibbles Jr., a satirical dip-chewing, farm-working character with songs on his roster such as "The Country Boy Song" and "Country Boy Love" It's clear Smith has a sense of humor, meaning his Bachelorette appearance could be memorable for reasons other than his songs. His ability not to take himself too seriously certainly seems to make him a good fit to serenade down-for-a-laugh Midwesterner Becca.
Granger Smith isn't the first country musician to appear on an episode of The Bachelorette, and it's a safe bet that he won't be the last. And who knows — "Happens Like That" could be the song that scores the very first dance between Becca Kufrin and her future husband. Alternatively, it could be the song that Becca listens to while standing alone after dumping her one-on-one date, much like Sean Lowe was forced to do in his season of The Bachelor. Whatever role Granger Smith plays in Becca's journey to romance, "Happens Like That" seems almost custom-written for the occasion.