Texas' Governor Has Issued An Ominous Warning About Hurricane Harvey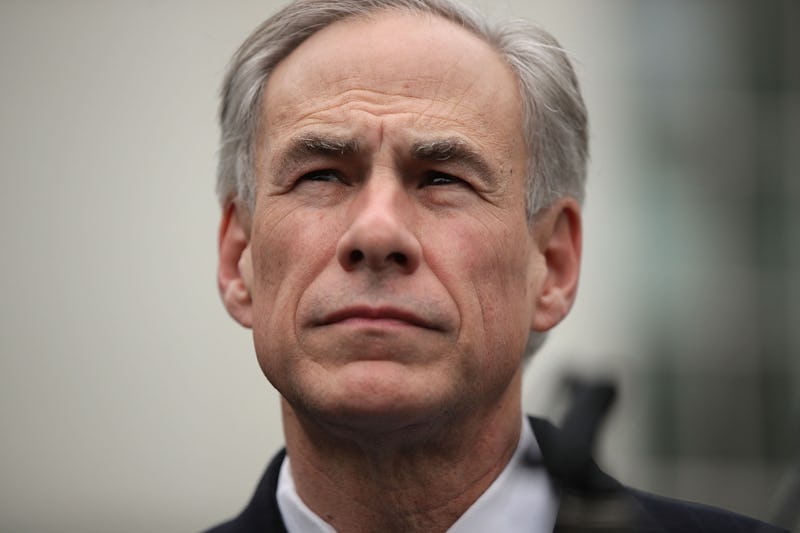 Alex Wong/Getty Images News/Getty Images
The state of Texas is currently bracing for the impact of Hurricane Harvey, which is expected to make landfall late Friday or early Saturday. It's currently a Category 3 hurricane, and it's projected to be the most powerful storm to hit the United States since Hurricane Wilma in 2005. The situation is severe, which is why Texas governor Greg Abbott spoke out on the looming disaster on Friday afternoon.
"You have the power and ability right now to be able to avoid being stuck in a search and rescue situation," Abbott said, as detailed by Austin ABC News affiliate KVUE. "If you make the decision to get out of harm's way before it's too late."
Abbott also said the state is currently preparing resources to help deal with the storm and its after-effects, in particular sending a declaration of a major disaster to President Donald Trump to facilitate the transfer of federal resources. Texas lawmaker Sheila Jackson Lee, the Democratic representative from the state's 18th congressional district, has similarly called on Trump to declare a federal disaster area for the places struck by Harvey.
If you're not familiar with Abbott, that's not necessarily surprising. Although he's the governor of one of the biggest states in the country, he's kept a far lower profile to date than his two most recent predecessors, former Texas governors George W. Bush and Rick Perry. He entered office in 2015, having previously served as the state's attorney general, and having won election on the strength of a far-right set of policies.
In particular, Abbott has been a strident opponent of women's reproductive rights, having backed and supported the raft of so-called TRAP laws (targeted regulation of abortion providers) that drastically cut abortion access across the state. Two of those core regulations were struck down by the U.S. Supreme Court in 2016. Abbott subsequently signed two more bills restricting abortion access in 2017.
During a press conference about the threat posed by Hurricane Harvey on Friday, Abbott urged residents living in areas in the path of the storm ― along the middle and upper Texas coast in particular, with the storm expected to first make landfall in Corpus Christi ― to evacuate. According to the National Hurricane Center, those parts of the Texas coast are expected to be hit by winds of more than 111 miles per hour, and rainfall levels between 15 and 25 inches.
Abbott also announced that undocumented immigrants would be allowed into hurricane evacuation centers without having to provide identification. Immigrant activists and advocates have also bemoaned reports that Texas border patrol checkpoints will remain in operation, even as some people attempting to cross could be caught up in the storm.
Abbott himself has experience with suffering grievous physical harm as a result of adverse weather, although it wasn't because of a hurricane. Abbott was partially paralyzed back in 1984 when a tree branch fell on him following a storm, confining him to a wheelchair at the age of 26. Currently 59 years old, Abbott will face reelection in 2018, and based on his recent approval ratings ― he sat at 60 percent in July ― he seemingly has a strong chance of winning a second term.