The White House Could Pick Its Own Lawyer To Become A Federal Judge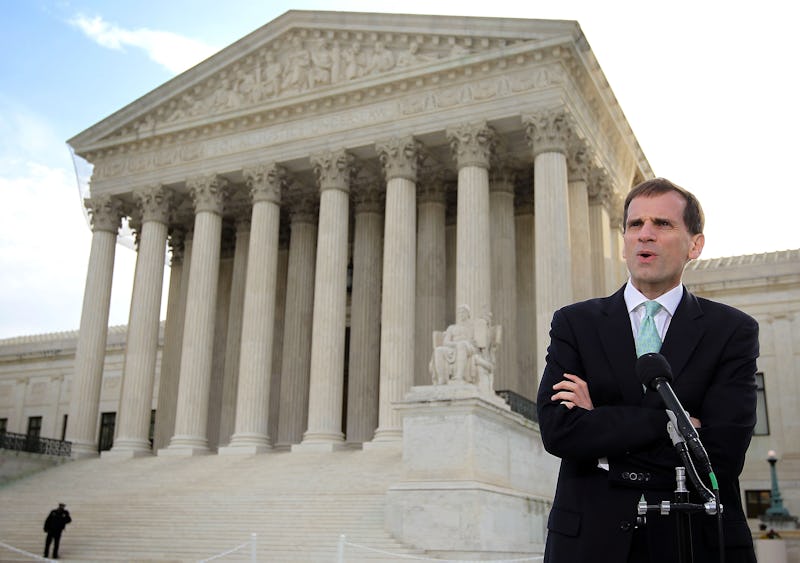 Alex Wong/Getty Images News/Getty Images
Since taking office in January, President Donald Trump has been slowly and methodically working to fill more than 100 judicial vacancies. While nothing has been confirmed yet, rumors regarding the president's potential judicial pick for a court often viewed to be a "feeder" court for the Supreme Court are already raising eyebrows. According to NPR, deputy White House counsel Gregory Katsas could soon be a federal judge. Katsas is rumored to be among the top contenders for a seat on the U.S. Court of Appeals for the D.C. Circuit.
While the White House has so far refused to comment on Katsas' potential nomination to the D.C. Circuit Court of Appeals, NPR argues the move could prove highly controversial as it might lead to Senate confirmation hearings where the Trump administration's many legal issues become prime targets for criticism and scrutiny:
In a confirmation hearing for a lifetime-tenured judgeship, especially on the D.C. Circuit which is known as a "feeder" court for the U.S. Supreme Court, all of those issues could be fair game, veterans of the judicial nominations process said. Katsas could be asked about his involvement, knowledge and advice on a host of controversies, though the White House could decide to assert legal privileges over his communications with the president.
The White House announced Katsas would serve as both deputy assistant to the president and deputy counsel to the president in March. Prior to that he served Trump during the transition as a member of the so-called "landing team" for the Justice Department. He is reportedly very close with White House Counsel Donald McGahn, having worked with him previously at the Jones Day law firm.
However, this isn't Katsas' first time working in the White House. For the last six months of George W. Bush's presidency in 2008 Katsas served as assistant attorney general for the Civil Division of the Justice Department. Prior to that he'd worked as deputy assistant attorney general, principal deputy associate attorney general, and acting associate attorney general.
"In these positions, he handled or supervised most of the Federal Government's leading civil appeals, and oversaw the Civil Division's enforcement activities under the False Claims Act and the Food, Drug, and Cosmetic Act," a White House biography for Katsas noted.
Katsas' resume also boasts a clerkship for Supreme Court Justice Clarence Thomas and a stint as executive editor of the Harvard Law Review. In 2012, while with the Jones Day law firm, Katsas argued a constitutional challenge to the Affordable Care Act before the Supreme Court. He holds degrees from both Princeton University and Harvard Law School.