Why Hagood Coxe Is The Best Addition On 'Southern Charm: Savannah' This Season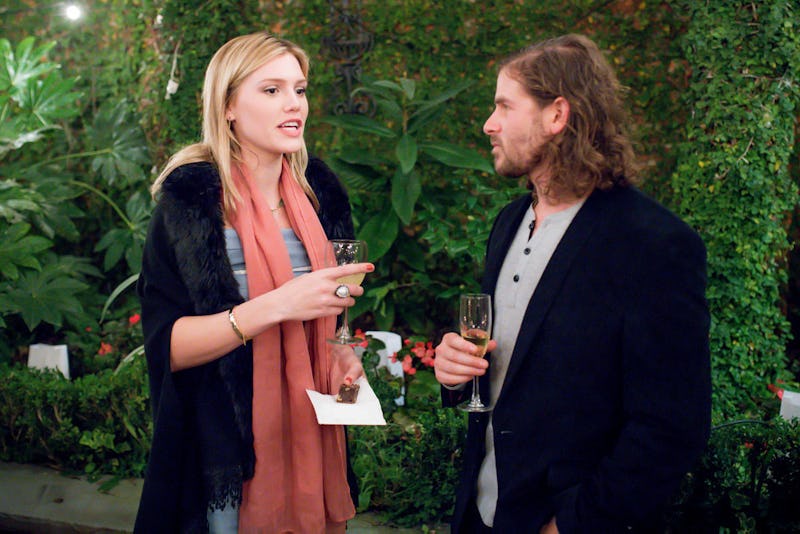 Marcus Ingram/Bravo
Nothing like some new faces to stir things up on a reality show, which is precisely what Southern Charm Savannah is doing in its second season. The first was more "getting to know you" than "getting to be interesting," and now, in Season 2, Southern Charm Savannah has fresh meat and, as the preview says, it's time to let their freak flags fly. Of her casting, Hagood Coxe tells Bustle, "It seemed like an interesting thing and a cool opportunity!" So who is Hagood Coxe on Southern Charm Savannah and how will she fit in with the crew? This entrepreneur is super psyched to be a part of it all.
Hagood met the cast of Southern Charm Savannah through her boyfriend, Alex and was eventually approached by producers to join in on the fun. "He's friends with Lyle, so I started hanging out with that group of friends, and I was in Croatia when I got the call from one of the producers that they wanted me for the show," Hagood says, "I'd heard about the show, but I'd never seen it, so I didn't know much about it… I wanted to start my business and I thought it would be great publicity for it." Fun and business-minded? Viewers are going to love Hagood.
That's not to say that it's easy being the new kid on the show, though. Hagood is a number of years younger than the rest of the cast, and while they get along, sometimes their struggles aren't necessarily hers. "I'm pretty mature for my age, but dealing with their problems, like the fact that they're wondering, should they get married, talking about they've been dating for five years, what's going to happen?" she says. "That is just beyond me, and I do my best… you'll obviously see later and throughout that I try to answer these questions but really, but without any experience with it, it's hard. I do my best to relate, she adds.
Hagood made it through being the new girl in a tight group of friends ("We made it through! We're all still friends," she says), even taking the group out for more outdoorsy, muddy activities than they were used to. Hagood grew up on a farm (her father runs Carolina Plantation, which grows and sells heirloom rice), so she's used to getting down and dirty. In Season 2, Hagood says she tries to take everyone into situations they've never been in before.
"I make every possible effort to try and bring the show into a sort of low country, outdoorsy kind of feel," she says. Hagood adds, "That's something, when I got on the show, I just didn't see the show as something to be filmed — I saw it as a creative endeavor. How can we represented Savannah really well?"
A graduate of SCAD and, according to Bravo, a freelance scientific illustrator (those are the drawings you see in textbooks and the like), Hagood is taking some of her creativity and turning it over to her family's farm. They have all this rice, she figured, so why not try and make sake? Season 2 of Southern Charm Savannah will document her trying to get this endeavor off the ground.
"You know, my dad's been growing this rice for about 20 years now, it's heirloom grain, the first grain to come into South Carolina, or the United States in general, and so my idea was to use what my father has and make it my own," Hagood says. "I plan on taking over the farm and plantation on my own anyway, so I wanted to make my own mark. I love sake, so it was kind of like, I have rice, why not try it?"
So far, she's teamed up with Austin-based Texas Saké for test batches of sake, and, once she has a recipe of her own, viewers can expect to see her Carolina Gold Sake in restaurants, gourmet markets, and online by the end of 2018, she says.
But Hagood is far from all work and no play — her favorite parts of the season of Southern Charm Savannah were when the cast was actually able to get together and do something fun. "What I'm most happy and excited about are the group things that we do together. I really love us all getting along and being friends and having a good time," Hagood says. "I think that comes more easily this season because we're closer friends. Drama does happen, but I am excited about seeing the fun part of it," she explains.
Luckily, viewers are excited for both the fun and the drama, and we'll just have to watch Hagood on Southern Charm Savannah (and maybe eventually sip some of her sake) to see what happens.