This TV Exec Said "Republican" Las Vegas Victims Don't Deserve Sympathy In Disgusting Facebook Rant (& Then She Was Fired)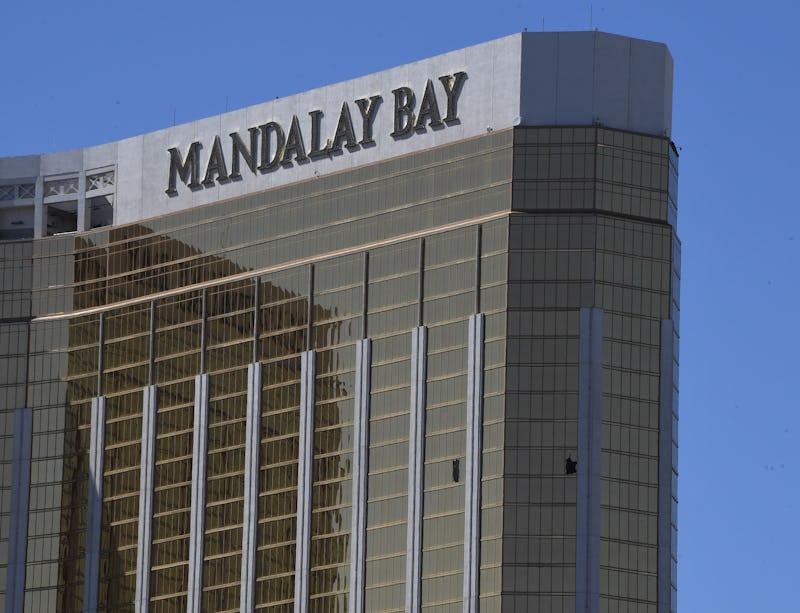 MARK RALSTON/AFP/Getty Images
Tragedy struck on Monday when a gunman fired on the audience at a country music concert in Las Vegas, killing 58 people and injuring at least 527 more. It was the most deadly mass shooting in modern U.S. history, and led to an outpouring of support and grief for the victims. One person wasn't so sympathetic, though: A network executive was fired for saying that she doesn't feel sympathy for the Las Vegas shooting victims, because "country music fans often are republican [sic] gun toters."
Hayley Geftman-Gold, a now-former vice president and senior counsel of strategic transactions at CBS, posted in a Facebook thread:
If they [Republicans] wouldn't do anything when children were murdered I have no hope the Repugs will ever do the right thing. I'm actually not that even sympathetic bc country music fans often are republican gun toters.
CBS soon announced that Geftman-Gold is no longer an employee of the company.
This individual, who was with us for approximately one year, violated the standards of our company and is no longer an employee of CBS. ... Her views as expressed on social media are deeply unacceptable to all of us at CBS. Our hearts go out to the victims in Las Vegas and their families.
As a legal executive at the network, Geftman-Gold did not work directly with CBS' news division.
Authorities say that the gunman was perched on the 32nd floor of the Mandalay Bay Hotel and Casino when he fired on the crowd of the Route 91 Harvest Festival on Sunday night. When SWAT teams arrived at the gunman's room, they found at least 20 rifles, hundreds of rounds of ammunition and multiple high-capacity magazines, according to The New York Times. The shooter himself was dead from a self-inflicted gunshot wound by the time the police showed up, Fox News reported.
At time of wrting, the gunman's motives are unknown. The Islamic State of Iraq and Syria claimed responsibility for the shooting on Monday, saying in a pair of statements that the shooter had converted to Islam and was a "solider" of ISIS. However, the terrorist group presented no evidence for this claim, and the FBI quickly said that they had no reason to believe the gunman was connected to any foreign terrorist groups, ISIS or otherwise.
FBI Special Agent in Charge Aaron Rouse told a press conference Monday:
As this event unfolds we have determined to this point no connection with an international terrorist group. ... As this investigation continues, we will continue to work with our partners to ensure that this is factually, thoroughly and absolutely investigated, to be able to bring comfort and peace back to this community.
Nevertheless, ISIS repeated the claim later in the day that the Vegas shooter was acting on the group's behalf. One terror expert said that this might simply be an attempt by the group to remain relevant in the eyes of its supporters. As University of Maryland terrorism researcher Herbie Tinsley told BuzzFeed:
To some degree, you need to be able to attempt at least to show that you are still effective, and the effectiveness they have seen in terms of attacks on the U.S. have been somewhat limited. ... Jihadists do not primarily message to Westerners. They're more often and more specifically for those who are already in their camp or sympathetic.
Mandalay Bay was on lockdown immediately after the shooting, and canceled all of its scheduled shows for Monday.
On Twitter, President Donald Trump offered his "warmest condolences and sympathies to the victims and families of the terrible Las Vegas shooting"; he did not refer to it as a terrorist attack.