Heather Morris' Husband Taylor Hubbell Is Amazing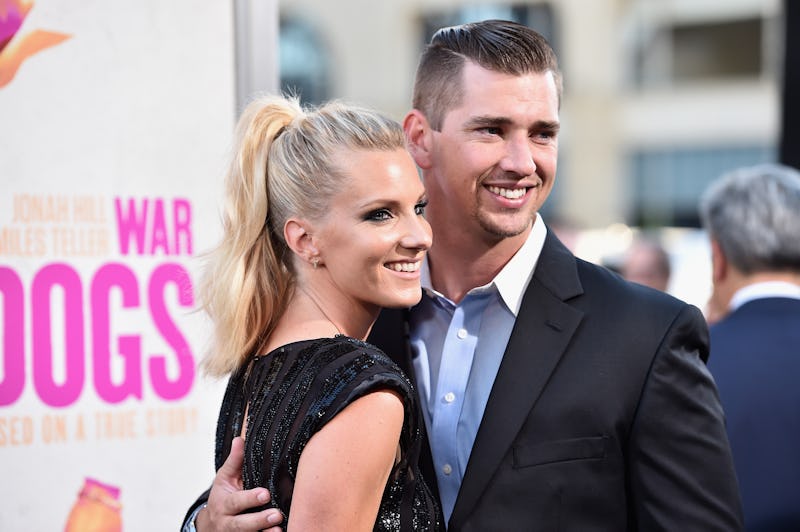 Alberto E. Rodriguez/Getty Images Entertainment/Getty Images
If you're excited about seeing the Glee star on the small screen again on the regular thanks to her upcoming stint in Dancing With The Stars, you might be wondering about her personal life as well as her professional. And no one could blame you for wondering who Heather Morris's husband is, exactly. You are but human. Plus, if you 'shipped Morris' Glee character Brittany with Naya Rivera's Glee character Santana, it might feel like a rude awakening to see that Morris is married — and to a male of the species.
So who is the fortunate Taylor Hubbell? The pair went to the same high school in Arizona, but that isn't how they met; they never made contact during that time. Nope, they did internet dating before that was a thing. When Morris moved to L.A., Hubbell contacted her via MySpace, and the pair hit it off. At the time, Hubbell studied Political Science and Government at the the University of Louisiana at Lafayette, and, in a 2011 interview, Morris waxed lyrical about her feels, saying she'd happily give up her career to be with Hubbell:
"I want to marry him so bad. That's what I really care about. I want to marry Taylor and have kids with him. I love acting, but if it affects my relationship, then I won't continue doing it."
After graduating university, Hubbell began living with Morris in Los Angeles in 2012. She gave birth to their first child, a boy named Elijah Beckwith Hubbell, in September 2013. Elijah got a brother Owen Barlett Hubbell in February 2016.
But it wasn't all babies; there was time for romance, too. This pair of turtledoves got engaged in 2014 and got married in 2015. There are photos of this event, and I suggest we feast our eyes on them for a moment.
Kind of unbelievably, despite being wedded to a celebrity, Hubbell, just like you, is on LinkedIn. As such, I can tell you what he does for a living: he is currently Director of Membership and Marketing at North Ranch Country Club and, prior to that, he worked as Membership Director at the American Golf Corporation.
But nobody is just their job, and Hubbell's no exception to this. According to his Instagram, he looks like an attentive and devoted father who loves getting goofy with his family. His Twitter bio reads:
"Husband, Father of 2 Boys, Brother and Son. I've got the best family anyone could ask for."
Basically, this guy is 100 percent devoted to his loved ones.
In short, Hubbell is sporty, sweet, and totally besotted with his family. So, make this pair your new relationship goals.