Why A Democratic Aide Was Arrested Leaving The Country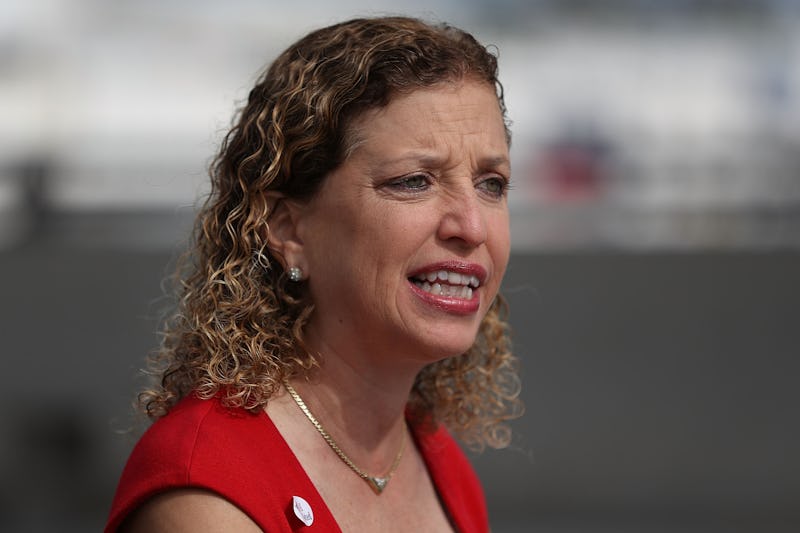 Joe Raedle/Getty Images News/Getty Images
An arrest for alleged bank fraud has never received so much attention before. On Monday, an employee of Democratic representative Debbie Wasserman Schultz was arrested at Dulles International Airport outside Washington, D.C., on one count of bank fraud. He was flying to Pakistan with a return planned for January but federal officials worried he might not return and arrested him on the spot. Who is Imran Awan? The Democrats' IT guy is now mixed up in two investigations and is unable to leave the country.
Fox News reported that Capitol Police, the FBI and Customs and Border Protection all worked together to keep Awan from boarding his plane to Doha, Qatar; from there he was connecting to Lahore. The reason was one charge of bank fraud, to which Awan plead not guilty to on Tuesday. He was released but had to turn over his passports, wear a GPS tracker, and agree to curfews.
This arrest might not have drawn so much attention, but right-wing media personalities like Geraldo Rivera drew attention to the case because of another investigation into House IT equipment. In February, POLITICO reported that Awan's network access had been cut off and that several of his family members were under investigation for an "alleged procurement scam." Five total House employees were investigated for stealing computers and other electronics.
No arrests have been made in that case, but it does explain the sudden interest in the case. Rivera, for example, tried to paint Awan as a possible DNC hacker with Russian ties, despite the fact that the IT investigation has to do with equipment and not network access.
The actual arrest for alleged bank fraud has to do with an attempt to get a $165,000 home equity loan on a rental property he owns, POLITICO reported. The Congressional Federal Credit Union does not allow a home equity loan if it's not your primary residence. Chris Gowen, Awan's attorney, doesn't think the arrest has to do with anything but right-wing media:
This is clearly a right-wing media-driven prosecution by a United States Attorney's Office that wants to prosecute people for working while Muslim. A quick glance at what the government filed in court today confirms the lack of evidence or proof they have against my client.
If any of these allegations were proved true, it could cause issues for a number of Democrats. Awan has ties to as many as 25 representatives with some of the longest ties to Wasserman Schultz and Rep. Gregory Meeks. He was first hired by former Rep. Robert Wexler in 2004. Most of them had cut ties with Awan after the accusations came out, but Wasserman Schultz actually kept him on the payroll in an advisory capacity; that ended Tuesday. She fired him after the arrest.
There's also an unsubstantiated report by The Daily Caller that says police found smashed hard drives at Awan's home. Much of the report reads as conjecture. More will become clear at the first hearing, scheduled for Aug. 21.