Isabelle Huppert Is More Than The Star Of 'Elle'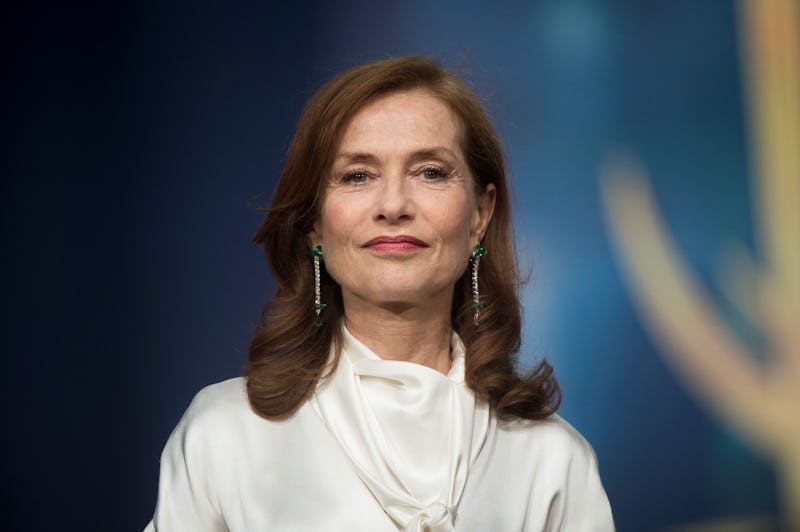 FADEL SENNA/AFP/Getty Images
Isabelle Huppert has been working in front of the camera for over 40 years, ever since making her debut in the French television movie, Le prussien in 1971. She's made movies all over the world, and yet, some American audiences don'ttruly know just who Isabelle Huppert is. Thanks to Huppert's starring turn in Elle, a brutal French thriller about a rape survivor who decides to get revenge on her rapist, the French actor has been thrust into American awards season this year.
An Oscar front-runner, Huppert was recently nominated for her first Golden Globe — a rarity for actors in a foreign film. (Elle was also nominated for Best Foreign Film.) Those just being introduced to Huppert as the French actor taking on Hollywood awards season might be under some impression that she isn't already a highly regarded actor, but that would be foolish. Huppert has starred in over 100 films (she has 131 credits to her name on her official IMDB page), won two Cannes Film Festival prizes for Best Actress, and has been nominated for 15 César awards (think the French Oscars). Though she has only won one, based Huppert's long list of César nominations alone, one would not incorrect to call her the French Meryl Streep.
In Huppert's extremely impressive career, she is perhaps best known for her frequent collaborations with acclaimed director, Claude Chabrol, one of the directors who brought forth the French New Wave. Together, Chabrol and Huppert made seven films, starting when Huppert was in her twenties with 1978's Violette Nozière, and including La Cérémonie (1995), for which Huppert won the Best Actress César. Of course, Huppert's career hasn't been limited to French productions. American audiences might recognize her for her roles in I Heart Huckabees (2004) or The Disappearance of Eleanor Rigby (2013), not to mention one episode of Law & Order: SVU. But, for the most part, she has kept her career mostly within European borders — something which is likely to change in the coming years.
Whether or not Huppert takes home the golden statue at the Golden Globes — or later, at the Oscars — it seems only a matter of time before she is offered a major Hollywood role. And, curiously enough, that's something Huppert would welcome with open arms. When asked if she would sign up for a big, blockbuster, Hollywood production, Huppert answered affirmatively without reservation, "Absolutely," she told NPR's Kelly McEvers on All Things Considered. "I'm an actor, I have no problems about being completely versatile," she said. Huppert added that she'd even be game to play a Marvel superhero, should the opportunity arise. "That would be a good change for me," she said.
Before Huppert comes soaring onto the big screen to save the day, now might be a good time to get familiar with her work, if only so you'll know who to worship in 2017.