Here's What To Know About Ivanka Trump's (Likely) Best Friend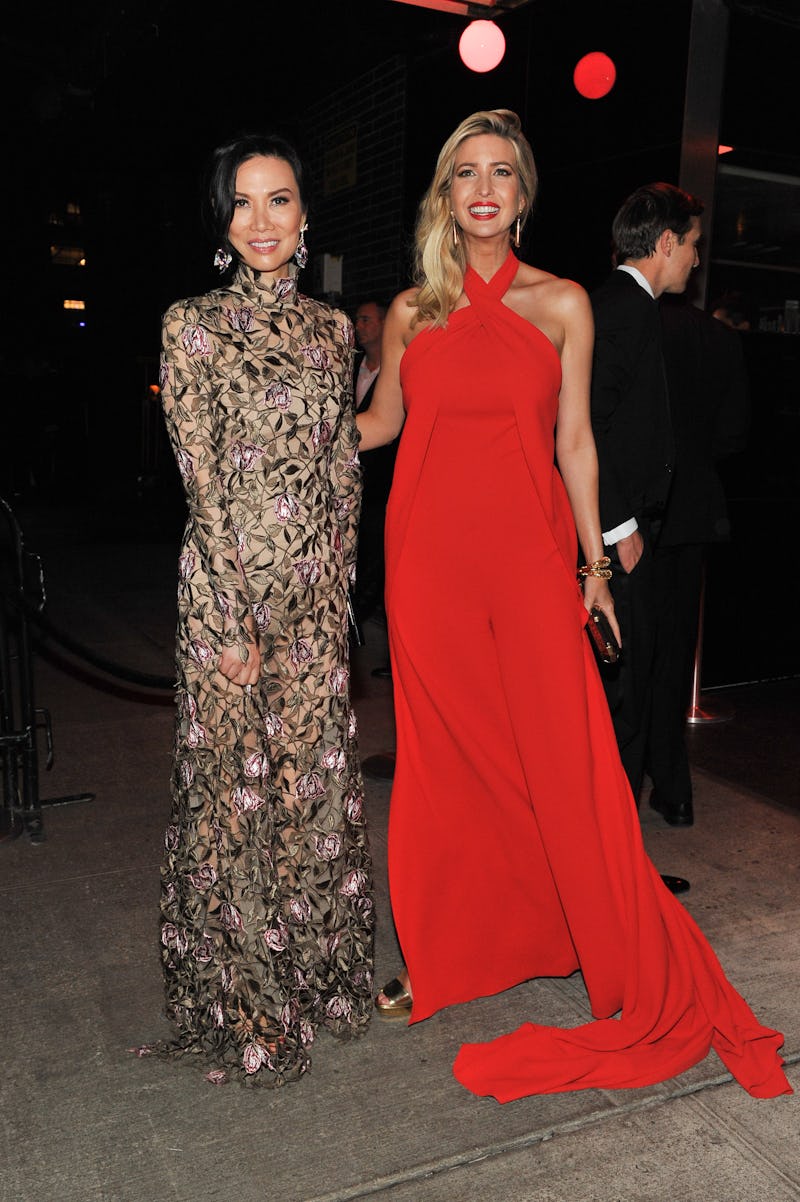 D Dipasupil/Getty Images Entertainment/Getty Images
Ivanka Trump left her New York socialite life behind when she moved to Washington, D.C. to become her father's senior advisor. These days, most of her time is probably occupied with her political responsibilities, three young children, and the myriad scandals developing around her family — but if she does find time to socialize, you can bet Ivanka Trump and her best friend are spending that time together.
According to both Newsweek and Guest of a Guest (a website offering "influential event coverage" and news on "cultural influencers"), Trump's best friend is Wendi Deng Murdoch. The Chinese-American businesswoman is the former wife of media titan Rupert Murdoch (owner of The Wall Street Journal, The New York Post, 20th Century Fox, and HarperCollins). She separated from him in 2013, and though her career is less well-known than that of her husband, it has also been long and successful.
Murdoch, who is 49, has held a wide variety of impressive jobs over her life, from the director of MySpace China to the producer of films like the historical fiction movie Snowflower and the Secret Fan. She was born in China to a poor family, she told Vogue, but worked her way to fame and has now amassed an estimated net worth of $100 million.
Trump has been friends with the businesswoman for years. Murdoch was a guest at Trump and Jared Kushner's wedding in 2009, and her two little children, Grace and Chloe, were the couple's flower girls. Trump served as trustee of the Murdoch daughters' fortune until December 2016, The New York Times reported.
According to The New Yorker, Murdoch is the reason Trump and Kushner are together. After the two broke up in 2008 over religious differences, Murdoch reportedly secretly invited them both to a gathering on her yacht in the hopes that they would reconcile there (it worked).
Trump describes Murdoch as a generous friend. "Everything she has is available to her friends, which, believe me, is not common," she told Vogue in 2016. "There's nothing that doesn't interest her, and she can hit five topics in a 35-second conversation. ... I can't recall the last time I had a conversation with her that didn't conclude with her connecting me to four people who might become great friends or great business opportunities."
It hasn't always been rosy. In January, The Wall Street Journal reported that U.S. counterintelligence officials had approached Kushner about Murdoch in early 2017. According to the paper, they warned that Murdoch could be using her relationship with him and Trump to promote the interests of the Chinese government. A spokesperson for her said she "has no knowledge of any FBI concerns or other intelligence agency concerns relating to her or her associations."
Ties between the Trumps and the Murdochs reach beyond Ivanka Trump and Wendi Deng Murdoch. Donald Trump has long been friends with Murdoch's ex-husband, Rupert, though The New York Times has called their bond "a friendship of convenience." Their relationship came into the national spotlight in January when Michael Wolff's inflammatory book Fire and Fury: Inside the Trump White House alleged that Rupert Murdoch had referred to Trump as "a f*cking idiot."
But the two women seem to remain close. They have been spotted attending a range of events together, from fashion shows to film premieres to the U.S. Open. They have traveled the world as a pair, visiting cities like Dubrovnik, Croatia. Murdoch also attended Donald Trump's Inauguration Ball in 2017 and posted a congratulatory message and photo for Ivanka Trump on Instagram after the event.
Trump has also posted messages honoring her friend on social media. "Wendi Murdoch is one of those friends that inspires you to work hard, be better and laugh louder," she wrote on Instagram in 2016.