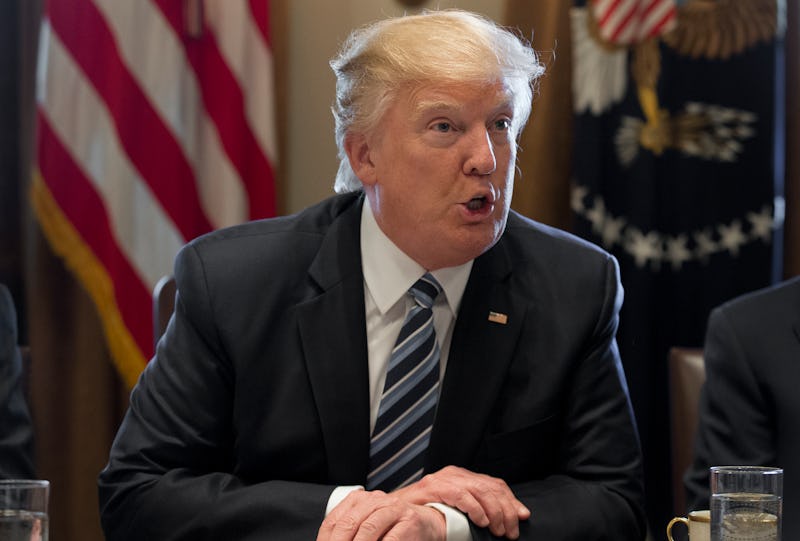 Pool/Getty Images News/Getty Images
On Tuesday, the White House announced that it would nominate James Donovan, a former Goldman Sachs executive, to become deputy Treasury secretary. Another Goldman Sachs banker once again contradicts Trump's campaign promise to drain the swamp. But, who is James Donovan?
The Donovan addition will be the fourth Goldman Sachs banker to the list of White House advisers. His fellow Goldman Sachs alumn include: Gary Cohn, director of the National Economic Council in the White House; Treasury Secretary Steve Mnuchin; and, perhaps most famously, Chief White House Strategist Stephen Bannon.
It's an interesting choice considering it directly contradicts a cornerstone of Trump's campaign, which, according to his final campaign ad, was to replace "a failed and corrupt political establishment with a new government controlled by you, the American people," as Trump himself stated in it. In the "Argument for America" ad, Trump proceeded to rail against "the establishment." Specifically, he alleged there "a global power structure that is responsible for the economic decisions that have robbed our working class, stripped our country of country of its wealth and put that money into the pockets a handful of large corporations and political entities." The ad prominently featured Goldman Sachs CEO Lloyd Blankfein.
Donovan worked at Goldman Sachs for nearly 25 years. While at the investment firm, Donovan worked with companies and individual clients. For example, one of Donovan's most important clients was Bain Capital — a company founded in part by Mitt Romney. That led to Romney becoming an individual client for Donovan. His relationship with the former Massachusetts governor then led to Donovan serving as an economic policy adviser during his presidential campaign.
According to the New York Times, Donovan donated $95,000 to a Jeb Bush PAC in the 2016 primaries. However, Donovan joined the Trump transition team after meeting with the president's son-in-law, Jared Kushner, and has already been working with Mnuchin, according to associates of Donovan who spoke to the Times.
Multiple Democratic senators have raised concerns about the presence of former Wall Street executives and big investment firm leaders in the White House. Sens. Elizabeth Warren and Tammy Baldwin wrote and published a letter on Feb. 9 related to Cohn's role to Blankfein, but it raised larger concerns:
Have individuals employed by Goldman Sachs had any communications with these Goldman alumni related to the Trump Administration executive orders or economic policies since they began their service in the Trump Administration? If so, please provide us with information on who these individuals were, the date, times, and nature of these communications, and any documents related to these communications.
In addition to his time at Goldman Sachs, Donovan is also teaches at the University of Virginia Law School.