If Jamie Demetriou From 'Stath Lets Flats' Looks Familiar, This Is Why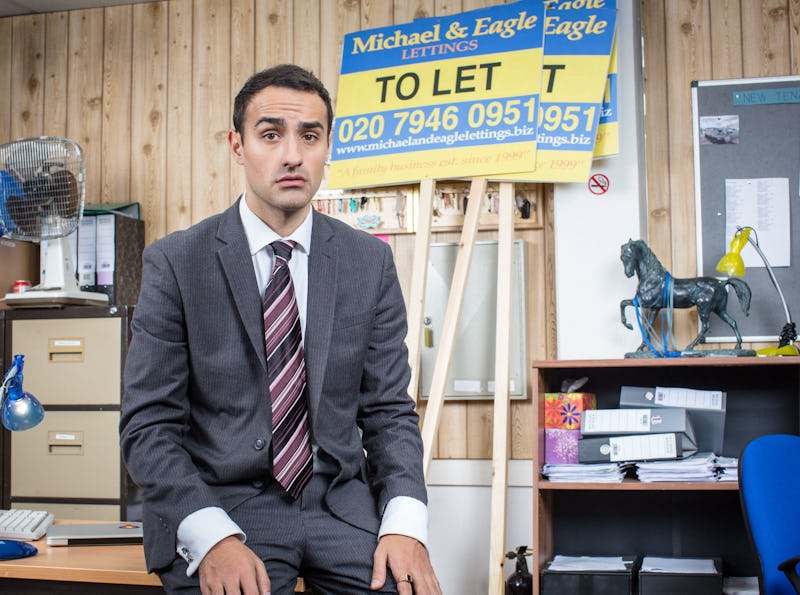 Channel 4
Channel 4's hit comedy series Stath Lets Flats sees Jamie Demetriou in reprise the role of Stath — a hapless Greek-Cypriot letting agent that we first met in Comedy Blaps back in 2013 — this time in his very own series. But, who is Jamie Demetriou? And why is he so familiar to British TV lovers?
Well, Stath Lets Flats series one first premiered in the summer of 2018 on Channel 4. The show follows Stath (Demetriou) as he tries and fails to make progress in his job as a letting agent at Michael & Eagle Lets, a business owned by his family and run by his father, Solaki. The first episode of season one got moderately positive reviews, with The Guardian deeming Stath Lets Flats "the perfect parable for the fractured Brexit age" and The Telegraph dubbing the show, "a fixer-upper with potential". The Times also said Stath Lets Flats "looks promising". Over the following five episodes, the show went from strength to strength, and gained a loyal fan base.
So, let me fill you in on 30-year-old Demetriou. Firstly, he is a British actor, comedian, and screenwriter. The Bristol University graduate was called "a Steve Coogan in the making" by The Independent when he appeared at the Edinburgh Comedy Festival in 2013 and, since then, he's gone on to add some pretty impressive credentials to his CV.
If you managed to catch Sherlock Gnomes in cinemas when it was released in May 2018, you may recognise him as the voice of Moriarty alongside Johnny Depp's Sherlock. Or, you may recognise his face from his many, many TV appearances over recent years.
According to Demetriou's acting CV on his talent agency's (United Agents) website, he has racked up a number of roles in TV series such as This Time with Alan Partridge, Murder In Successville, Gap Year, The Tracey Ullman Show, Love Nina, Friday Night Dinner and Toast of London. Oh, and you should definitely recognise him as Fleabag's creepy love interest, Bus Rodent.
Indeed, during an interview with the Guardian in June 2018, Demetriou acknowledged that it was his Fleabag role that made him a household face. "The scale [of Fleabag's popularity] is like One Direction," he laughed, "it's mad". Nonetheless, you may also recognise Stath, as the actor has actually played this character before.
That's right. Back in 2013, Demetriou appeared as Stath in the Channel 4 short Comedy Blaps, which — like Stath Lets Flats — he also wrote and starred in.
Following Stath's popularity, Channel 4 then commissioned Demetriou to write and star in a whole Stath-centric series in November 2016, which later became Stath Lets Flats. Speaking about his role, Demetriou told Channel 4: "Stath is an imbecile. I hope the only thing I have in common with him is a love of Euro RnB."
So, should you really invest time in Stath Lets Flats? Given the series is also written by Channel 4's go-to-comedy-guy Robert Popper, Stath Lets Flats is certainly worth a watch for regular viewers of Friday Night Dinner.
Stath Lets Flats season 2 airs on Mondays nights at 10 p.m. on Channel 4.