The Tearjerking Story Behind The Dedication In The 'Riverdale' Pilot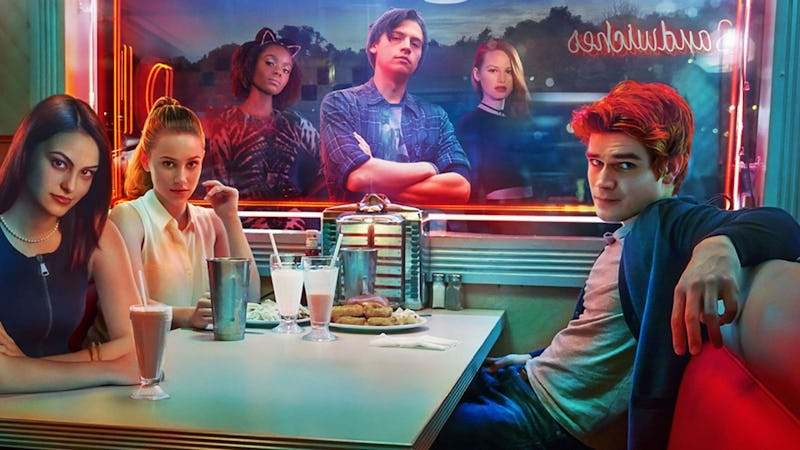 The CW
On the night of Thursday, Jan. 26, 2017, the first episode of Riverdale premiered on the CW with a very special end credits mention. The Riverdale pilot was dedicated to JB Moranville. The end credits card that ran right after the close of "Chapter One: The River's Edge," said, "In loving memory of JB Moranville." However, if the fans watching were not super familiar with the film and TV industry, they may not have known who that dedication was about.
According to Deadline, John "JB" Moranville was a producer on Riverdale before his passing, so the pilot episode tribute to him makes a lot of sense. He had been there for most of the production period, but unfortunately didn't make it to see the episode air. Deadline reported that Moranville passed away in October of 2016, about three months before the episode premiered. His obituary in the Ste. Genevieve Herald reported that Moranville was 72 when he died on location in Vancouver, Canada — where Riverdale films. No further details were offered about the producer's cause of death, but the obituary did mention that memorial contributions could be made to the Alzheimer's Association.
He was survived by a daughter and two sons, and the obituary went into detail about his legacy in the TV industry and his storytelling nature. "He loved life, loved his family, cherished good friends and adored an audience. He never let the truth stand in the way of a good story," the obituary said.
When Moranville passed away, Riverdale creator Roberto Aguirre-Sacasa took to Twitter to commemorate the producer. "140 characters on Twitter is not enough to express my love and gratitude about JB Moranville," he wrote. "Very sad day in Riverdale."
According to IMDB, Moranville was a director and a producer for a number of television shows. His career began in 1979 when he was an associate producer on the mystery competition reality show Whodunnit? After that, he worked as a producer on the original '80s version of Dynasty, the '90s version MacGyver (including two MacGyver TV movies), General Hospital, Drive, Crash, Cult, Crisis, Red Band Society, and the Mario Lopez show Pacific Blue. In 1995, he added "director" to his resume when he helmed an episode of Robin's Hoods, a TV show about a widow running her late husband's business made up of parolees. He also directed episodes of Pacific Blue and 18 Wheels of Justice. His obituary said he won Telly, Aurora, and Davey awards in 2006 for the show Goin' Back. It's a documentary series that he directed.
Moranville may not have been a household name to many, but he was a significant contributor to his industry and a key member of the Riverdale production team in Season 1. It's unfortunate that he didn't get a chance to see the pilot episode air for the public, but it's fitting that the fledgling show honored him by dedicating their first episode to a man who helped make it happen. He may be gone, but he will certainly not be forgotten by those whose lives he was a part of throughout his illustrious career.