Jerry Falwell Jr. Will Lead Higher Ed Task Force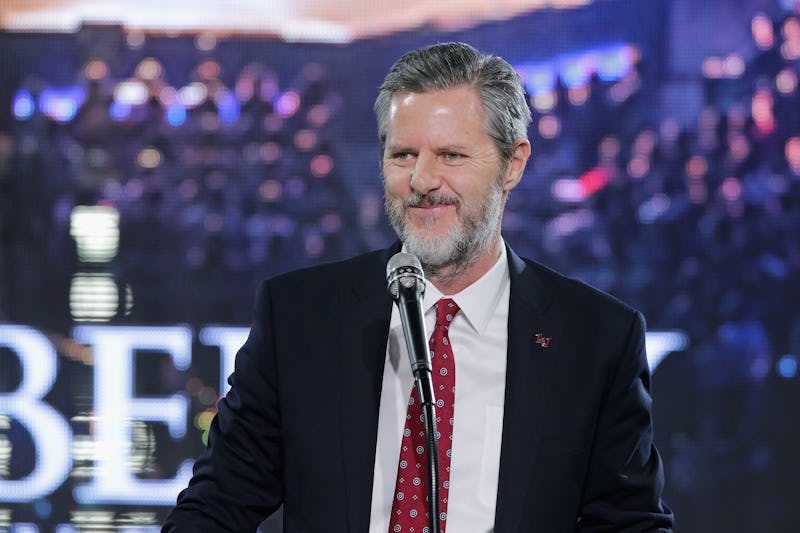 Chip Somodevilla/Getty Images News/Getty Images
The last few months since President Donald Trump was elected has seen him slowly put together his administration. While some Cabinet members have been confirmed, Trump is also looking to other positions to bring in people he thinks will be able to contribute to his presidency. On Tuesday, the Chronicle of Higher Education reported that Trump had created a higher education task force and appointed someone to lead it. You may be wondering, who is Jerry Falwell Jr.?
Falwell is currently the president of Liberty University, a Christian university in Virginia. He also served on a committee Trump formed during his campaign to learn about issues that affected evangelicals. Falwell also endorsed Trump in January 2016, according to CBS. Before the election, students at Liberty formed a group called Liberty Students Against Trump, but according to CBS, they have since decided to support the Trump administration.
While Falwell is known in the education sector, he is also known for his father, Jerry Falwell Sr. He co-founded the Moral Majority, which led conservative Christians to political activity in the '70s and '80s. According to PBS, his political activities began with Roe v. Wade, a ruling which he disagreed with and used to mobilize Christians to fight against. The group, which disbanded in 1989, opposed things that they believed would cause America's downfall, such as abortion and homosexuality. After 9/11, Falwell Sr. argued that the attacks were a punishment from God for America's sins, though he later retracted his statement.
According to the Chronicle of Higher Education, the task force will evaluate the Department of Education's policies. CBS reported that Trump initially asked Falwell to serve as secretary of Education back in November before he asked Betsy DeVos, but he said no because he didn't want to relocate his family or leave the University for more than two years. Falwell supported DeVos as Trump's eventual pick.
Although the specifics of the new task force are still being decided, Falwell said he wants to roll back some initiatives President Obama had placed on for-profit higher education which he called "overreaching regulation." One such regulation that could be affected is Obama's "borrower defense to repayment" regulation, which looked at how student loan borrowers who were defrauded by their education institutions could be provided relief.
It's a little alarming that someone so closely tied to the Moral Majority group and its extreme views could be influential in American education. We'll have to wait and see what the group actually does.