A Security Guard At Mandalay Bay Risked His Life To Take Down The Shooter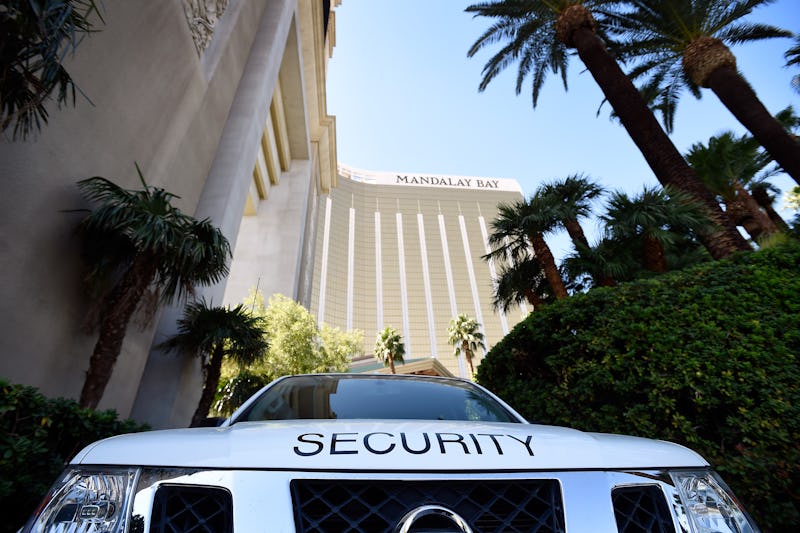 David Becker/Getty Images News/Getty Images
Amidst the heartache for the 58 people gunned to death in the Las Vegas mass shooting and the outcry for policy change to help prevent future tragedies, there is one thing in this dark period that everyone can grateful for: the selfless heroes who emerged during the shooting spree on Sunday. One of them was Jesus Campos, a Las Vegas hotel security guard who helped stop the gunman who opened fire from his suite in the Mandalay Bay Resort and Casino.
From the 32nd floor of the hotel, gunman Stephen Paddock opened rapid-fire on a crowd of 22,000 people attending the Route 91 Harvest Festival, a country music event on the Las Vegas Strip. Campos, who was working at Mandalay Bay that night, immediately sprang into action despite having only a baton and no gun on him. He reportedly arrived at the gunman's location before police and SWAT. Paddock had somehow blocked the stairwell doors, so Campos took the elevator, recounted Dave Hickey, the president of the International Union, Security, Police and Fire Professionals of America, to The Daily Beast. (Hickey's union represents Campos and hundreds of security guards at Mandalay Bay.)
Campos then reportedly tried to sneak to Paddock's room to stop the killer on his own, but Paddock had rigged cameras in the hallway and on the peephole on his hotel room door. Through these cameras he saw Campos approaching his barricaded door and shot Campos, hitting his leg.
Wounded on the floor, Campos then made a radio dispatch to the police to provide them with Paddock's location. Paddock committed suicide before a SWAT team blew off the doors to the suite with explosives and broke into the room. Prior to that, Paddock had fired more than 200 rounds through the hotel room door at Campos and police, said Clark County Sheriff Joseph Lombardo. Campos was reportedly hit by one of those bullets.
Afterward, Campos went door to door with police to clear guests from their hotel rooms using his key pass until police ordered him to leave on account of his injury, Lombardo said. Hickey, his union president, said the actions of Campos helped bring an end to the Las Vegas mass shooting and prevented the gunman from harming more civilians.
"I think we need to recognize the position that these officers hold," Hickey said to the press on Wednesday. "Security professionals in those kind of venues — whether it's a bank or a hotel or Disney World — I'm telling you that I don't think that our officers are recognized enough for the valuable role that they play in protecting property, people, and even the nation." On any given shift, 17 of 200 officers at Mandalay Bay premises are armed, Hickey said. Campos approached a man with a military-grade, automatic weapon with most likely just a nightstick, he added.
Liliana Rodriguez, Campos' coworker, started a GoFundMe page to raise money for him during his time off work to recover from the hotel shooting. The campaign has so far raised more than $6,000. Rodriguez wrote on the fundraiser page:
Any one of us could have been in the position he was in. Most importantly we are a home away from home and at the end of the day we are a team and we should all go home together.
Campos is one of multiple people who have been hailed as heroes for their actions during the shooting. Marine veteran Taylor Winston, who served in Iraq, and his friend Jenn Lewis also helped save people's lives. Winston and Lewis fled with the crowd when the shooting began, but spotted an empty truck with the keys in it near the concert venue. They hopped in and began transporting bleeding priority victims to Desert Springs Hospital Medical Center. In the time following tragedies such as a mass shooting, it's heroes like them and Campos who remind us of the humanity that still exists.