John Cho & His Wife Have Quite A Bit In Common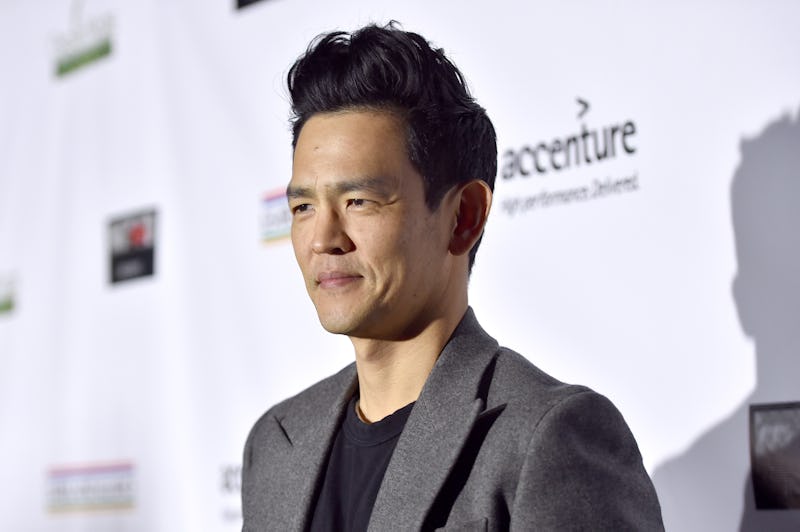 Alberto E. Rodriguez/Getty Images Entertainment/Getty Images
He's starred in everything from Harold & Kumar to Star Trek Beyond, and he's about to be one of the 2017 Oscars presenters, so you can forgive yourself for being a little bit curious about the notoriously private star. But who is John Cho's wife, anyway? While Kerri Higuchi doesn't spend as much time in the spotlight as her husband, she's also involved in the entertainment industry.
IMDb reports that she is an actor and director, and she's appeared in some of your favorite shows: she played Dr. Elizabeth Chen on Grey's Anatomy, Jasmine Hu on Parks and Recreation, and she's even appeared on Scandal. Pure speculation, but it seems likely that the pair's romance may have been fueled by Grey's Anatomy or through their connections on the show, since Cho also appeared on the show as Dr. Marshall Stone in 2006.
Higuchi has been married to Cho since 2006 and the pair have two children together: their first child, a boy, was born in 2008, and their second child, a daughter, was born in 2013. So far, so idyllic. The normally private Cho opened up to Glamour magazine in 2015 about the support he gets from his marriage and the ways his wife inspires him.
He described her as "mainly a stay-at-home mom," but goes on to clarify, "she's such a good actor. I've learned a lot from her." He confirmed that they met at UC Berkeley but "dated later when we both came to L.A." (my Grey's Anatomy theory totally holds water). Then he delved into what he finds so appealing about her. Cho told Glamour,
"My wife was confident in a way that I was very attracted to. She knows who she is. I knew nothing about that. I was so unsettled at that age and so scatterbrained. It's beautiful when you see a person who's self-assured and knows who she is."
He also implied that his wife had been the one to inspire him to go to therapy in the same interview, which he feels is "kind of nice to have somebody who I can be completely weak with and it's for a set period of time and you don't have to go do anything with them after." Preach.
Cho and Higuchi may have been married for over a decade now, but they appear to still be going strong, and their kids are so cute that strangers on the internet are begging for adoption themselves (same). Here's to one of Hollywood's most low-key joyful families.