A GOP Senator Said The Tax Bill Drama Is "Kinda Like Herpes" & There's A Video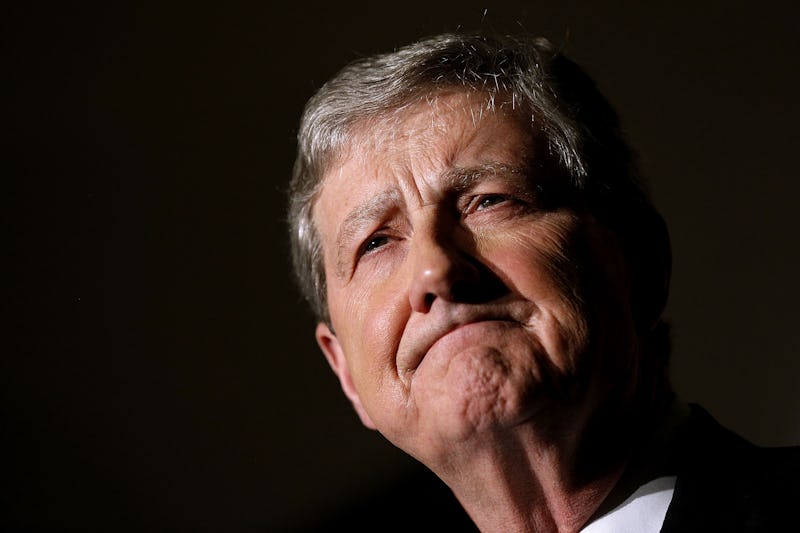 Jonathan Bachman/Getty Images News/Getty Images
After leaving a Senate meeting on the GOP's tax bill Friday, Sen. John Kennedy spoke to a group of reporters about how the deliberations were going. The Louisiana lawmaker knocked down rumors that the negotiations had been marked by vicious bickering and arguing, and instead offered the following bit of wisdom.
"Part of politics is drama," Kennedy said. "Everyone up here has politics in his blood. Kind of like herpes."
The senator's off-color remarks, which he delivered with a grin, elicited confusion and derision on Twitter, with one commenter calling them "deeply weird" and others questioning which kind of herpes he was referring to. In video of the exchange, several reporters could be seen exchanging perplexed glances with one another after Kennedy made the comment.
Since being elected to the Senate in 2016, Kennedy has made several eyebrow-raising comments. During Education Secretary Betsy DeVos' confirmation hearings, he suggested that America's children don't have access to enough varieties of mayonnaise, and in November, he called his own state's corrections agency "utterly incompetent."
It's not entirely clear what point the junior senator from Louisiana was trying to make with his herpes remarks, and Bustle has reached out to his office for clarification.
Research suggests that around 90 percent of the worldwide population has some form of herpes. The more common variant is herpes simplex virus type 1 (HSV-1), commonly known as oral herpes, which somewhere between 50 and 80 percent of people have, depending on who you ask. Statistics on the prevalence of herpes simplex virus type 2 (HSV-2), which causes genital herpes, are difficult to come by, as the virus often doesn't symptomize and many people who have it never find out that they do; however, one 2013 study concluded that around 16 percent of people age 14-49 have HSV-2.
Kennedy appeared to be implying that a love for the political process and legislative wrangling is as common among senators as the herpes virus is among the general population. And because of this, the "drama" surrounding the Republican tax bill — which passed with Kennedy's vote shortly after he made the herpes quip — isn't as serious or contentious as it may appear from the outside.
Herpes, however, can be quite serious — and ironically, the tax bill that Kennedy voted for hours later could directly imperil the ability of Americans with herpes to treat their condition. That's because the Senate tax bill repeals the individual mandate, the component of the Affordable Care Act that requires all Americans to purchase insurance or pay a fine. According to the non-partisan Congressional Budget Office, getting rid of the mandate will increase the number of Americans without health insurance by 13 million over the next 10 years, and that includes 4 million who would lose their insurance by 2019. Needless to say, if any of those newly-uninsured Americans want a prescription for one of the various anti-herpes drugs on the market, they'll have to pay out of pocket.
In fact, in the pre-Obamacare days, herpes was considered a pre-existing condition, and it was perfectly legal for insurance companies to either charge higher premiums or deny coverage outright to people with the virus. This is no longer the case, thanks to the Affordable Care Act. Kennedy, incidentally, wants to repeal Obamacare, and voted for a version of repeal that would have rolled back the law's protections for people with pre-existing conditions.
The Senate tax bill is not yet law, however. House Republicans passed a different version of tax reform, and those two versions will have to be reconciled into a single uniform bill — and then voted on and passed again by both chambers — before any legislation lands on President Trump's desk. Notably, the House version doesn't include a repeal of the individual mandate, so it's entirely possible that the mandate will live to see another day.
But it's also possible that lawmakers will insert individual mandate repeal into the final bill, and in doing so, create 13 million more uninsured people — many of whom have herpes. The next few weeks will be crucial, so if you have any strong feelings about the bill, now would be a good time to let lawmakers know.