John Simm's Characters Are Always Intense AF & 'Strangers' Is No Different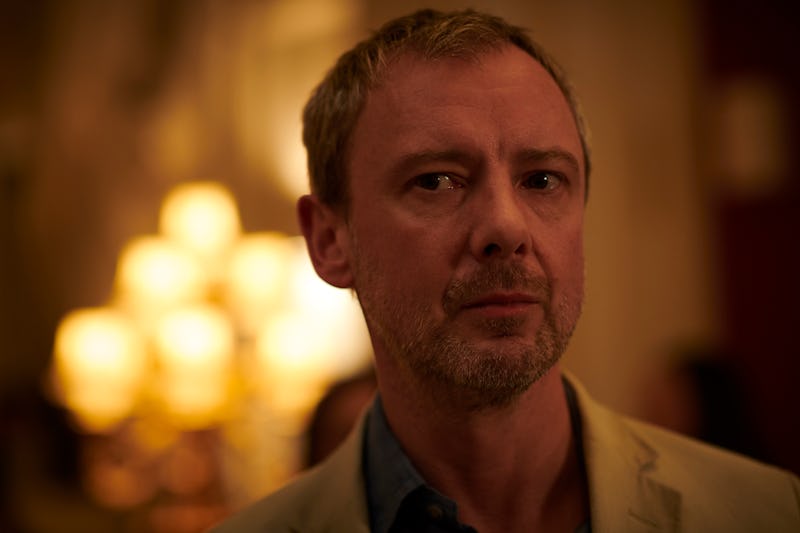 ITV
From a misplaced detective to a time lords arch nemesis, I am really struggling to think of a role that John Simm couldn't take on and rock. He has been on British screens for over two decades now and he isn't showing signs that he is going anywhere. In fact, the Bafta nominee stars in ITV's conspiracy thriller, Strangers starting 10 September. So, who is John Simm and where do you recognise him from?
There are a couple of actors in British TV that seem to be able to turn their hand at almost any role given to them. Simm is one such actor and it is the reason that he has been on our screens for so long. He is brilliant at what does. If you don't recognise him as the time travelling detective, Sam Tyler who is given the impossible task of placating DCI Gene Hunt in Life On Mars, then maybe he is more familiar as Dr Who's ongoing enemy, The Master.
Simm was most recently on our screens in February 2018 after taking a four year break from British TV screens. He starred as a bereaved father in ITV drama, Trauma. On the very same day, at the same time over on BBC 2, Collateral aired which saw Simm take on the role of David Mars, a slightly twisted and morally questionable politicians who gets caught up in the death of a pizza delivery guy. And like all series that Simm features in, there is always something more than meets the eye.
Simm himself grew up and went to school in Lancashire, reports the Financial Times, taking a three year course at Blackpool's Fylde College before decamping to the capital to train at Drama Centre London. He graduated in 1992 and from there he got an agent his first role came in Rumpole of the Bailey, reports the Independent. He is married to actress Kate Magowan, with whom he has a son and a daughter, which he told the FT was his "greatest achievement."
Something that seems to unite all of the characters Simm plays is that they're all men caught up in some sort of conspiracy or turmoil. When he spoke to the Independent about his casting he said, "To me, they are always the most interesting characters to play. There are so many layers to them. You're the eyes of the audience. You're trying to get people on your side and make this character remarkable, even if he's not. It's about extraordinary things happening to ordinary people."
Strangers starts tonight (10 September) at 9 p.m. on ITV and follows the professor, Jonah Mulray (played by Simm) who suffers the loss of his wife in a car crash in Hong Kong. When he goes to retrieve his wife's body he is sucked into a web of violence, lies, and conspiracy.
Speaking to the Independent about how filming in Hong Kong helped him get into character he said, "the Hong Kong setting only adds to Jonah's sense of disorientation, and it really helps me with the character. He's completely bewildered and discombobulated by Hong Kong. He feels very ill at ease. The whole drama has an unsettling quality, and the setting enhances that. The music is great, too. It's jarring and emphasises the sense that Jonah is out of his comfort zone." I can already feel the tension and butterflies in my tummy.
If history is anything to go by we are in for a treat as Strangers comes to our screens and Simm flexes his ability to keep us on the edge of our seats with a million questions right until the last second. I can't wait to curl up on the sofa and see what Simm has in store for us.