The Taliban Told A Hostage Trump Was President & He Thought It Was A Joke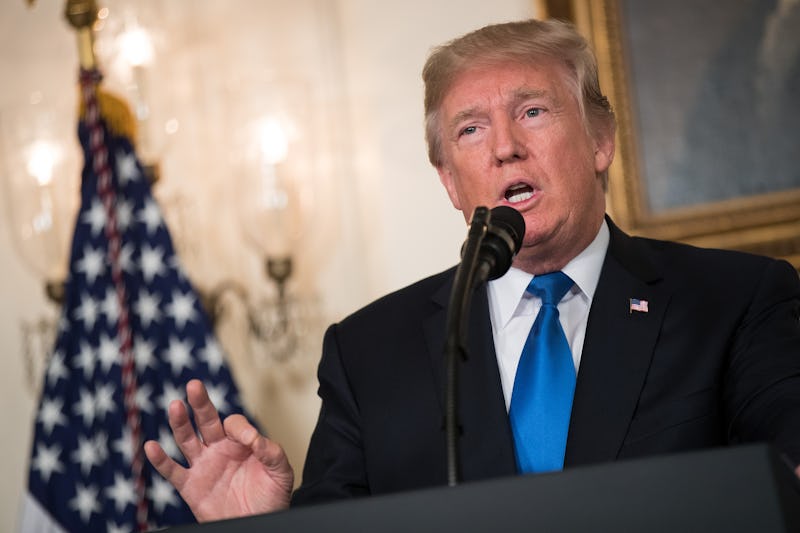 Drew Angerer/Getty Images News/Getty Images
After a Canadian-American couple and their three children were rescued on Wednesday, five years after they were abducted by terrorists from the Taliban-affiliated Haqqani Network during a backpacking trip in 2012, former hostage Joshua Boyle said he thought his captors were joking about Donald Trump becoming president. In an interview with the Toronto Star, Boyle revealed that in addition to learning that Justin Trudeau was the new Canadian prime minister, he didn't believe his captors when they told him that Trump was the president of the United States.
Boyle was forced to film a "proof-of-life" video, and right beforehand, one of his captors told him that Trump had just been elected president. "It didn't enter my mind that he was being serious," Boyle said.
The Trump administration and Pakistani forces worked together to help negotiate the family's release, Trump said, according to The New York Times; however, it isn't clear if any concessions had to be made in order to negotiate their release. Boyle and his wife Caitlan Coleman were kidnapped in October 2012 while backpacking in Wardak Province, a Taliban-controlled region. Coleman was five months pregnant at the time of their capture, and the couple had two more children while in captivity.
They were eventually rescued after U.S. intelligence found their location and directed Pakistani authorities to them. Boyle and his family were in the trunk of a car when Pakistani forces engaged in a shoot-out with the kidnappers, according to The Hill.
"Yesterday, the United States government, working in conjunction with the Government of Pakistan, secured the release of the Boyle-Coleman family from captivity in Pakistan," Trump said in a statement. "Today they are free."
Pakistan's rescue mission was based on a tip from the U.S. intelligence and shows that Pakistan will act against a "common enemy," according to Foreign ministry spokesman, Nafees Zakaria.
The U.S. has targeted leaders of the Haqqani Network with drone strikes and has categorized the group as a terrorist organization. Unlike the Islamic State of Iraq and Syria (ISIS), the Haqqanis don't kill Western hostages, but instead ransom them for cash, according to CBS News.
The U.S. has criticized Pakistan for failing to go after the Haqqanis in the past. In his recent remarks on U.S. policy in Afghanistan, Trump said that billions of dollars were being paid to Pakistan, and "at the same time they are housing the very terrorists that we are fighting. But that will have to change, and that will change immediately."
On Friday evening, Trump tweeted that the U.S. is starting to develop "a much better relationship with Pakistan and its leaders." Trump has previously warned Pakistan against harboring militants.
"The Pakistani government's cooperation is a sign that it is honoring America's wishes for it to do more to provide security in the region," Trump said in a statement. "We hope to see this type of cooperation and teamwork in helping secure the release of remaining hostages and in our future joint counterterrorism operations."
When Boyle and his family were rescued, the U.S. military offered to fly them home on a plane, but Boyle refused to get on at the last minute given his background, according to U.S. officials. Boyle's first wife was the sister of Omar Khadr, a Canadian man who spent nearly a decade in Guantanamo Bay after being captured in a firefight at an al-Qaeda compound in Afghanistan. Officials have dismissed theories that there is a link between Boyle's capture and his background, calling it a "horrible coincidence," according to CBS News.
Boyle has said in an interview that having more children in captivity was a conscious decision he and Coleman made because they wanted to have a big family, despite their circumstances. "We're sitting as hostages with a lot of time on our hands," Boyle told the Associated Press. "We always wanted as many as possible, and we didn't want to waste time. Cait's in her 30s, the clock is ticking."