A GOP Lawmaker Said Black People "Hate White People" In Worst Apology Ever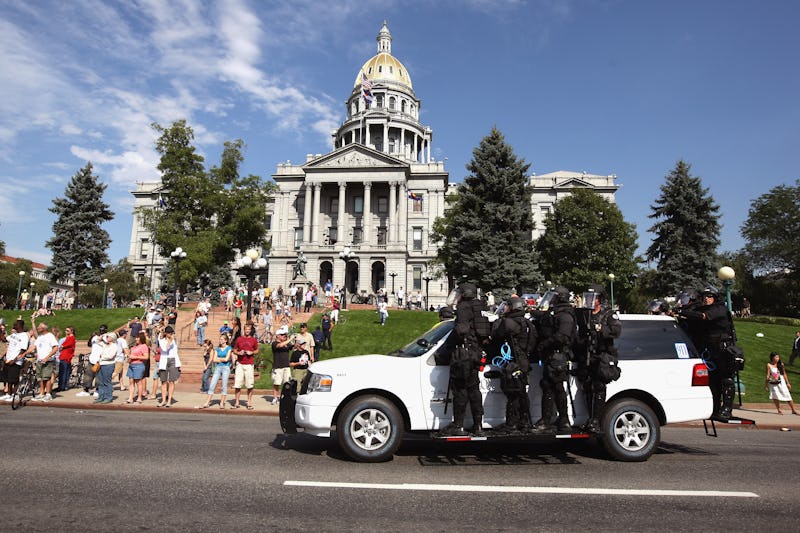 John Moore/Getty Images News/Getty Images
A freshly-minted Colorado lawmaker is causing controversy less than a week on the job after Facebook posts revealed some seriously problematic views. Judy Reyher, the new representative of House District 47, has questioned where former President Barack Obama was born, called Michelle Obama "evil personified," called Black people "the real racists," and made anti-Muslim comments on Facebook, according to The Denver Post. Her posts were first criticized in 2016, and garnered new attention after her appointment last week.
Reyher was appointed to the Colorado General Assembly after another Republican lawmaker stepped down to take a position in the Trump administration. She claimed her Facebook posts have been taken out of context, writing in a statement that Democrats are after her seat in the state legislature. "I am here today to inform all the hate-filled left-wingers that I am not backing down and will serve the great people of my district with both distinction and fervor," she said. "The far left is so desperate to win my seat that they have concocted a ridiculous narrative of racism and hate."
Despite apologizing for the posts, she also told The Denver Post "the black community and the Democrats are the most racist group of people that exist," adding that black people "hate white people with a passion." (Bustle has reached out to Reyher for comment.) She voiced the same belief in a post about Michelle Obama that has since been deleted, writing that she is "evil personified with the power to brainwash our youth and feel good about it" as well as "one of the biggest racists ever to live."
As for her theory that former President Obama wasn't born in the U.S. (a theory she shares with President Trump, despite it being proven false), Reyher told The Post: "It's never been proven that he was born in the United States." She added, "Six months later they conjure up a birth certificate, and we're all supposed to fall for it. It would take me five minutes to come up with mine." She further claimed this belief is not racist.
On top of her dislike for the Obamas, Reyher's Facebook page is also reportedly full of anti-Muslim sentiments. In one post that has since been deleted, she shared a meme asking why Muslims come to America if they "hate pork, beer, bikinis, Jesus and freedom of speech." In another, she shared a meme that says, "If you believe in Sharia law, get out of my country," adding that each like and share equals "deport."
She defended these social media posts to The Post, saying: "Nothing that I have posted has been against Muslims. It's been against the terrorists." She continued, "If they hate everything we stand for, what the hell [are] they doing here other than to destroy us as a country?"
Reyher was appointed to fill the seat left open by state Rep. Clarice Navarro, who is now working as state executive director of the Colorado Farm Service Agency within the Department of Agriculture. Reyher, from Swink, Colorado, previously served as the chair of the Otero County Republican Party — and her Facebook posts were criticized for the first time while she held this position in 2016.
Last year, she shared a meme showing a Black family lying on a mattress in a cluttered room that said: "Poor people have been voting Democrat for FIFTY YEARS and they're STILL poor." She was also called out at the time for sharing a National Review article about author Toni Morrison and writing, "This is exactly why the black population for the most part have not been able to move forward. They have people like her keeping them full of hate and resentment."
She told The HuffPost at the time she thinks people of any race can be filled with hate and doesn't believe a single race can be singled out.
Reyher will serve the rest of Navarro's term, which ends next year.