Julio Jones' Dating Life Is A Mystery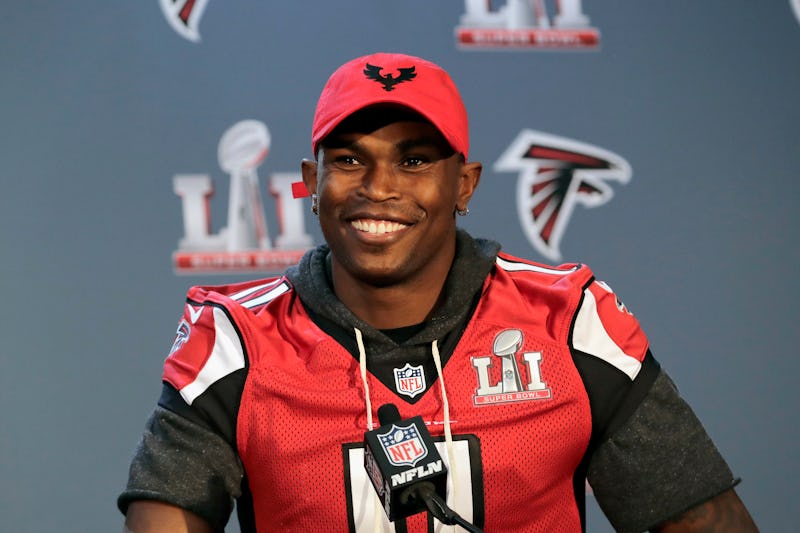 Tim Warner/Getty Images Sport/Getty Images
It's finally here, everyone: The biggest weekend for sports of the year, or as I like to think of it, the biggest weekend for pizza. On Sunday, Superbowl LI is happening, and whether you're into the game, the commercials, or Lady Gaga's halftime performance, it's definitely going to be something you won't want to miss. And while you're watching the game on Sunday, I wouldn't blame you if you started wondering if any of the Atlanta Falcons are single. So, who is Julio Jones dating? Unfortunately, that's a really hard question to answer.
Although there have definitely been rumors about his love life, Jones — who is a wide receiver for the Falcons — is a very private person and doesn't tend to share too many personal details, including those about his relationships. His Instagram is filled with football photos, inspirational quotes, and even the occasional selfie, but people who he may or may not be dating are completely absent from his feed.
A Google search of his potential significant others comes up with surprisingly few results. In fact, he hasn't even breached the subject in any of his recent interviews, which could be a clue that if he's in a relationship, he's trying to keep it on the down low... or, you know, that he's actually single.
In the past, Jones has been linked to singer Jasmine Villegas. According to a site called Player Wives, Villegas and Jones reportedly attended NBA games together, but there's no evidence that they were ever actually dating. These days, Villegas seems to be happily in a relationship with someone else, meaning that if she and Jones were ever a thing, that's over now.
It's hard to keep your private life private when you live in the spotlight — and especially when you're playing for a team that's headed to the Superbowl — so I have to give Jones props for it, as curious as I might be about his relationship status. Maybe someday he'll be willing to let the world in on his love life? I wouldn't count on it, but anything could happen!