There's A Close Link Between Trump & Justice Anthony Kennedy That You Weren't Expecting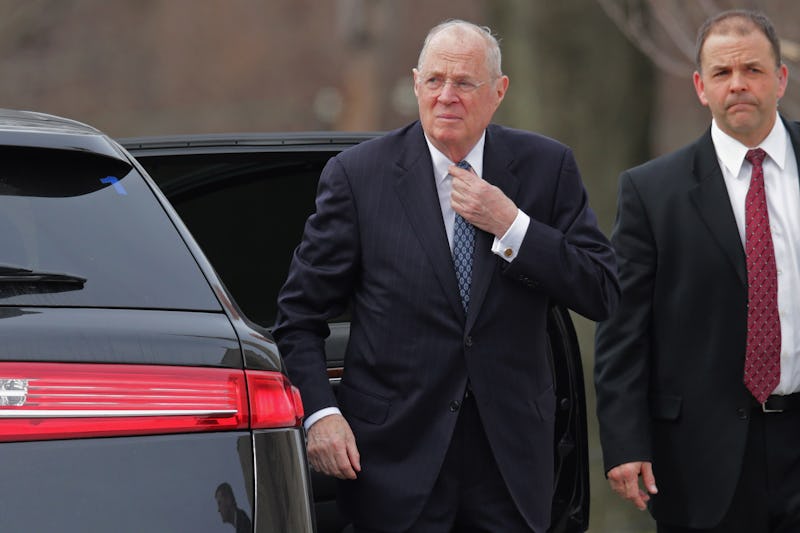 Chip Somodevilla/Getty Images News/Getty Images
President Trump has a personal connection to the retiring Supreme Court Justice Anthony Kennedy. On Thursday, The New York Times reported that Trump once worked with Justin Kennedy, Justice Kennedy's son. According to the Times, they got to know each other while working on real estate development, and the president has referred to Justin a "special guy."
The Times reported that the Trump administration has made a concerted effort to get on Kennedy's good side, with the goal building his trust in the president enough to feel comfortable retiring and letting Trump find his replacement. The paper reports that the two have a good rapport.
Trump reportedly began such efforts soon after he entered office. In April 2017, Politico wrote that Justin, as well as the Supreme Court justice's other son, Gregory, both acted as a "hidden back channel" from Trump to the now-retiring justice.
According to the Times, Trump approached Kennedy after addressing Congress for the first time that February, telling him to "Say hello to your boy. Special guy." Kennedy replied, "Your kids have been very nice to him," to which Trump responded: "They love him, and they love him in New York. He's a great guy."
Justin and Trump worked together "closely" when they were both in real estate, according to the Times. At the time, the younger Kennedy led Deutsche Bank's global real estate capital markets. The bank lent Trump more than $1 billion while Justin worked there, the paper reported. He used the money to construct and fix up skyscrapers in Chicago and New York City. The Times notes that Deutsche Bank was more willing to lend Trump money than most banks were at the time after his infamous business failures. Bustle has reached out to the White House for comment.
However, journalist Stephanie Ruhle disputed several aspects of the Times' report on Thursday. Noting that she had also worked with Justin while he was employed by Deutsche Bank, she wrote, "While he did run a portion of the real estate biz [...] He was on the institutional side of the bank -NOT private bank."
"Trump was a private bank client & I believe the lending happened after justin left DB," she added. "Trump was a private bank client & I believe the lending happened after justin left DB [....] Trump wanted to borrow from the instit side/they said NO."
If Ruhle is right, Justin wasn't actually involved with the decision to lend Trump money. That would be an important correction to the story, especially since some have called the relationship between the two "suspicious." The president of the Center for American Progress even seemed to suggest on Twitter on Friday that the loan might have influenced Justice Kennedy to vote in alignment with Trump's interests in the past couple of years.
Justin is no longer working for Deutsche Bank. He left the company in 2009 and went on to be a co-CEO of LNR Property. More recently, he co-founded the developer Grass River Property and also co-founded a firm that deals in commercial real estate, 3650 REIT.
Justin seems to be well-known in the finance world. When he gave a speech to the CRE Finance Council, his bio noted that he's "credited as one of a few Wall Street traders who predicted the 2008 financial crisis. It also claimed that Justin and his LNR co-CEO "played significant roles with various regulatory agencies in design and implementation of several crisis response programs."
According to Politico, Justin isn't the only connection between Trump and the Kennedy family. The justice's second son, Gregory, went to Stanford Law school with Peter Thiel, who acted as an advisor to the president for a while. Justin also went to Stanford, and then received an MBA from the University of California in Los Angeles.