Kaley Cuoco Is Engaged & Her Fiancé Proposed In The Most Dramatic Way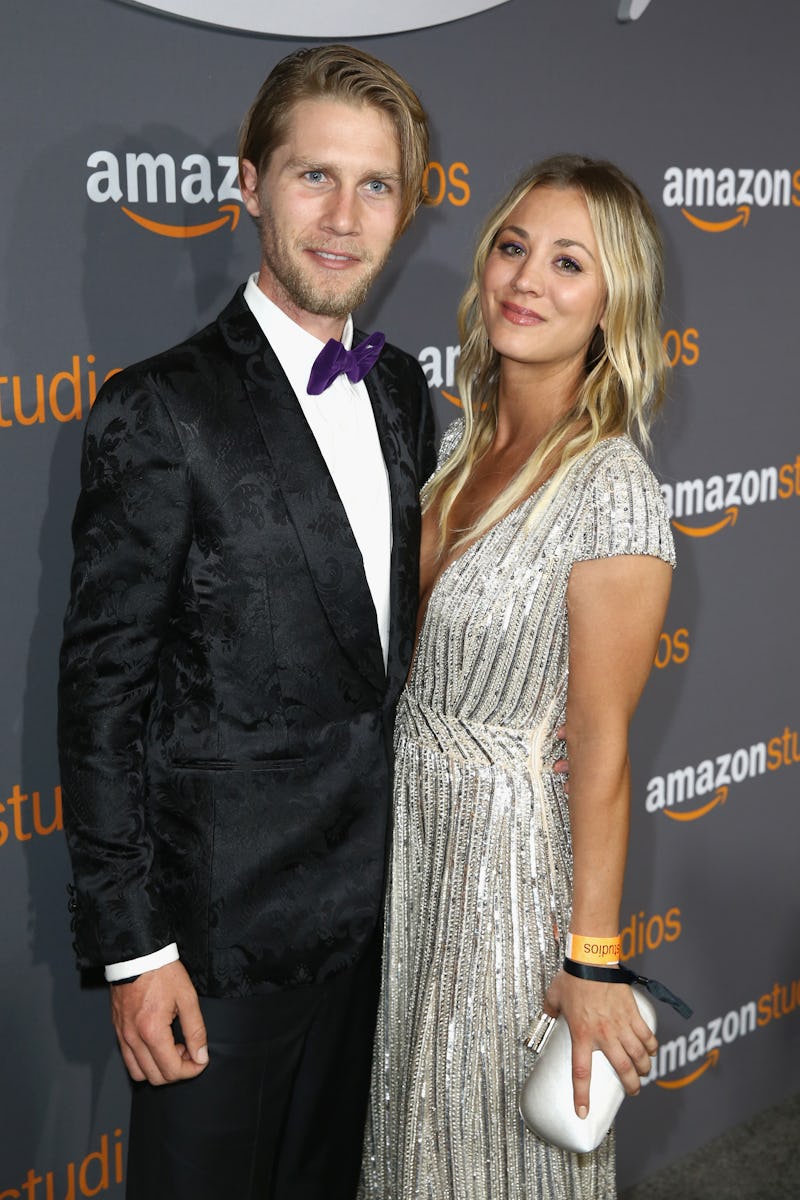 Joe Scarnici/Getty Images Entertainment/Getty Images
Star of The Big Bang Theory Kaley Cuoco got engaged to Karl Cook, her boyfriend (now fiancé!), on Thursday, and he documented to whole joyful event on his Instagram account. In a video he posted, Cuoco is sobbing tears of joy, and shouts, "We're engaged!" before even responding to Cook's proposal. And the joyous occasion was two-fold: It was Cuoco's 32nd birthday, and she got the best gift ever. But who is Cook, Cuoco's husband-to-be? Believe it or not, he rides horses for a living.
Yep, Cook is a professional equestrian. He and Cuoco share a love of horses. When she's not getting paid beaucoup bucks starring as Penny on The Big Bang Theory, the actor spends time with her stable of adorable equines. She herself has been competing in shows, though she tries to keep a low profile, so the paparazzi don't follow her to the derby.
Cook, meanwhile, is a star in the equestrian world. According to Hollywood Life, the 26-year-old jockey has been riding horses since he was eight years old — in fact, his mother was also an equestrian — and in 2009, competed in the Grand Prix. Though he almost walked away from horse riding in 2012, Cook couldn't give up his love of the sport and made a comeback, according to the riding website Noelle Floyd.
And if you're thinking, "Horse riding? Isn't that for the rich?" you'd be right—Cook's father, Scott Cook, is an entrepreneur and businessman and the founder of Intuit. Yes, of TurboTax fame, so you might owe Scott Cook some gratitude. According to Forbes, he's worth an impressive $3 billion, which could buy a whole lot of horses. Karl Cook's mother, Signe Ostby, is a businessperson and educator who co-founded the Center for Brand and Product Management at the University of Wisconsin-Madison School of Business. But according to E!, Ostby's real passion is also horses, and she breeds stallions at the family's Pomponio Ranch.
Cook and Cuoco have been dating for about two years, as he wrote in the caption of the emotional video of her on Instagram. They were rumored to have started dating in March 2016, when Cuoco posted some very coupley photos of herself and Cook. She confirmed in September 2016 that she and Cook had been dating for about six months. Cuoco told The Talk in September that she met Cook at a horse show.
"I finally found my horse guy. It was very meant to be," she said. "He's an amazing rider, amazing equestrian and a great human. We shared our passion for horses and dogs. It's been lovely, I'm so happy."
Cuoco and Cook met during a difficult time for the actor. She and tennis player Ryan Sweeting had still not finalized their divorce (they would do so shortly after in May). Cuoco and Sweeting got married on New Year's Eve 2013, after just three months of dating. They announced their divorce just 21 months later in September 2015, according to People. While sources told People that Cuoco and Sweeting both looked "miserable" before they split, it seems like she and Cook could not be happier together.
The couple seem very supportive of one another and super happy. Cuoco posted an Instagram last March when their relationship was still just rumored of herself and Cook after he won at a horse show with the caption, "So proud of you!"
Cook is quite the romantic himself, and he didn't hold back with the sweet sappiness in his engagement Instagrams on Thursday. On a video of himself and Cuoco dancing right after he said yes, he wrote, "In life, there is nothing like dancing right after getting engaged. The purity and grace of the moment are inexplicable, it is truly as though life were a balloon bouncing on the smoothest zephyr." A poet and a horse guy.
Congratulations to the happy couple, who will probably be literally riding off into the sunset after their nuptials.