Surprise, Kate Huddson Is Pregnant & Just Posted A Video Revealing The Sex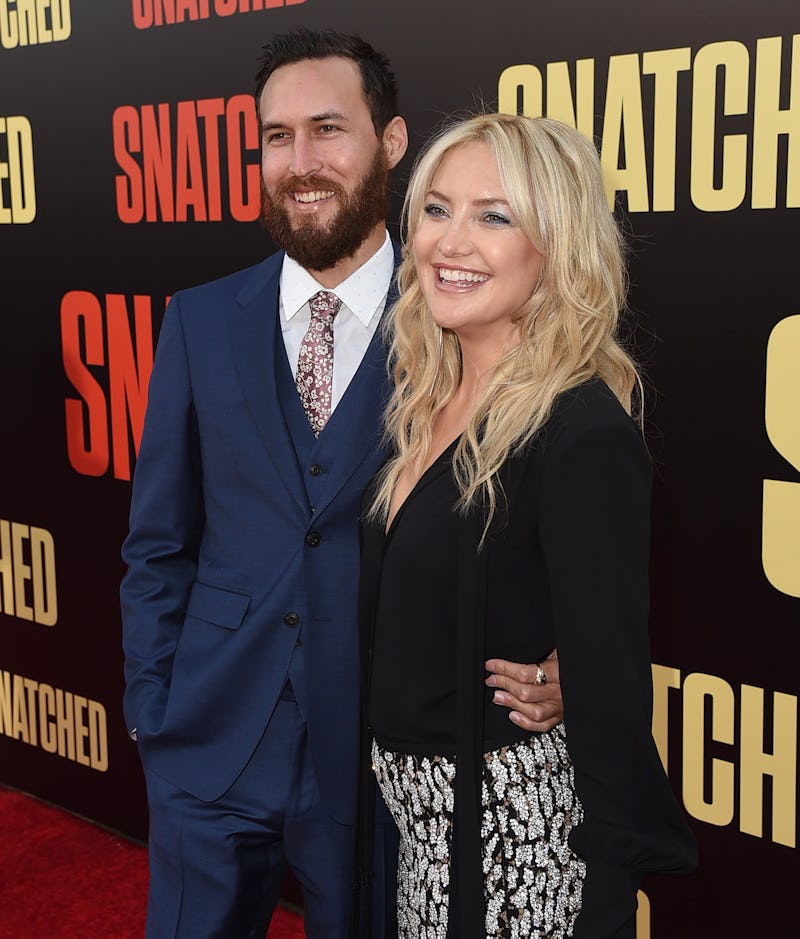 Kevin Winter/Getty Images Entertainment/Getty Images
Kate Hudson surprised and delighted her fans on April 6 with a major announcement. The actor is expecting her third child, a daughter, with boyfriend Danny Fujikawa, as she detailed on her Instagram account. But, who is Kate Hudson's boyfriend? You might be wondering after hearing this happy news.
The mom-to-be's partner is actually in the entertainment business, too. According to Us Weekly, Fujikawa is a musician who was previously a part of the band Chief. While the band hasn't been active for some time now (the last time they posted on their Facebook page about their tunes was in 2014), Hudson's boyfriend is still involved in the music industry. In 2013, he launched the record label, Lightwave Records, with Chris Acosta, also per Us Weekly.
Fujikawa also has an interesting celebrity connection. As Hudson stated on a previous Instagram post from December 2017, she's known her boyfriend for about 15 years. And she knew him because he's apparently the stepbrother of Sara and Erin Foster, who are her good friends. It's unclear exactly how everyone's related (and whether Fujikawa considers David Foster or the siblings' mother, Rebecca Dyer, as his stepparent). But still, talk about a random connection.
As Hudson stated in her previous Instagram post, the pair have known each other for a while but only recently started dating. The actor detailed that December 2017 actually marked the couple's first date anniversary and that their first date was an "unexpected" one. She said that she initially thought that it was a hangout between family friends but that it soon turned romantic. However, she also said that it took months for Fujikawa to "make a first move." Ever since he did, it's been full-steam ahead for the adorable twosome.
Now, the two are taking a major relationship step as they're set to welcome a baby together. In an Instagram video, Hudson and Fujikawa, alongside family members, not only revealed that they were expecting but also revealed the sex of their child. The couple, along with Hudson's sons, Ryder and Bingham, from previous relationships, popped a quartet of balloons in order to find out the sex of their little one.
The family popped their balloons and saw a flurry of pink, indicating that a girl was going to join their brood. The news thrilled Hudson and all of the couple's family and friends as everyone jumped and cheered over the reveal.
In the caption for the post, Hudson revealed the fun "SURPRISE!!!" to all of her fans. She also detailed how the first trimester of her pregnancy has been difficult and it's been the "most sick first trimester of all of her children." The actor said that she wanted to keep the pregnancy private but couldn't keep the happy news quiet any longer. She ended her caption with, "My kids, Danny, myself and the entire family are crazy excited! A little girl on the way."
Hudson related that she's been a bit MIA on social media as of late, due to her pregnancy. But, she has posted some cute photos somewhat recently of herself with her boyfriend. On Valentine's Day, she posted a photo in honor of Fujikawa of what looks like a fun and romantic ski getaway for the couple. She also posed with him, alongside his family, in a fun snap from early February. But other than that, and like she said, she's been pretty lowkey about posting on social and showcasing her boyfriend lately.
This baby news is sure to come as a fantastic surprise to all of Hudson's fans out there. And now that she's back in action on social media, maybe fans can expect even more exciting updates on the actor's pregnancy in the future.