The Artist Behind Obama's Official Portrait Makes Some Seriously Powerful Work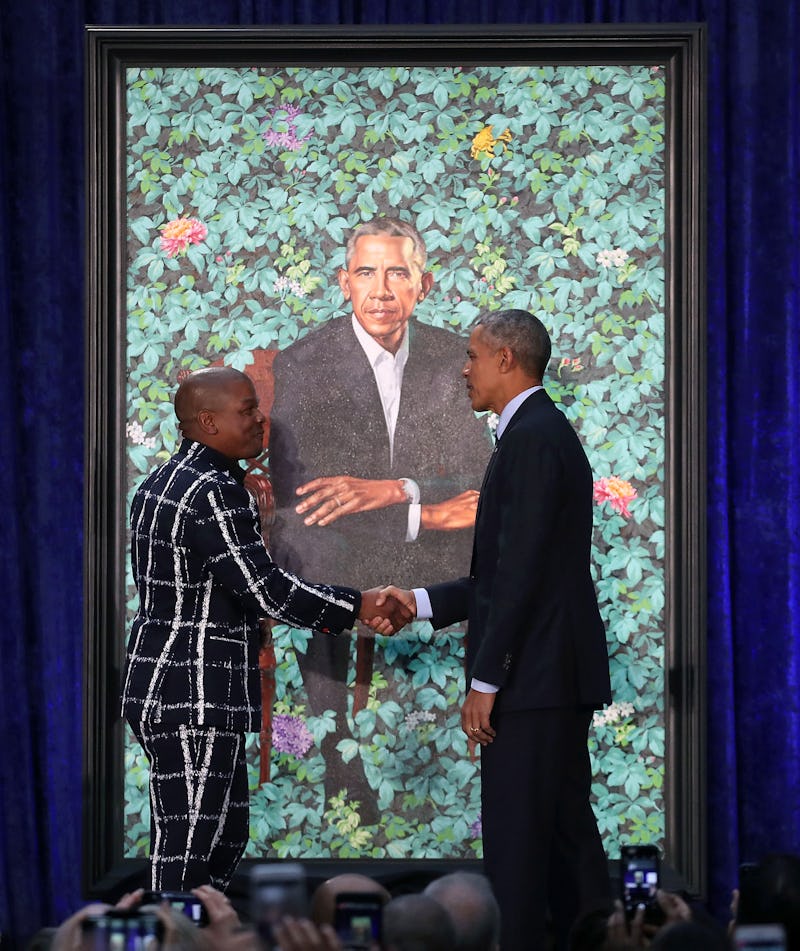 Mark Wilson/Getty Images News/Getty Images
To paint his official portrait for the Smithsonian's National Portrait Gallery, former President Barack Obama selected an artist known for challenging perceptions of African Americans. Depicting the president against a backdrop of vivid greens with pops of yellow, pink, and purple, Obama's portrait was one of the gallery's most anticipated. So, just who is Kehinde Wiley? The man behind Obama's official portrait is the first black artist commissioned to paint an official presidential portrait for the National Portrait Gallery.
Wiley is well-known for painting powerfully posed African American subjects in a style reminiscent of the Old Masters classics reimagined with a vivid modern-day urban twist, making him a more than fitting choice for Obama's portrait. According to TIME, Wiley's work is "often meant to challenge perceptions of black people, particularly the young black men who live in urban centers of the U.S."
Art critics have heaped praise on Wiley's body of work. The New York Times' Holland Cotter called Wiley "a history painter, one of the best we have," adding that "he creates history as much as he tells it." And that's certainly true of Wiley's portrait of Obama, which depicts the former president sitting in front of a backdrop of vivid greenery.
"How about that? That's pretty sharp," CNN reported Obama said after unveiling Wiley's portrait of him Monday.
I tried to negotiate less gray hair, and Kehinde's artistic integrity would not allow him to do what I asked. I tried to negotiate smaller ears, struck out on that as well.
Born in Los Angeles in 1977, Wiley fell into art at a young age. He was enrolled at an art conservatory at California State University when he was just 11 years old. At 12, he attended a 6-week art program in Russia. At 22, he graduated from the San Francisco Art Institute with a Bachelor of Fine Arts degree. By age 24, he'd already earned a Masters of Fine Arts from Yale's School of Art.
Wiley has since become one of the country's most sought after painters, having painted a number of black cultural icons, including Michael Jackson, Notorious B.I.G., LL Cool J, and Ice-T. In 2014, he was awarded the National Medal of Arts, the highest award bestowed by the federal government on artists or patrons of the arts.
But Wiley doesn't just paint high-profile public figures. In fact, the subjects in many of his works are what he has called "street-cast," meaning he scouts them on the street and, hopefully, convinces them to pose for him. In an interview with The New York Times, Wiley described his street casting process as "this serendipitous thing where I am in the streets running into people who resonate with me, whether for cultural or sexual reasons." While the artist initially pulled subjects from New York City's Harlem neighborhood, he has since traveled overseas to scout models from cities in China, Israel, and North Africa.
So although a number of Wiley's subjects are average individuals in real life, his work aims to portray them as powerful subjects. "Art is about communicating power," he told CNN in 2015.
It's been that way for hundreds of years. Artists have been very good at working for the church and for the state; communicating the aspirations of a society.
Wiley admitted he's doing the same thing, but from a perspective not seen in the white-folk heavy art of the Old Masters.
What I choose to do is to take people who happen to look like me — black and brown people all over the world, increasingly — and to allow them to occupy that field of power.
Wiley's portrait of Obama will hang alongside other presidential portraits in the National Portrait Gallery. The gallery is home to the only complete collection of official presidential portraits, not counting the collection which resides in the White House.