The Lawyer Who Negotiated Stormy Daniels' "Hush Money" Has A Complicated Past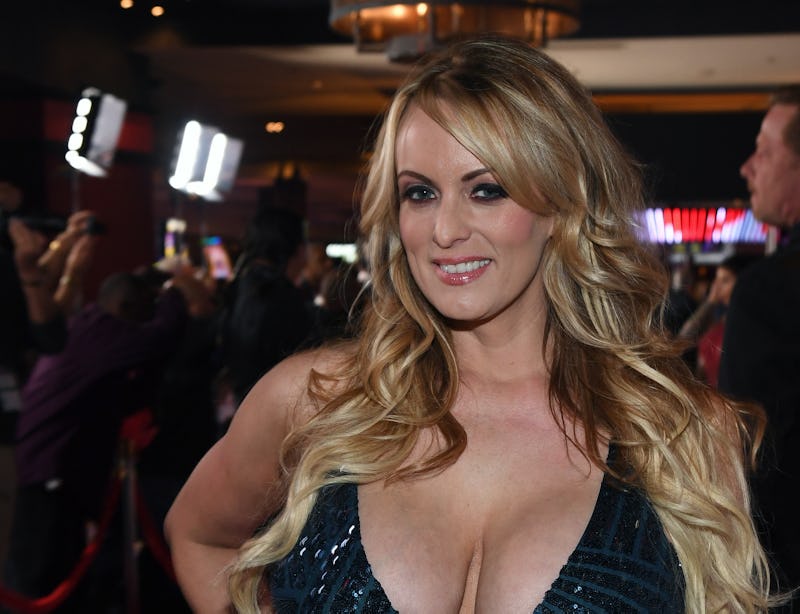 Ethan Miller/Getty Images Entertainment/Getty Images
Adult film star Stormy Daniels is currently suing President Trump to have a non-disclosure agreement she signed in 2016 thrown away. That agreement relates to an affair she claims to have had with Trump in 2006, and that amount was negotiated by Stormy Daniels' former lawyer Keith Davidson. But it was recently reported the lawyer, who no longer represents Daniels, had his law license suspended twice in the past 10 years for misconduct acting against the interest of his clients. And the fact that Daniels isn't the first of Davidson's clients to have an alleged affair with Trump is also raising questions about the lawyer's motives.
In 2010, Davidson faced four counts of misconduct, according to state bar records, including failing to "pursue a medical malpractice case" — he didn't show up at a case management conference or a hearing for the case. In another medical malpractice case, Davidson neglected to tell a potential client that his medical records were being reviewed by a nurse instead of a doctor, Law & Crime reported. He also reportedly never made it clear he wouldn't be taking on their case. When refunding that same potential client $750 for the medical records evaluation, Davidson placed the money in a general account instead of a client trust account, per the bar's rules, according to Law & Crime.
He was initially suspended for two years by the California bar, but after admitting wrongdoing, he was instead "placed on three years of probation with a 90-day actual suspension."
Four years later, in 2014, Davidson's license to practice law was suspended for nine days after he neglected to pay his bar membership fees, Law & Crime reported. It was reinstated once he paid the funds, according to state bar records. He's never spoken about his suspensions.
Davidson, who runs a boutique law firm in Beverly Hills and who New York Magazine described as the "Better Call Saul of D-list celebrities," also represented Karen McDougal, a former Playboy Playmate who sold her story about an alleged affair with Trump to the National Enquirer.
The publication, which is owned by American Media Inc. (AMI), never ran the story, and has been accused of covering up for Trump, as AMI's CEO David Pecker and Trump are reportedly friends. AMI said reports that it "engages in any practice that would allow it to hold influence over the President of the United States is laughable."
McDougal filed a lawsuit in March accusing Davidson of working with AMI and Trump's lawyer Michael Cohen as "part of a broad effort to silence and intimidate" her, Newsweek reported. Davidson allegedly kept 45 percent of the $150,000 McDougal was paid by AMI, according to court documents.
Davidson has denied these claims. "The complaint and various media appearances portray an incomplete and misleading depiction of the facts, circumstances and communications related to my prior representation of Karen," he wrote to McDougal's attorney, Peter Stris.
Even amid speculation that the two might have worked together against McDougal, Cohen defended Davidson in the press, telling New York Magazine in February, "Keith Davidson … is a tireless advocate for his clients. In each and every interaction I've ever had with him, he has always been professional, ethical and a true gentleman."
Other clients of Davidson's include a woman who sought money from Ashton Kutcher in order to keep quiet about an alleged affair. He's also been known to take on cases dealing with celebrity sex tapes. One woman Davidson represented dated actor Verne Troyer ("Mini-Me" from Austin Powers) and sold a sex tape of them to a private collector, New York Magazine reported. And former reality TV star Tila Tequila accused Davidson in 2010 of working with a "celebrity sex-tape broker" to profit off a video she made with her boyfriend.
FBI tapes from 2012 prove Davidson met with Hulk Hogan and his attorney to sell them DVDs of his now-infamous sex tape in exchange for $300,000, New York Magazine reported. Davidson was supposed to get 60 percent of the profits. After the FBI intervened, a witness told the agency Davidson "seemed to brag about all of the deals he had done like the [Hogan] deal." He "stated not to worry because he did this thing all of the time."