Kendall From 'The Bachelor' Might Have The Most Unique Hobby The Show Has Ever Seen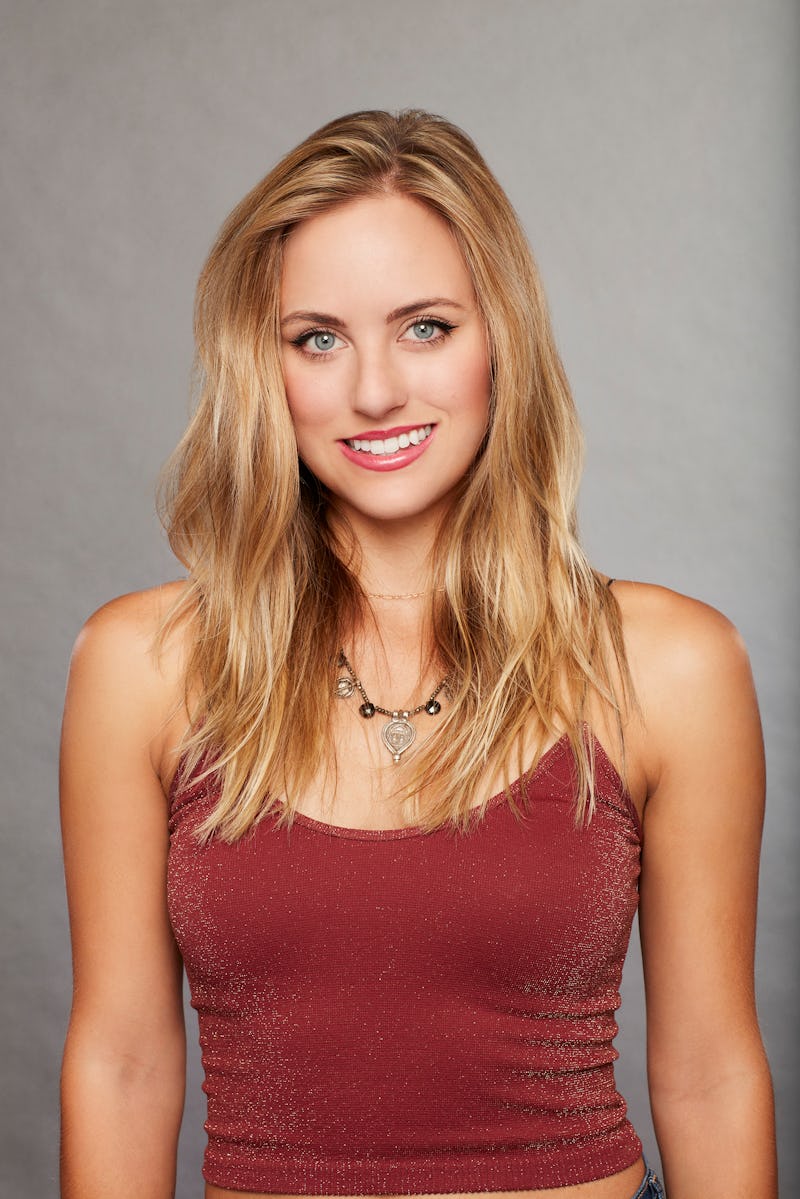 Craig Sjodin/ABC
The Bachelor brings together women from across America to compete for the heart of one man, and each woman brings her own unique history and personality to the show. However, one of the most interesting personalities may be coming in the form of Arie Luyendyk's 2018 contestant, Kendall, who is bringing a fairly unique set of interests with her. Fans may be curious to learn who Kendall from The Bachelor is, but once Arie's season introduces her to the world, fans will forever know her for being adventurous, nerdy, and super into the art of taxidermy.
When Kendall about the romantic gift she's ever gotten for her ABC.com Bachelor bio, many things could've gone through her head. Perhaps she thought of a nice piece of jewelry given to her by a former partner or of a goofy, cheap, personal token that represented the comfort she felt in a past relationship. But whatever items ran through Kendall's head before she answered, it seems they all pale in comparison to her final answer: "My ex gave me an alligator hand holding an iron heart in a jar!"
While that sounds like a cursed artifact from a horror movie, Kendall explains that "[She] collects taxidermy so it was sweet to [her.]" Kendall isn't shy about loving what she loves, but will she be as passionate about Arie? Let's find out a bit more about this eccentric contestant.
She Loves Animals – Living & Dead
Kendall has a positive relationship with her pup, Odin, and shares a love for many other animals. Kendall told ABC that if she could be any animal, she'd be a Bat, claiming that "My sister said my spirit animal was a bat because I see beauty in dark things." While she loves animals of all sizes when they're alive, Kendall seems to enjoy them just as much after they've lived a full animal life. Kendall's love of taxidermy, or "the art of preparing and preserving the skins of animals and of stuffing and mounting them in lifelike form," is on full display on her Instagram page. Whether you're looking for stuffed Seals, bats in jars, or just a camel head, Kendall has you covered.
She's A Proud Nerd
When she's not amassing a taxidermy collection, Kendall is being a loud and proud nerd. Her Instagram features pictures of her posing with a giant Furby dressed up as Star Wars' Chewbacca; her embracing a plush toy from the beloved cartoon Adventure Time; and having an appropriately enthusiastic reaction over meeting Ariel at a Disney theme park. Additionally, Kendall admitted to ABC that she's looking for a man with a "can survive a zombie apocalypse-type body," and compares herself to "James Kirk from Star Trek because [she'd] love to explore crazy worlds."
She's Serious About Going On Adventures
While Kendall says she'd "love to" go exploring like James T. Kirk, judging from her bio it sounds like she's already quite the adventurer. The top three things on her bucket list, as she told ABC, are "Visit Japan and go to a Hedgehog café, go scuba diving by a shipwreck, hang out with pigs in the Bahamas." While those may seem like lofty goals, they pale in comparison to what she claims is the most outrageous thing she's ever done. According to her, Kendall "once drove a car off of a ramp and through the caboose of a moving train." Perhaps her job as a Creative Director forced her to pull of a Fast & Furious-style move, but it's likely that Kendall has pulled the most hardcore stunt of anyone else on The Bachelor — aside from race car driver Arie, that is.
While nearly every cast member on The Bachelor has a strong personality, Kendall already stands out amongst the pack. Her unique hobbies and enthusiastic confidence in being herself are infectious, and could just be enough to help her win Arie's heart.