Kendall Has A Twin Sister Named Kylie & 'Bachelor' Fans Will Finally Get To Meet Her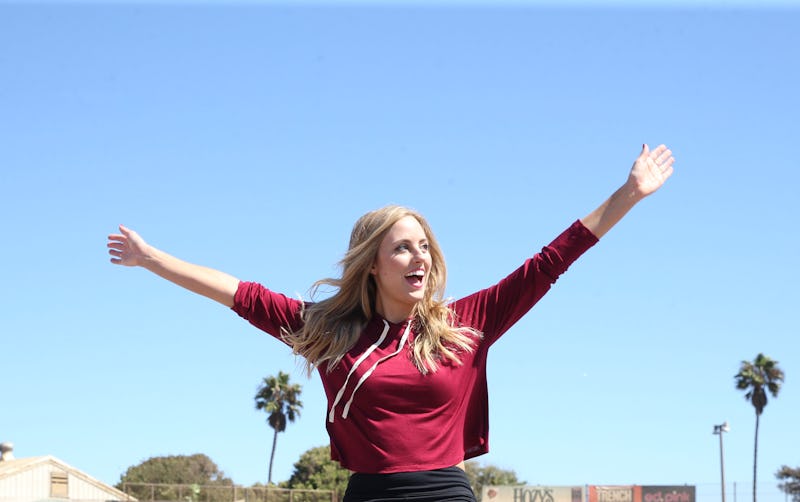 ABC
In the early days of this season of The Bachelor, it seemed like Kendall might only stick around until the producers finished milking her taxidermy fascination for all it was worth. But fans and Arie quickly realized that there was more to Kendall than just her love for stuffed animals (not the plushy kind), and now she's headed to hometowns. Arie will soon learn, if he doesn't know already, that Kendall's taxidermy hobby isn't the only surprising thing about her, because Kendall has a twin sister who looks just like her. But who is Bachelor star Kendall's twin sister Kylie?
For one thing, Kendall and her sister are basically blonde versions of the Jenner sisters, because Kendall's twin is named Kylie. And, like those other reality stars, it seems that the two are incredibly close. Bachelor star Kendall's Instagram is littered with pictures of them together, hanging out and generally looking like they're having a total blast in each other's company. But, since Kylie isn't competing on The Bachelor, her social media accounts aren't as open as her sister's. You can see some pictures of her on her Facebook profile, which reveals that she loves dogs, and features and incredibly cute throwback photo of the twins. But Kylie's Instagram is totally private, leaving us to comb through Kendall's account for info about her elusive twin.
One look at Kendall's page shows that she and Kylie love to have a good time together. Here they are sporting delicious looking drinks, and rocking matching red lipstick. Though Kendall is blonde and Kylie seems have slightly darker hair, you can clearly see the resemblance.
Kendall and Kylie also have a brother, Colton, and it's easy to see from this picture that attractive genes run in this family. Maybe he could be a future Bachelorette contestant? Stranger things have happened.
This sweet birthday post from Kendall to Kylie emphasizes how close the sisters are. Kendall has stood out on The Bachelor for her ability to rise above the drama, and her refusal to engage in petty arguments with the season's villain, Krystal. That sweet nature and emotional maturity has served Kendall well, and it stands to reason that her twin is equally kind to those around her, as this birthday caption suggests.
Not only do the twins spend a lot of time together, they travel together too! This is one of a series of shots of the Long sisters traveling around Spain, eating great food and generally looking like they're having a blast.
They're also adventurous. This awesome shot shows the sisters, probably post-hike, diving right under that waterfall. They seem like a fearless duo.
The twins also seem to have a lot of mutual friends, which must making hanging out together super easy. I don't think anyone would mind having a sister who is also your life-long best friend.
They're even sister goals at costume parties. Kendall and Kylie are rocking those jumpsuits for an '80s party, but honestly they look like they are making a high-fashion statement. Leave it to the Long sisters to be able to totally rock a look from what is widely considered fashion's worst decade.
They even collaborate musically! Kendall can play the ukulele, and if Kylie can sing — well, then, dang, they should start the Long Sister Act and take that show on the road.
Twins have a truly special bond, and Kendall and Kylie seem to be no exception.
If Arie wants to win Kendall's heart, it seems like he will have to win over Kylie as well. The hometowns promo video shows Kylie expressing doubts about whether Kendall and Arie have had enough time to let their relationship develop to a place where they could be engaged, and that's a totally fair fear. And it seems like the twins are so close that if Kylie begins expressing doubts, Kendall might seriously reconsider the whole relationship. If Arie really is serious about his feelings for Kendall, he may have to convince Kylie in order for things to move forward.
After all, relationships may come and go, but a twin sister has got your back forever.