This Character From 'Narcos: Mexico' Is Still Alive & Honoring Her Husband's Legacy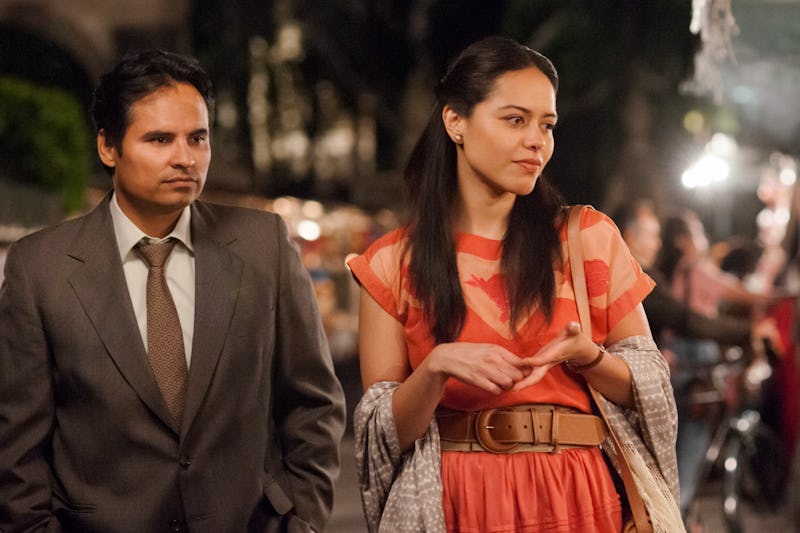 Carlos Somonte/Netflix
As audiences likely know by now, Narcos: Mexico premieres Friday, Nov. 16 on Netflix. And since Season 4 takes place in a different country, the cast has obviously changed, too. Enter Enrique 'Kiki' Camarena (Michael Peña), a Mexican-American DEA agent tasked at tracking the Guadalajara Cartel, which proves to be more difficult than he anticipated. However, he doesn't travel to Mexico solo: Kiki's wife on Narcos, Mika Camarena (Alyssa Diaz) looks to be a welcome addition to the series.
As for this season's storyline, Peña's character decides to relocate his family from the States to the drug-riddled city of Guadalajara in order to combat the growing drug scene there, although he is ultimately kidnapped by the cartel, tortured, and brutally murdered. "You're tired of the same," Mika tells her husband in a teaser. "I am, too. So let's change it. Take Mexico, Kiki." It looks like he's got his work cut out for him, though: Camarena is up against Miguel Félix Gallardo (Diego Luna), who's in charge of the Guadalajara Cartel. His subordinates call him "El Padrino" or "The Godfather," and not only does he traffic marijuana, but he decides to get into the cocaine trade, too. This isn't exactly a family-friendly environment for Kiki's wife and kids, to say the least, but she's supportive of her husband's career (for the most part) and makes the most of it.
While the two main characters this season are Kiki and Gallardo, it's clear that women are the true backbone of Narcos: Mexico. Not only is it Mika who gives her husband the go-ahead to relocate their family south of the border (while she's pregnant, no less!), but in teasers for the show, she's often seen giving Kiki much-needed advice. What's more, it's clear that the couple have a great relationship, which isn't a given, especially on a high-stakes drama like this one.
Furthermore, Diaz told Young Hollywood of her Narcos role, "Being in Mexico City and telling that story and actually playing someone that's still alive was a whole other challenge in itself." Indeed, since Narcos often features historical figures, Diaz's character is based on a real person by the same name. According to the San Diego Tribune, Geneva "Mika" Camarena was born in 1948 in Fresno, then was raised in the California town of Calexico, which borders Mexico. She and Kiki were high school sweethearts, per the article, and he later served as a firefighter, police investigator, and U.S. Marine before joining the DEA.
After her husband's death, she worked to honor his legacy, starting Red Ribbon Week in his name, and now serves as the president of the Enrique S. Camarena Foundation. The foundation was formed in 2004, with the help of retired DEA agents and her oldest son, Enrique, who is a district attorney in South Bay. According to the San Diego Tribune, she now "dedicates her time to promoting drug awareness in schools and communities nationwide."
As for her onscreen counterpart, Diaz is known for her roles in shows like Zoo, Ray Donovan, and, more recently, The Rookie, starring Nathan Fillion. Diaz is from Northridge, California, per her IMDb bio, and she has both Colombian and Mexican ancestry. In an Instagram post, Diaz described her time on Narcos as, "a life changing experience for me working with a wonderful cast and crew!"
However, it remains to be seen what her character's arc will be this season. That said, it's clear that Mika is going to be a big part of Narcos: Mexico. In an ad campaign for the series, Mika is referred to as "La Dama," or "the lady." She is depicted wearing a simple outfit and holding a bouquet of flowers — the epitome of purity of motherhood. However, audiences will have to wait and see how Mika responds to being in a dangerous area with three young children. This is Narcos, after all.