Kim Jong Un's Wife Rarely Enters Into The Spotlight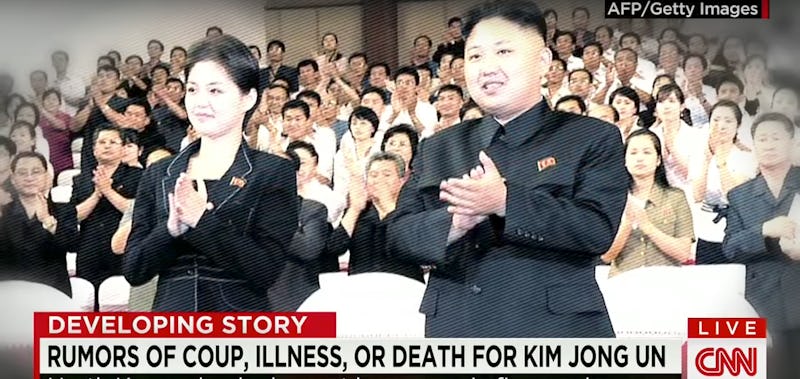 CNN
As news abounds about North Korea's recent threat to attack a U.S. military base in Guam, many Americans would like to know more about the reclusive country. You've certainly heard of North Korean leader Kim Jong-Un, but his wife Ri Sol-ju has spent far less time in the public eye.
There does not exist much publicly-available information on Ri, likely due to the secretive nature of the North Korean regime. As British newspaper the Express reported, Kim and Ri are thought to have married in 2009. However, Ri was reportedly not seen in public in North Korea until 2012, when she accompanied Kim to a concert in Pyongyang. At that time, North Korean state media confirmed that Ri was indeed Kim's wife.
As the Express noted, the pair reportedly married just as Kim was about to succeed his father, Kim Jong-il. North Korean analyst Cheong Seong-chang reportedly said that "The late North Korean leader Kim Jong-il arranged his youngest son's marriage in a hurry after suffering a stroke in 2008."
According to the New York Post, prior to marrying Kim, Ri reportedly went to school in Pyongyang, then studied music abroad in China — a rarity for North Koreans.
Ri allegedly gave birth to a child, Ju-ae, in 2012, though this information was never publicly announced or confirmed. Instead, it was reported by former U.S. basketball star Dennis Rodman, who had visited the country and reportedly met Ri and Kim's daughter, subsequently revealing her name to The Guardian.
Ri reportedly only makes rare public appearances and, according to Newsweek, most of the events at which she appears tend to be missile test launches. Indeed, she was reportedly most recently seen at a missile test launch banquet on July 10, which she attended with her husband. Prior to that, Ri had not been seen in public since early March.
According to The Huffington Post UK, Ri's long absence prior to the July 10 appearance had led many to speculate that she was pregnant, though this rumor has not been addressed by North Korean media. Moreover, a long absence would not be a rarity for Ri, who, according to South Korea's largest news agency, Yonghap News, only accompanied her husband to only four public outings in 2016 and just seven in 2015.
Due to the reclusive nature of the North Korean regime, not much more additional information is available about Kim's wife or his immediate family. Without a doubt, many observers will likely be watching to see if Ri increasingly appears by Kim's side in light of heightened tensions between North Korea and the United States — or if she again will disappear from the public spotlight.