British No. 1 Kyle Edmund Is Unapologetic About His Personal Life & Here's Why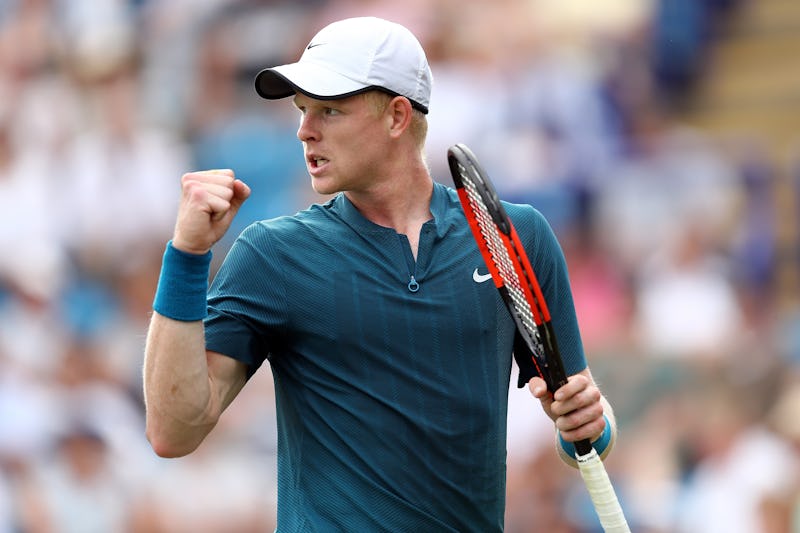 Bryn Lennon/Getty Images Sport/Getty Images
You'd think Wimbledon wouldn't be the same without Andy Murray, but the 23-year-old taking his place as British No. 1 is certainly a man of intrigue. After reaching the second round of Wimbledon last year, there's no doubt that Kyle Edmund is going to try his hardest to dominate the courts this summer. Despite being pretty young, Edmund has already proven himself in numerous championships like the Australian Open. Personalities and relationships are always the first thing people want to know about when when deciphering new faces in sports. So, who is Kyle Edmund dating?
Well, judging by reports, he's taking the men's singles quite literally. In a recent interview with The Telegraph, Edmund gave an insight into his mindset and his life outside the tennis courts. The article quoted a previous statement he had made about partners, in which he reportedly said "I have been told they are trouble." As a result, it would seem the tennis star is currently single, though The Sun reports that there were rumours in 2017 that he was dating a woman linked to British tennis' governing body, the Lawn Tennis Association.
The interview with The Telegraph also revealed that Edmund chooses not to drink. "I've had literally a couple of drinks in my life," he explained. "I don't really like the taste, I don't get anything from it and because my career is so short I just think, 'Why?'" Good on you, dude.
It's obvious that this lifestyle is working for Edmund. He won a Grand Slam quarter-final against world No 3 Grigor Dimitrov in the Australian Open earlier this year. According to The Independent, the victory made Edmund "only sixth British man in the open era ... to play in a Grand Slam singles semi-final." He was ultimately beaten by Marin Cilic in straight sets.
Born in Johannesburg, South Africa but raised in Tickton near Beverly, East Riding of Yorkshire, Edmund primarily played cricket in his youth, according to Metro. He began tennis lessons at 8 years old under coach Richard Plews in Hull, The Times reports. He would go on to train under John Black from 13 years old in Bisham Abbey, his biography explains, and then under Colin Beecher from 16 years old at the National Tennis Centre. According to the ATP World Tour website, he turned pro in 2012
Edmund is currently the British No. 1, replacing an injured Andy Murray who had held the title since 2006. "It's great to be British No 1," he told The Guardian. "It is a very privileged position to be in. It will be my first time at Wimbledon in that position, so I don't know what to expect but it's a nice problem to have."
As someone also in their early twenties, if I were Edmund I would have definitely succumbed to the pressure of expectation by now. The player is exactly the opposite — he seems to thrive on it. "As I've been there [Wimbledon] more and more, and been lucky enough to become a member, I have become familiar with the surroundings and feel more relaxed about it," he told the newspaper.
"But when you're younger and playing the juniors, you definitely know you're at a special place. So many tennis legends have been there. I remember thinking that last year: how much history there had been there, and I was lucky enough to play on Centre Court. It was kind of surreal."
What's clear is that Edmund enjoys the sport with his entire being rather than viewing it as just a "job," and he seems determined more than ever to prove himself worthy of the British No. 1 spot. I for one can't wait to see what this year's Wimbledon will hold for Kyle Edmund. He faces his first opponent, Australian Alex Bolt, ranked 105 in the world. With Edmund seeded at 18th, here's hoping the game unfolds in his favour.
This article was originally published on