Here's A Refresher On 'BiP' Star Lacey's 'Bachelor' Past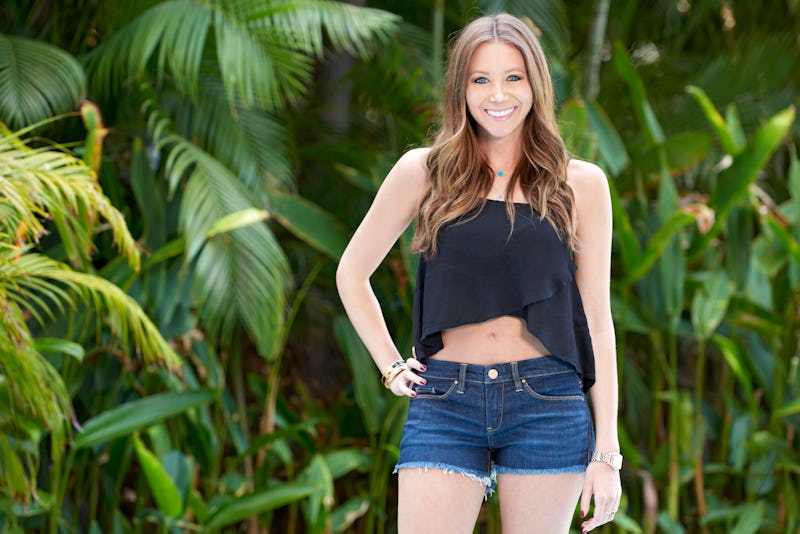 ABC/Bob D'Amico
There are some contestants on The Bachelor who make an immediate impression, whether it's by arriving in a silly costume or greeting the suitor with quirky anecdote, but there are others who fade into the background. It can be strategic to not open with a gimmick; while the gimmicky people make for good television at first, it's often the more grounded contestants who make it to the final three. Cast members need to be careful, though, because if you aren't keeping the suitor's attention, it's easy to go home early. On Nick Viall's season, new Bachelor in Paradise contestant Lacey Mark may have been too focused on friendship, and since she didn't manage to connect with Nick, was sent home the second week. Fans who do recognize her probably remember her best as Corinne's confidante, and in the shadow of her friend's enormous personality, it makes sense that she didn't initially catch the audience's attention.
Lacey did have a couple of memorable moments during the season. For one, she arrived at the mansion on a camel, and even had a dirty pun to accompany the moment. She was also one of the women who went on the infamous bridal group date, where every contestant tried to make the best of an absolutely awful situation. Seriously, group dates are always awkward, but watching your potential boyfriend marry a bunch of other women? Rough. Lacey also had funny moment during the season when she was totally thrilled that Danielle L. got the first one-on-one date. "I'm so happy that Danielle got the one-on-one date because she's amazing. Like, I didn't even know girls were that nice?" she said, when prompted to dish on her feelings about not being picked.
At the Women Tell All special, though, Lacey managed to stir enough drama to keep the focus on her. She argued that Nick let her go too soon. She said that the suitor never gave her a chance to shine, and that she regretted not being more assertive. After speaking up about wanting a second chance, Lacey was given a ticket to Bachelor in Paradise. Only time will tell if this season the star will get a chance to be in a relationship, or if she will fall back into her old habit of looking out for her friends over herself.
Lacey's has been up to a lot since her season of The Bachelor. She's a Marketing Manager in New York City, and if you take a look at her Instagram, it's clear that she leads a fun life. In her spare time, it seems that she enjoys reading, pool lounging, and of course, hanging out with her many, many friends. Lacey has stayed in touch with other Bachelor Nation stars, and posts plenty of pics from nights out on the town with this crowd.
It's clear Lacey has a lot more to offer than what audiences saw on Nick's season. It tough to compete with huge characters like Alexis the aspiring dolphin trainer and a villain as compelling as Corinne. However, Lacey managed to make a name for herself during the reunion episode by standing up for her friends amidst the drama and pushing for another chance on the series. On Monday, she will get that chance to reintroduce herself to Bach Nation, and pursue a relationship without getting lost in all the characters from the mansion on her season.