The 'Invite Only Cabo' Host Is Delightfully Stylish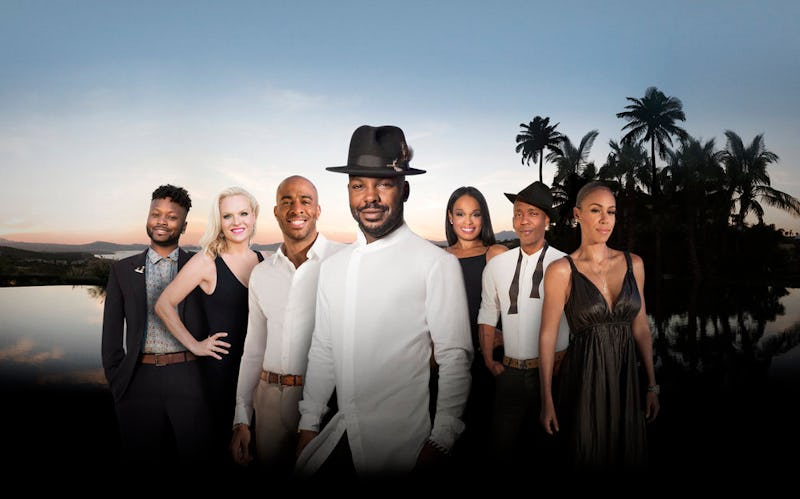 Virginia Sherwood/Bravo
Bravo's latest reality show, Invite Only Cabo, stretches the limits of even my credulity when it comes to the reasons that a group of people who vaguely dislike one another all wind up under one roof. Ostensibly, it's all the brainchild of Larry Sims, who has the means to rent out an entire house in Mexico, but chooses to invite a group of people who don't know one another. And, if you don't know who Larry Sims is, well then I'm here for you. He's a person who invited people who are practically strangers on an expensive vacation and then filmed it, making the whole experience as excruciating as possible. And, it turns out this recipe for a perfect reality TV character is a very talented celebrity hairstylist.
According to Larry's Bravo bio, "he hasn't taken a vacation in over five years and hopes by putting his eclectic group of friends under one roof, that he can successfully blend different parts of his life together." Ah, now I understand. I can't blame Larry for wanting to have all the relaxation and fun at once. Because most of the time, he's hitting the grind — here's everything you should know about him before Invite Only Cabo.
He's A Chi-Town Native
According to Larry's Bravo bio, he "started his career as a dancer and choreographer" in his hometown of Chicago. Evidence of his early dance past is hard to find, but his love of his town is well-documented.
He Is An Award-Winning Hair Expert
As a celebrity hair stylist, it's inarguable that Larry knows what he's doing. If you're ever looking for some hairspiration, he often posts photos on Instagram with lots of closeups so you can drink in every detail. And he's been awarded for his work — in this photo, he thanked the Hollywood Beauty Awards and said he was "appreciative and humbled" by the win.
With Some Famous Clients
Gabrielle Union, Tracee Ellis Ross, Jurnee Smollett, Mary J. Blige... if you notice a Black woman in Hollywood with an enviable style, there's a good chance she's one of Larry Sims' clients.
Larry Has A Lot Of Style
Lots of people who work behind the camera in the fashion industry, be it stylists, designers, makeup artists, or hair wizards like Larry, stick to a simple uniform. But he prefers a more outlandish, fun wardrobe.
And An Amazing Hat Collection
This hat probably won't be featured on Invite Only Cabo, but hopefully Larry will feature some of his many others.
A Staycation At His Place Doesn't Seem Half Bad
A beautiful living room with what looks like an incredibly soft blanket, some lovely decor and King Nochi the dog as a bunkmate? No wonder Larry hadn't taken a vacation in years before Invite Only Cabo — might as well stay home when you have a view this good.