Harvey Weinstein Gets Hit With A New, Disturbing Sexual Harassment Allegation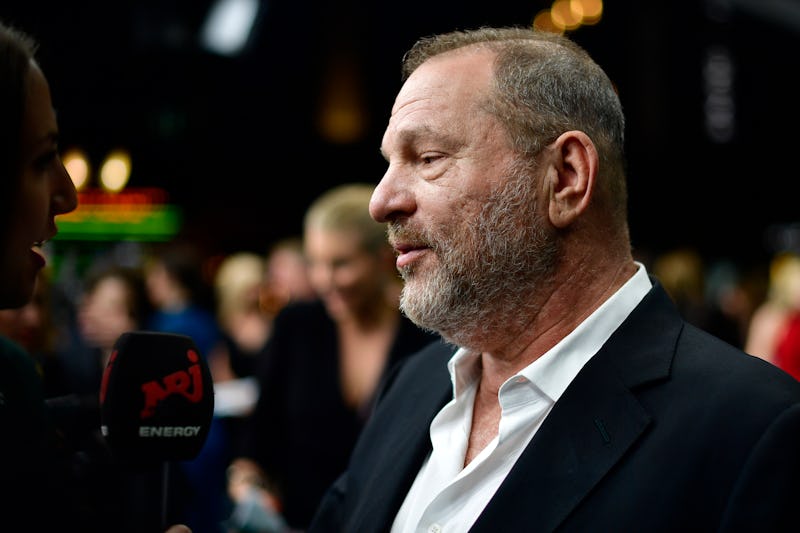 Alexander Koerner/Getty Images Entertainment/Getty Images
A bombshell New York Times report regarding nearly three decades worth of sexual harassment allegations against film producer Harvey Weinstein has inspired another woman to come forward. In an interview with journalist Yashar Ali for HuffPost, former cable news anchor Lauren Sivan alleged Weinstein once forced her to watch him masturbate and ejaculate into a potted plant. HuffPost reported that Weinstein was not available for an interview regarding the story. Bustle has reached out to Weinstein's attorney, Charles Harder, for comment.
According to Sivan, Weinstein allegedly cornered her in the restaurant area of Socialista, a Cuban themed club and restaurant in New York City, nearly a decade ago. When Sivan rebuffed Weinstein's attempt to kiss her, the film producer allegedly asked her to "just stand there and shut up" before exposing himself to her and masturbating into a potted plant that was sitting nearby. The restaurant was reportedly closed to the public at the time.
Sivan told HuffPost the incident lasted only a short time and that she was allegedly trapped by Weinstein's body in a vestibule between the restaurant's kitchen and bathroom. She also reportedly said she was "intimidated," "frozen," "deeply shocked," and at a loss for what to do or say. Prior to the incident Sivan reportedly had dinner with Weinstein and a group of people at Cipriani before heading to Socialista, where he'd offered to give her a tour of the restaurant below the club.
Sivan told HuffPost she left the club just after the incident with Weinstein but that he called her the next day and reportedly told her he'd "had a great time last night." Sivan alleged Weinstein then invited her to meet him again, an invitation she declined. Sivan said she has not had any interaction with Weinstein since the incident took place roughly a decade ago.
According to HuffPost, while Sivan told a few friends about the incident she did not go public with her allegations at the time because she was "fearful of the power that Weinstein wielded in the media." In a statement posted to her Twitter account, Sivan said she felt it was possible to go pubic with her allegations now that other women had spoken out against Weinstein.
"For those asking why I waited, YOU try telling that story 10yrs ago. Only possible now because of women with bigger names far braver than me," Sivan said in a tweet referencing the Times report in which actress Ashley Judd went on the record with allegations about Weinstein's behavior.
In a report released Thursday, the New York Times alleged Weinstein had made numerous inappropriate sexual advances on women in the workplace over the span of nearly three decades and had reached confidential settlements with at least eight women. In an statement to Bustle, Bloom, Weinstein's legal adviser at the time (she announced Saturday that she was resigning from that role), said the film producer denied "many of the accusations" levied against him in the Times' report. "Harvey Weinstein and I have had many wide ranging conversations over the last year about rumors and allegations against him," Bloom noted. "He denies many of the accusations as patently false."
The Times report includes disturbing accounts from two women and notes that "dozens of Mr. Weinstein's former and current employees, from assistants to top executives, said they knew of inappropriate conduct while they worked for him." In a statement to the Times, Weinstein apologized for his behavior and said he'd "realized some time ago that [he] needed to be a better person." Weinstein also said he respected women and that his interactions with people in the workplace "have changed."
Harder did not immediately return Bustle's request for a comment regarding Sivan's allegations against Weinstein.
In a statement released Friday, the Weinstein Company announced Weinstein would be placed on indefinite leave pending an independent law firm's investigation into the allegations of sexual harassment raised against him.
If you or someone you know has been sexually assaulted, call the National Sexual Assault Telephone Hotline at 800-656-HOPE (4673) or visit online.rainn.org.