Lea Michele's New Boyfriend Is A Very Handy Guy For A Celeb Lady To Know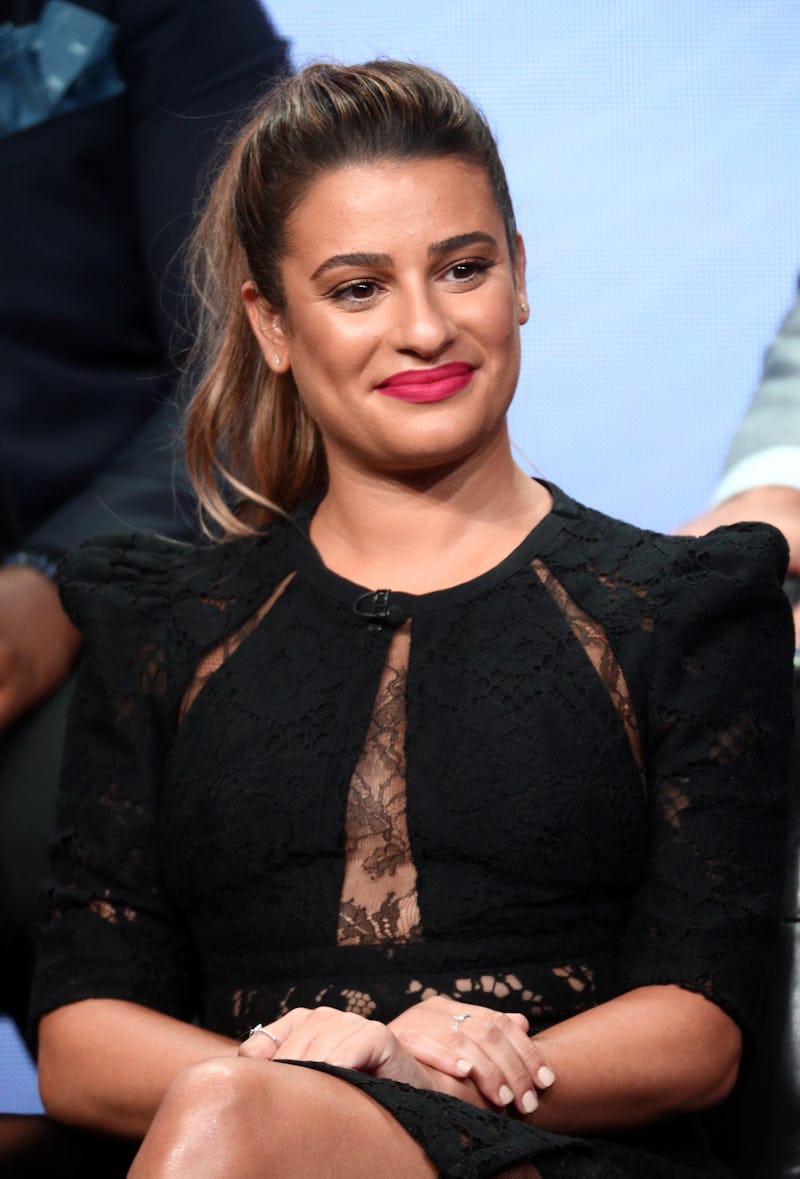 Frederick M. Brown/Getty Images Entertainment/Getty Images
An award show red carpet is a great place for celebs to name drop their latest projects, talk about their tuxes and gowns, and, sometimes, share some personal life info that their fans definitely appreciate. During the 2017 Emmys red carpet, Lea Michele talked about her boyfriend and mentioned that he got the stamp of approval from another important man in her life: Ryan Murphy.
The actor told E! News host Giuliana Rancic, "When my boyfriend got the seal of approval from Ryan Murphy that was it ... sealed the deal." As fans of the singer-actor know, Michele has worked with Murphy on both Glee and Scream Queens.
So, who is Michele's boyfriend? Rancic mentioned that he and Michele have been together about a year — which Michele didn't confirm — and it was also brought up that he owns a women's clothing company, but his name wasn't said during the interview for fans' convenience.
Well, Michele's boyfriend's name is Zandy Reich, and according to People he is the present of the brand AYR. AYR is pronounced "air" and stands for "All Year Round." According to the brand's site, they are a "label for women who don't like to be labeled." The site explains further:
We admire women who lead limitless lifestyles. We are not defined by labels or by logos. We embody that everyday effortless hustle. We belong to a generation of women who can do anything. We'll take care of creating quality clothing so you can take care of business (and everything else).
The brand makes minimalist basics for women, including jeans, dresses, and outerwear. Reich is listed on the "about" section of the site, but there isn't much information included — just that "Zandy loves shuffleboard." Hey, nothing wrong with that.
According to People, Reich previously was the head of business development for another clothing label, Theory, and attended the University of Pennsylvania. E! News reported that he attended the college's Wharton School of Business.
Multiple sources confirmed Reich and Michele's relationship in July of this year after they were photographed by paparazzi while walking hand in hand in New York City. A source told E! News at the time, "They have been friends for a while and started dating recently." Similarly, a source told People, "They've been friends for a long time, a few years. Things turned romantic recently and they're dating now."
While Michele is an avid Instagrammer, she hasn't posted much about Reich, but she did post a photo related to her birthday. The Instagram shows them both facing the ocean with the caption:
Last year, in this same spot, on this same day, you told me 30 was going to be the best year of my life.. it was. So much to be grateful for, but mostly you.. got a feeling 31 is going to be even better... ❤️ u Z
It's unclear if they were standing together a year earlier because they were still friends, or if their relationship was getting underway.
It doesn't seem that Reich has his own Twitter or Instagram accounts, so the other photos of Michele and Reich that are publicly available are paparazzi shots, like these of them kissing in New York:
And these photos of the couple with Michele's Scream Queens costar Emma Roberts:
Perhaps now that Michele has spoken about Reich on the red carpet, she'll talk about him more in other red carpet appearances and interviews.
Outside of her new relationship, Michele also has a new show coming up. She'll be staring on ABC's The Mayor in which she plays Valentina, a friend of a rapper who becomes the mayor of his hometown in California. Michele's new show premieres on Oct. 3.