Lena Headey's Husband Knows His Way Around The Hollywood System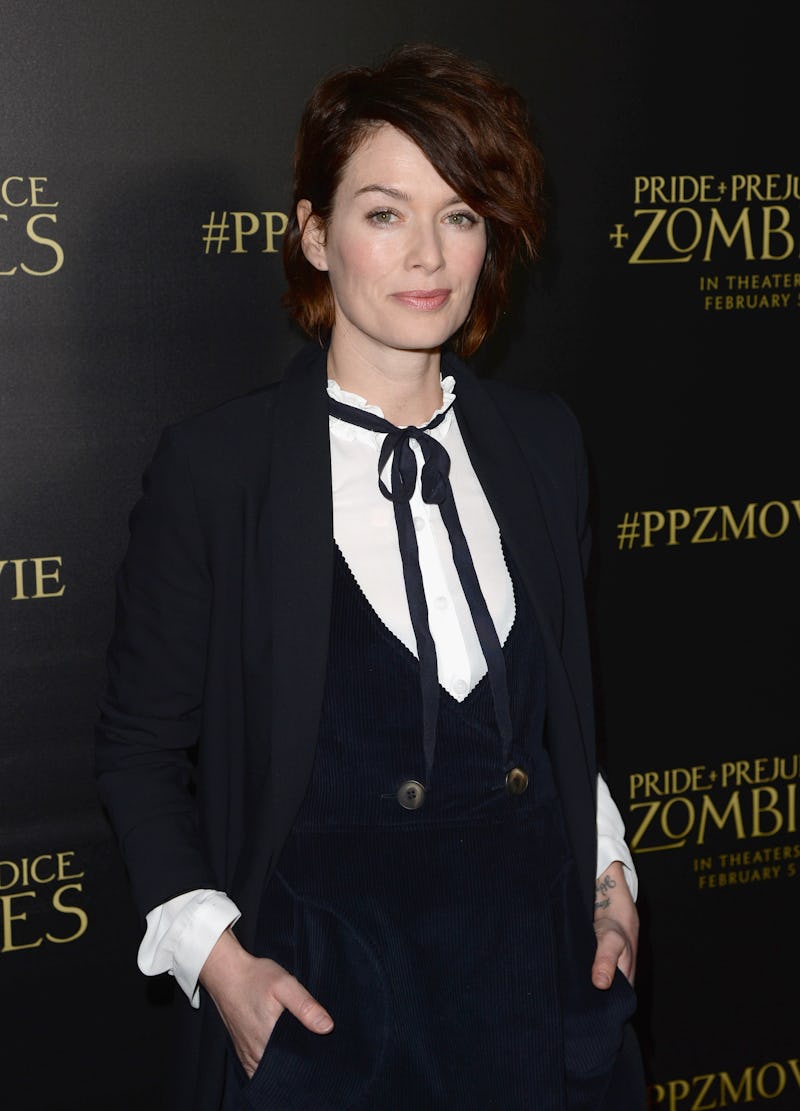 Kevin Winter/Getty Images Entertainment/Getty Images
The Game of Thrones cast has had a whirlwind few years, and it's been an eventful time off-screen as well. In 2018, Lena Headey got married, tying the knot with her longtime-boyfriend, Dan Cadan. Lena Headey's husband Dan Cadan works in the industry as a filmmaker, and the two have a lot of history together. Cadan has directed a couple feature length films and short films, including Morvern Caller and Walk Like A Panther. In 2009, Headey appeared in his short film The Devil's Wedding. However, the couple have known each other even longer than their professional relationship, and the two were reportedly childhood friends, according to The New York Times.
According to IMDB, Cadan started his career working for Guy Ritchie. He was a production assistant on both Lock, Stock and Two Smoking Barrels, as well as the 2001 film Snatch. Cadan's most recent project was the feature-length comedy, Walk Like A Panther. The movie follows a group of 1980s wrestlers who revisit their careers in order to raise funds to save their favorite local pub. It was written and directed by Cadan, and starred Jill Halfpenny and Stephen Graham. It's not clear whether or not the director has any future projects in production, but the past couple of years have seen significant milestones in his personal life, as he married Headey during the summer of 2018.
Cadan and Headey live together in the United Kingdom with their daughter Teddy, who is 2, and Wylie, the actor's 7-year-old son from her previous marriage. According to NYT, Headey considered staying in Los Angeles to work, but ultimately decided to return home to Yorkshire, England to be closer to family. "My life's been mad for the last year," she said the newspaper. "I would've stayed in L.A. and played the game, but I want my kids to have a bit of grounding." The couple now reside in their hometown, which of course allows Headey to travel to shoot Game of Thrones, which is largely filmed in Northern Ireland.
In 2017, Headey spoke about her relationship with Cadan and her hesitance to marry again in the same NYT interview. Even though she wasn't sure if an engagement was right, she seemed happy the proposal happened. "I always said to him, 'Don't ever ask me to marry you, it's a disaster,'" she told the publication. "But it actually feels really wonderful."
Headey was previously married to hairdresser Peter Paul Loughran, and she told the newspaper that the high-profile divorce was part of what made her cynical about the idea of marriage. However, the romance with Cadan ended up changing her mind. Cadan proposed in spring of 2017, and the two wed almost a year later.
It's going to be a major year for the Game of Thrones cast, who could potentially sweep up more Emmy Awards on Monday, Sept. 17. The final season of the popular, award-winning series doesn't yet have an official release date, but it is expected to premiere in early 2019. It's not yet clear what Headey has planned professionally after the series wraps, but it's possible collaborations with her filmmaker husband could be in the future.
Queen Cersei might have a chaotic final chapter on Game of Thrones, but Headey's life off screen seems much more peaceful. The star seems so in love with her husband and family, and these two truly do go way back. Even though their current relationship only began several years ago, the two have been acquainted since they were young, according to NYT.
On Monday, many of the Game of Thrones stars are likely to appear on the red carpet for the 70th Emmy Awards. It's possible that Cadan will be at Headey's side for the event. Either way, it seems like these two film and television industry veterans are perfectly matched.