A Beloved South Korean Figure Skater Got The Honor Of Lighting The Olympic Cauldron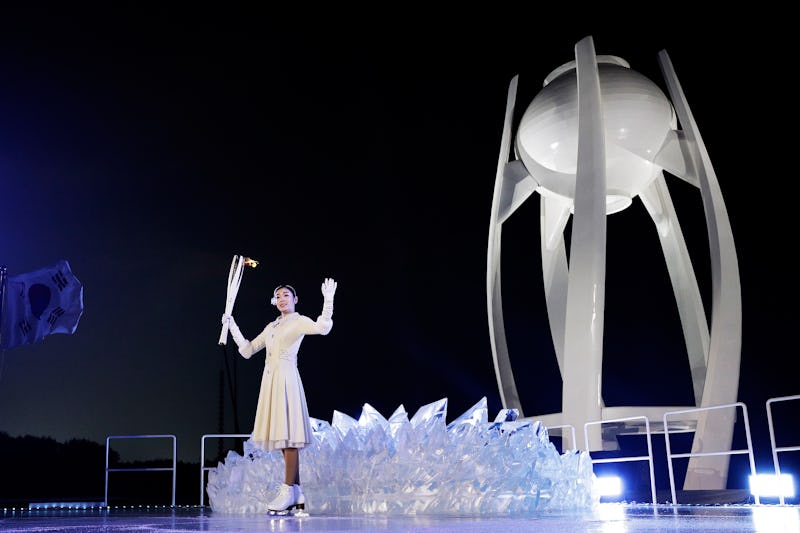 Pool/Getty Images Sport/Getty Images
The Olympic flame, one of the most iconic symbols of the Oympic games, was carried more than 1,200 miles by 7,500 torchbearers on a 100-day journey to PyeongChang. Given just how incredible it is for a single flame to travel that far, the person who is lighting the Olympic cauldron is given a huge responsibility — and a huge honor. The person selected for this job is always a national icon worthy of one of the highest honors of the Olympics, and this year was no exception.
Yuna Kim lit the Olympic cauldron at the 2018 opening ceremony. She is a South Korean figure skater lovingly referred to as "Queen Yuna." At the 2010 Winter Olympics in Vancouver, Canada, she became the first South Korean athlete to ever win a medal in figure skating (it just so happened to be gold, too). In 2014, she competed in Sochi, Russia, earning a silver medal. Yuna will not compete in PyeongChang — she retired after Sochi, but was quickly named an official Olympic ambassador for the 2018 Winter Games.
First skating around a rink built at the base of the Olympic cauldron, Yuna took the torch from two members of the Korean unified women's hockey team (who had to run up an intense and steep slope to get to the top).
According to Nick Zaccardi, an NBC Olympic Talk editor, Yuna was the first woman to light an Olympic cauldron by herself since 2006, when Italian cross-country skiing medalist Stefania Belmondo did the honors at the Winter Games in Turin.
There have been some very notable figures who have completed this task in the past. Boxing legend and activist Muhammad Ali lit the torch at the Atlanta games in 1996. And in 1964, Yoshinori Sakai, a Japanese runner born on the same day as the atomic bombing of Hiroshima lit the cauldron.
But the prized position isn't always designated to gold medalists or athletes who have become household names in their host countries. Sometimes, they are honored for their character.
The last person to light the cauldron, Brazilian runner Vanderlei de Lima at the 2016 Rio Olympics, was grabbed by a fan during a marathon at the 2004 Athens games. Still, he continued the race, and while he didn't win the gold, he ultimately came home with both a bronze medal and the Olympic Pierre de Coubertin medal for "exceptional demonstration of fair play and Olympic values."
For many, the selection of "Queen Yuna" to light the cauldron was a perfect way to kick off the Olympics. Her historic performances at the Winter Games and her celebrity status in South Korea mean she perfectly fits in with those who have been honored with the job in the past.
"Yuna Kim's fantastic performance returns to last finale torch relay scene at #PyeongChang2018. It makes me so happy to her again at Winter Olympics," South Korean reporter Jaehwan Cho wrote on Twitter.