Exclusive: This Is What Georgia Steel Is Promising For 'Love Island' 2018 & Wow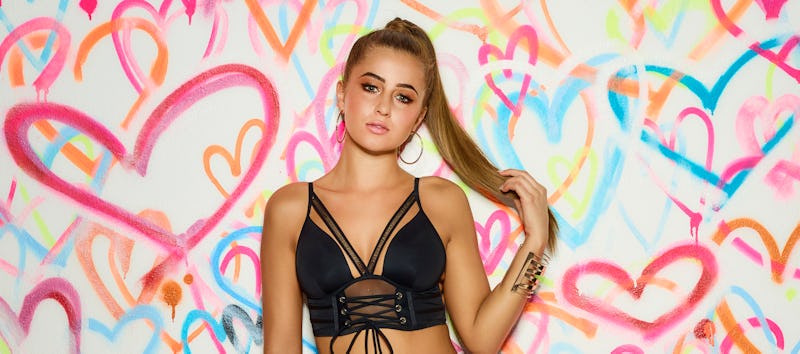 Love Island/ITV
If there's one thing you need to be a Love Island contestant, it's confidence — aside from a top notch talent for grafting, of course. New Islander Georgia Steel has buckets of it. The 20-year-old student is one of two new arrivals who have just joined this year's Love Island 2018 line-up and if she's anything close to how she sounds on paper, she'll be spicing up the villa with her self-confessed "brutal honesty" and party nature in no time. So who is 'Love Island's Georgia Steel?
First things first, she has clear ideas about having sex in the Love Island villa — a topic many of this year's contestants have been vocal about since they were announced for the show. Fans who watched the hit ITV series last year will remember that there were plenty of intimate moments between coupled up contestants like Kem and Amber, Chris and Olivia, and Jess and Dom (to name a few), with sex quickly becoming the norm within the villa. For this series however, Love Island bosses have taken extra control by reportedly introducing a strict new set of sex rules for the Islanders including a ban on full nudity and masturbation, and full sexual health checks for all contestants prior to entering the villa, according to The Mirror.
And though it would be naive of viewers not to expect some steamy bedroom scenes on the show (it's Love Island not Friend Island after all), a number of this year's contestants including Hayley Hughes, Dr Alex George and Dani Dyer have already vowed to refrain from doing the deed on telly. But will Hayley and Dani have a change of heart now that they're both coupled up?
Speaking to the Mail Online, Hayley said: "I won't have sex on telly. People tell me everyone says that, but its eight weeks. If he likes me, he can wait." Meanwhile, Alex, who works as an A&E doctor told Digital Spy that sex is off limits for him as he doesn't want to "jeopardise" his career. Though judging by his fate on the first episode, that might not be such a hard promise to keep. Similarly Danny Dyer's wife vowed to "smack" their daughter Dani on the bum if she has sex in the villa during an interview with the Mirror.
However, for newcomer Georgia, sex isn't completely off the cards. In fact, she says the judgement people get for being intimate on the show isn't fair. "I think it can be very difficult for people to make judgements on that without actually being through the experience themselves," she told Bustle. "There are only a number of people in there going through the same experiences so for people on the outside to make judgements can be really difficult."
She continued: "I'm not ruling out anything and I'm not saying anything would happen. But because you're there with someone for such a long time and you do really have a strong connection, you just don't know. But obviously you have to be aware of what is around you as well."
As for her family's opinion, Georgia isn't worried. "My family accept me for who I am and I think they would support whatever decision I make," she explained. But above all, Georgia says she's on the show to find love. "If I met someone on there that I have a connection with and I think 'what a lovely journey we've shared together', and we come out and the relationship is just as strong as it was in there then I've obviously met my soulmate."
With that being said, she isn't afraid to jump ships to find her perfect match in the villa. "I am a loyal person but like I said, I'm honest. I feel like you can fall in love and fall out of love just as quick and I am very very honest when it comes to that," she revealed. "I'm going to be very real on there, so you'll have to wait and see." Yep, sounds like things might just get a bit "muggy" in that case, and forgive me for saying this but I'm so here for it. Seriously, what's better than a dramatic plot twist on re-coupling night?
When she isn't busy crackin' on with whichever Islander turns out to be her type on paper — "tanned, nice teeth, dark hair and dark features" is what she's after by the way so perhaps she- you can expect Georgia to be the life of the party. "My go-to party trick is drinking more than anybody else," she said. "I'm a fun drunk, I like to have a good time. I've been working in the club industry since I was 18 and I think it takes a certain person to be able to work in an industry like that. You either embrace it or it's just not your thing." She has a similar attitude when it comes to the way she is perceived by others. "I'm very confident, the way I am is very real," she said. "You either like me or you don't, and if you don't like me you know where the door is because I don't have time for that."
Be warned Islanders!