Lyle Menendez's Wife Is A Defense Lawyer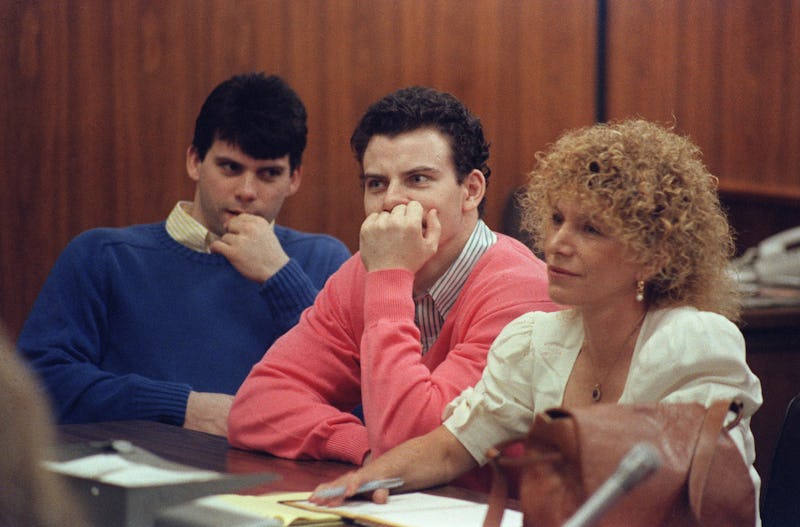 MIKE NELSON/AFP/Getty Images
Having a husband who is living out his life in prison can't possibly be for everyone — but that's the choice that Lyle Menendez's wife, Rebecca Sneed, has made for herself. It's difficult to imagine if you're used to having a significant other who you can, like, grab a drink or chill on the couch with. As Sneed and Menendez first got to know each other around 1993, the same year as the Menendez brothers' first trial, there's a very good chance that the two have never gotten to do anything like that. As Menendez has said, though, "Your physical comfort is much less important than your connection with the people around you." Sneed must certainly subscribe to this line of thinking.
When Sneed met Menendez, she was a magazine editor, but they wouldn't tie the knot for another decade. In the interim, Menendez married another woman — Anna Erikkson, a former model, who divorced him when she found out that he had been writing letters with other women. Sneed, of course, was one of these other women. The two of them got married in 2003, two years after Menendez and Erikkson had gotten divorced, and they've been married ever since. The fact that their marriage has lasted 13 years despite their situation is testament to its strength, especially given the number of marriages that don't involve prison and still end well before that mark.
Those 13 years have been quite eventful, however. Sneed became a defense attorney, so perhaps her husband's situation has had more than just an effect on her personal life. She and Tammi Saccoman, Erik Menendez's wife, lived together briefly — but the two of them really didn't get along.
Despite the fact that California law prevents conjugal visits to prisoners with life sentences, Menendez claims that their marriage is very strong without the physical aspect. Menendez says,
I've found I can have a healthy marriage that is complicated and built around conversation and finding creative ways to communicate, sharing, without all the props that are normally there in marriage in terms of going out to dinner and having as much intimate time together and so on.
Sneed has remained quite private about her marriage to Menendez, so his words on the subject are what the public must rely on to assuage its curiosity. Their highs and lows are clearly of a different variety than what you might think of as typical, though.