A Female Student Interviewed 100 Convicted Rapists In India For This Important Reason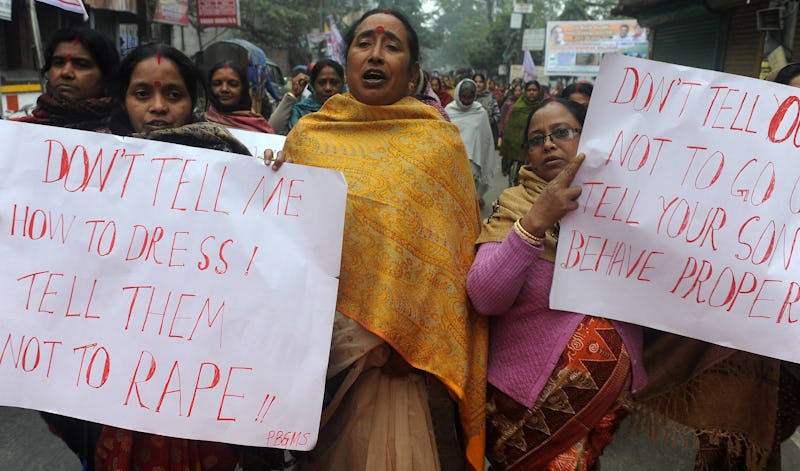 DIPTENDU DUTTA/AFP/Getty Images
Rape culture — a system that excuses, accepts, and normalizes rape and violence against women — is prevalent worldwide, and attempting to tackle it has produced many different approaches. One researcher, Madhumita Pandey, attempted to find out if talking to convicted rapists could help us understand the roots of rape culture, and from there eradicate it. Since 2013, Pandey, a doctoral research student at Anglia Ruskin University in the UK, has interviewed over 100 men convicted for rape in India, and in doing so learned about how easily having sexist attitudes can turn into violence against women.
In India, rape has been an all too common subject in the news for years, particularly after the 2012 gang rape of a woman known as Nirbhaya, or "Fearless One." The assault, which took place on a Delhi bus, resulted in Nirbhaya's death after extensive surgery, a massive international outcry, and death sentences for four of the perpetrators. (Another, as a minor, received a lesser sentence, while the sixth died in prison.) The case drew Pandey's interest, and gave her an intellectual focus for her doctoral research: to take an academic look at the perspective of rapists themselves. "As one of the first studies to take into account the perspectives of convicted rapists in India," she wrote in Quartz in August, "my aim was to understand the attitudes these men have towards their victims and how this thinking contributes to the endemic sexual violence that women experience in the country." What she discovered has important lessons for anti-sexual violence activists the world over.
"When I went to research," Pandey said, "I was convinced these men are monsters. But when you talk to them, you realize these are not extraordinary men, they are really ordinary. What they've done is because of upbringing and thought process." Though Pandey's interviews are not yet published and her research hasn't been peer-reviewed, or examined by her department, her preliminary accounts of what the men said are intriguing. For one, the research cohort of rapists she interviewed had a low level of education; many of the men had dropped out in third or fourth grade, and only a small amount had graduated high school. Many of them, she also noted, didn't appear to have a full understanding of consent. (That being said, rape is perpetrated by people of all education levels across the world.) For another, not many of the subjects she interviewed expressed remorse for their actions. Only "three or four" of the men expressed any kind of repentance, she told the Washington Post. Most of the others, she said, denied that rape had occurred, made excuses, or justified what they'd done.
As part of her research, Pandey asked her subjects to complete two different questionnaires. One was the Attitudes Towards Women test, which assesses levels of sexist attitudes towards women, and includes questions like "Women should be concerned with their duties of childbearing and house tending rather than with desires for professional or business careers". The other was the Multicultural Masculinity Ideology Scale, which quantifies what kinds of traits and behaviors are seen as "manly." Both can be indicators of the underlying particular perspectives that motivate behavior.
Though the final transcripts of the interviews, and how the rapists scored on the various tests, are not yet available, they will be exceptionally interesting to researchers of rape culture in the future. What Pandey learned through her research, however, was that rapists are not born; they're made. "Everyone's out to make it look like there's something inherently wrong with them," she said. "But they are a part of our own society. They are not aliens who've been brought in from another world."
Interviews with rapists in order to understand the mindset behind sexual violence aren't new. Between 1980 and 1981, for instance, American researchers interviewed 114 convicted rapists incarcerated in Virginia, for as long as seven hours each. They catalogued the particular ways in which rapists attempted to deny or excuse their crimes, all of which involved manifestations of sexist attitudes: they saw women as "seductresses," and thought "nice girls don't get raped." But Pandey's study is the first to look in-depth at sexual violence and rapists in India, which is deeply necessary. The National Crime Records Bureau notes that around 92 women across India are raped every day, and that 34,651 rapes were reported in 2015 — and that doesn't include those left unreported because of the massive social stigma attached to being a survivor of rape.
Sexual violence against women continues to be a huge problem worldwide, and studies about how it emerges in each cultural context are invaluable in understanding how that particular culture responds to violence against women. Pandey's research highlights the necessity of changing sexist attitudes and challenging toxic masculinity, not just in India, but anywhere where sexual violence against women is a problem. Which is to say: everywhere on Earth.