All About Maisy Biden, Joe Biden's Granddaughter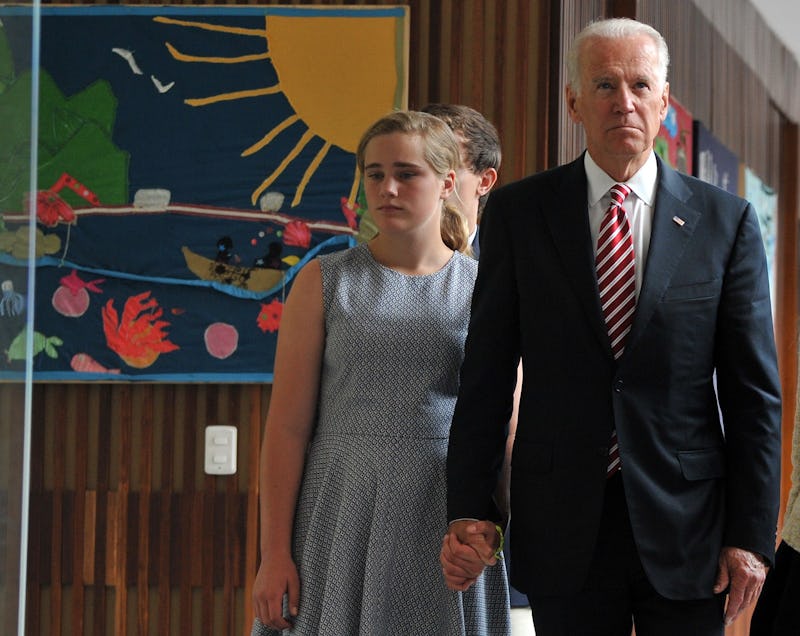 GUILLERMO LEGARIA/AFP/Getty Images
Barack Obama and Joe Biden may be at the top of the internet's #friendshipgoals, but they're not the only Bidens and Obamas with a long-standing bond. Biden's granddaughter, Maisy, and Obama's youngest daughter, Sasha, have been friends since the two families joined political forces, and the duo even jetted off together on a trip to Miami this past weekend.
Maisy Biden and Sasha Obama headed south to Miami for a girls trip with some friends this past weekend. The girls reportedly stayed at the upscale Setai Hotel, and were photographed enjoying some beach time over the holiday weekend. A relaxing trip perfect as the Obama administration winds down.
But this is no photo-op friendship. The girls have been friends for years. There's a lot to bond over when you attend the same school, play on the same basketball team, and, you know, are both related to the most powerful men in the world.
Maisy is the daughter of Kathleen and Hunter Biden, son of Vice President Joe Biden. She was seven years old when Biden joined the Democratic Party ticket in 2008, and found a friend in his running mate Barack Obama's six-year-old daughter Sasha. The girls have attended the same school for years, and are now both sophomores at the exclusive Sidwell Friends School in Washington, D.C.
Maisy is known for her athletic prowess. She and Sasha both play basketball on the same team, which President Obama at one time coached. Obama has been known to gush about Maisy's abilities as a baller, even bragging to the U.S. women's and men's Olympic basketball teams about her in 2012. He predicted that she will play NCAA Division I basketball in college, and perhaps even go on to play in the WNBA.
In 2015, just weeks after his son Beau's passing, Biden took his grandkids to the Women's World Cup finals in Vancouver, and Sasha tagged along. The girls enjoy going to sporting events together, like when Maisy and her mother joined Sasha and Michelle to watch a Princeton University basketball game a year earlier.
The Bidens and Obamas have less than a week left in the White House. But just as we know that we won't see the last of Joebama on Jan. 20, Maisy and Sasha have years of friendship ahead of them.