O.J. Simpson's Lawyer Thinks His Client Will Lead A Quiet Life If Released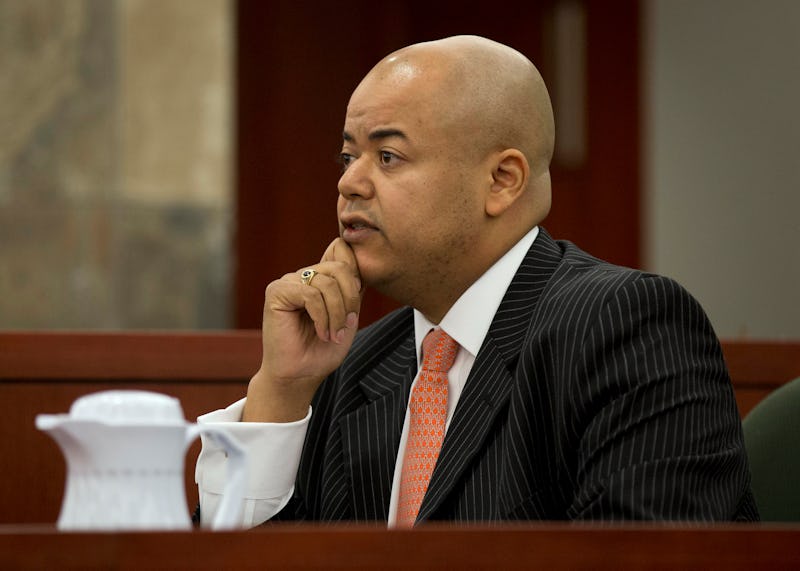 Pool/Getty Images News/Getty Images
After spending the past nine years in prison for an armed robbery incident involving sports memorabilia, O.J. Simpson could walk free by October if he is successful in a Nevada parole hearing on Thursday. One person who is certainly hoping for success is Malcolm LaVergne, Simpson's Las Vegas attorney who will be present with his client at the hearing.
"If he's able to get parole, my prediction is he's going to want to live a quiet life," LaVergne said in a recent interview, according to ESPN.
LaVergne, a personal injury attorney and graduate of Cornell Law School, opened his own law firm, Malcolm P. LaVergne & Associates, in 2005. He started representing Simpson after the former football star was convicted of kidnapping and armed robbery in a Las Vegas courtroom in 2008 in the hopes of having the court grant an appeal. The appeal was ultimately rejected.
LaVergne has also represented other high-profile clients in the past, like professional boxer Floyd Mayweather, Sr. in a defamation case involving Manny Pacquiao in 2010. Despite these prominent cases, LaVergne has remained largely under the radar himself regarding Simpson's upcoming parole hearing.
He has reportedly declined any additional comment until the proceedings take place.
In 2008, Simpson was sentenced to up to 33 years behind bars for allegedly trying to steal pieces of his sports memorabilia from dealers by holding the men at gunpoint with five other accomplices. Simpson claimed that he was simply "trying to retrieve for my family my own property that was stolen from me."
Given that Simpson, now 70, has just completed his minimum sentence of nine years for the crime, many experts project that there is a good chance that parole will be granted given the "good behavior" Simpson has displayed while in prison. He reportedly leads a Baptist prayer group, coaches sports teams, and mentors other inmates at the Lovelock Correctional Center.
"Typically, when the parole board is making [a] determination, they are looking at the inmate's history in the institution," Steven Yeager, the chief deputy public defender in Clark County, Nevada said. "They also look at the age of the inmate ... the older you get, the less likely you are to continue committing crimes."
Simpson is perhaps best known for the 1995 televised trial against him for the alleged murder of his ex-wife Nicole Brown and her friend Ron Goldman. The televised proceedings captured the attention of millions across the country. Ultimately, Simpson was found not guilty for the crime, though he was found liable in a 1997 civil suit filed by the families of the victims.