Selena Gomez Interacts With Maluma & Fans Go Wild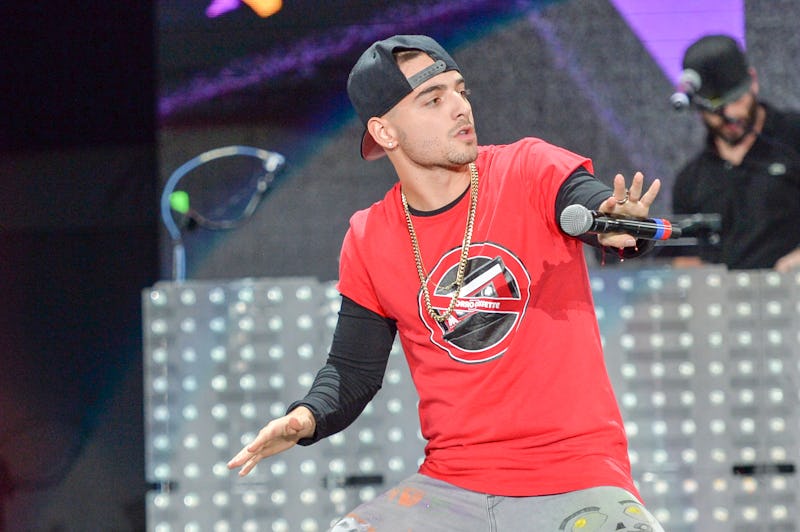 Rodrigo Varela/Getty Images Entertainment/Getty Images
As a Colombian girl, I am always proud of my people doing big in the American mainstream, especially when it comes to collaborating with huge artists stateside. A few months ago, Colombian treasure Shakira dropped her single "Chantaje," which featured a dreamy singer named Maluma. Without a doubt, his smooth voice and chiseled good looks got people all over the world wondering: Who is Maluma? For the past few years, the 22-year-old singer has climbed the ranks of Latin music and it seems like his future collaborations hint at an even bigger audience for him soon enough, so you should get to know him now.
How big, you ask? Well, rumors are spreading that after working on hit songs with Shakira and Ricky Martin, Maluma might be working with Selena Gomez. E! News reported that Gomez and Maluma followed each other on Instagram and that he liked a photo of hers which she captioned "Vente Pa' Ca," the name of the song he did with Martin, leading fans to speculate she might remix the song.
Since Gomez is one of the biggest pop stars on the planet with the largest social media following, this is a big deal for an artist like Maluma, who will no doubt become more well-known to American audiences. Here are some facts to know about him to start you off.
He Is Colombian
Maluma was born Juan Luis Londoño Arias in Medellin, Colombia. Some other important Colombian A-listers in the United States are Shakira, Juanes, Sofia Vergara, and John Leguizamo. They are all wonderful and I obviously have no bias...
His First Passion Was Soccer
In an interview with Dope Magazine in 2014, Maluma spoke about soccer and how he doesn't regret switching to his other passion: singing. He said,
"Soccer is one of my passions and even though I played really well in the teams I was part of, I've never really given thought to what would've been if instead of following my music dream, I pursued the soccer dream."
His Stage Name Is A Tribute To Family
In the same interview, Maluma revealed that his stage name was made up after a tattoo he got to honor his parents and sister, whose names are Marli, Luis, and Manuela. Aww!
He Has Experience On Reality Television
Maluma took his experience in the business to be a judge and mentor on La Voz Kids, Colombia's equivalent of The Voice. He and Shakira have even more in common!
His First Album Was A Huge Success
In 2012, Maluma released his debut album, Magia, which was certified gold in Colombia. Magia also earned him his first Latin Grammy nomination for Best New Artist.
Maluma definitely has all the goods to make it even bigger in the U.S.!