What You Should Know About Louise Gorsuch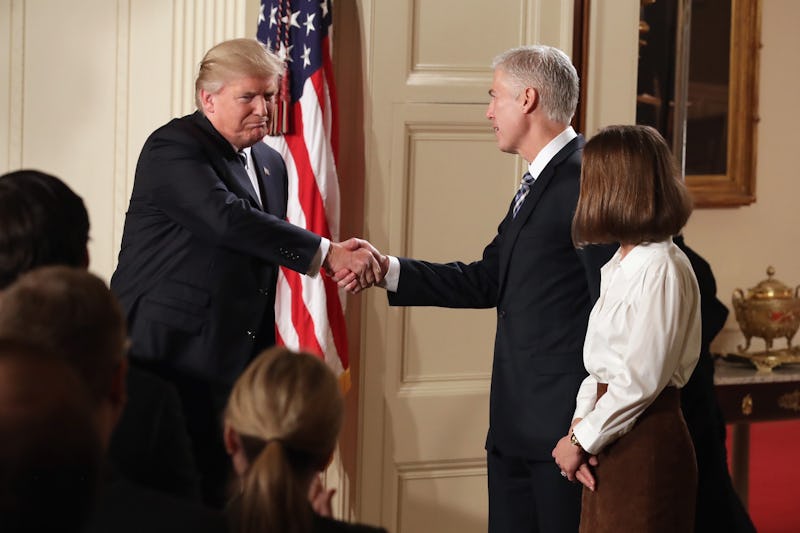 Chip Somodevilla/Getty Images News/Getty Images
After almost a year of an empty Supreme Court seat following Justice Antonin Scalia's death in 2016, President Donald Trump has announced his replacement nominee. Trump gathered the two top contenders at the White House Tuesday evening, which heightened the suspense of the event. Since Trump's electoral win, there's been a ton of speculation over who he would pick to fill the vacant SCOTUS seat, but in the end the president decided on Neil Gorsuch. Now the Gorsuchs are in the public eye, you may be wondering: Who is Marie Louise, Gorsuch's wife?
Marie Louise and Neil are relatively low-profile at present, but that looks set to change now that Neil is a contender for the Supreme Court. Marie Louise, who goes by Louise, is British and met her husband when the two were studying at Oxford University, according to Heavy.com. The Gorsuchs have two daughters, and according to SCOTUSblog, the family is outdoorsy. Writer Andrew Hamm quotes a colleague of Gorsuch's, who says he is "available, open and sociable 'because he's from Colorado.'" Hamm continues:
And Gorsuch does love the state. He's an avid fly fisher who enjoys being outdoors. With his wife, Louise, Gorsuch raises horses, chickens and goats, and often arranges ski trips with old friends and new associates from his former law firm.
The two share a home near Boulder, Colorado with their teenage daughters.
In the dedication to his 2009 book, The Future of Assisted Suicide and Euthanasia, Neil wrote of his wife: "I thank my wife, Louise, and my daughters, Emma and Belinda, without whose constant love and attention this book would've been finished in half the time – but without whom life wouldn't been half as fully lived."
Although the justices themselves are extremely important to our legal system, they still lead active lives outside of their responsibilities at the high court. Their spouses are also an important part of their lives, and they have their own ambitions and livelihoods themselves in some cases. Justice John Roberts' wife, Jane Sullivan Roberts, is a partner at Major, Lindsey, and Africa, a legal talent management firm. Ruth Bader Ginsberg's late husband Martin was also a lawyer, specializing in tax law, and was also said to have cooked for Ruth's law clerks once per term. Clarence Thomas' wife, Virginia is an attorney and founded the non-profit Liberty Central in 2009, which according to The New York Times is "dedicated to opposing what she characterizes as the leftist 'tyranny' of President Obama and Democrats in Congress."
The nomination of the vacant seat at the Supreme Court has been a source of tension in Washington. After Justice Scalia's death, Republican senators blocked Obama's nominee, claiming that in an election year the seat's nomination should go to the next President. This left the high court down a justice for almost an entire year, during part of which they heard cases. Democrats, on the other hand, generally have voiced that it was wrong for Republicans to block Obama's nominee, and several have spoken up saying that they will refuse to support Trump's pick.
The Republican-controlled Senate needs at least 60 votes in order to confirm a justice, and therefore would need eight Democrats to support Gorsuch. Ten Democrats are up for reelection in red states in 2018, so it's likely that they will be pressured to vote for the confirmation in the name of keeping their Senate seats. However, if they are unable to get enough Democrats to join their side, Republicans could also eliminate the rule of the 60 majority, something that Trump said he supports. Overall, Republicans probably will leave that as a last resort because it's possible that eliminating a majority vote rule could come back to hurt them at some point in the future.
Certainly, Trump's announcement is only the beginning of filling the Supreme Court seat and what might be a vicious battle between the two political parties.