Lobbyist Matt Mika Is One Of The Alexandria Shooting Victims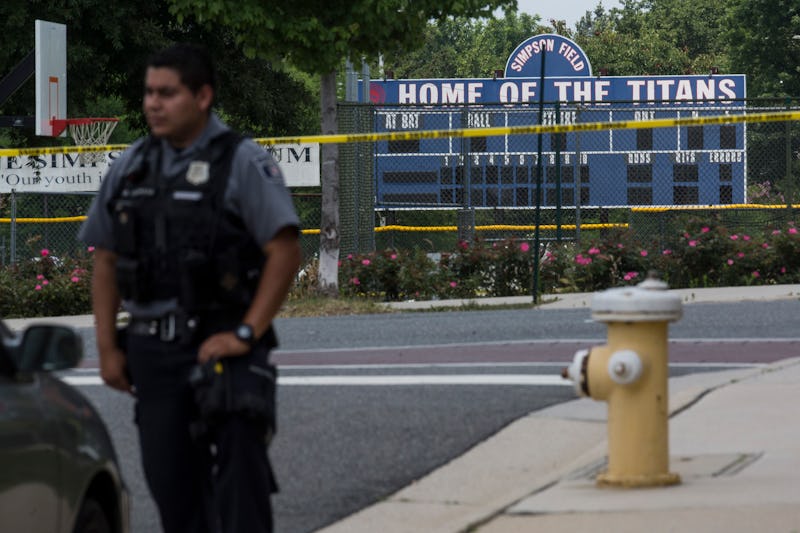 Zach Gibson/Getty Images News/Getty Images
A Wednesday morning shooting at a congressional baseball practice in Alexandria, Virginia, left five people wounded, including lobbyist Matt Mika. The onetime congressional staffer, who is currently the director of government relations for Tyson Foods, is currently in critical condition after being shot multiple times, according to his family.
Mika was injured alongside House Majority Whip Steve Scalise, congressional staffer Zachary Barth, and several members on Scalise's security team. It took roughly an hour for Mika's friends and family in Michigan to learn that he had been present at the field during the shooting — and that he had been shot.
Tyson Foods confirmed to CBS News that Mika was in surgery after being transported to the hospital. Mika started working at Tyson in 2011 after working as a lobbyist for the American Meat Institute, but he was a congressional staffer until 2009. During his time as a staffer, he served as a legislative aide for Rep. Tim Walberg (R-Mich.) and as a legislative assistant to now-retired Rep. Dave Camp (R-Mich.).
Shortly after the shooting, Walberg tweeted that Mika was a "close friend," and explained that Mika had been at the Republicans' baseball practice because he was a former baseball player and wanted to help the team get ready for Thursday's bipartisan charity game with the Democrats.
Rep. Kevin Brady, a Republican congressman from Texas who visited Mika at George Washington University Hospital, lauded his athleticism and team spirit. "Matt Mika, one of the guys who helps us, is here at the hospital," Brady told The Washington Post. "He's been a big part of the team for a number of years and just a great athlete, helps us frankly at second base and at shortstop. He's a great guy."
Mika's family issued a statement indicating that they were traveling to Washington, D.C. to be with him, and asked the media to respect their privacy. "Baseball is one of his great passions," Mika's family said in the statement, "and he has always loved the Congressional team."
His family also mentioned in their statement that Mika had once served on the staff of Michigan state Rep. David Palsrok. Indeed, after obtaining a bachelor's from Adrian College and a master's from Western Michigan University, Mika worked on Palsrok's 2004 campaign. Palrsok described Mika as a "lifelong friend," and that he was anxiously waiting to obtain updates on Mika's condition.
"He's somebody who's touched a lot of lives in Lansing and in his travels to D.C.," Palsrok said. "There are a lot of people who care for him. ... We're praying for him and we love him. We're just hoping that he recovers and that he's OK."