Matt Ryan's Wife Works In The Sports World, Too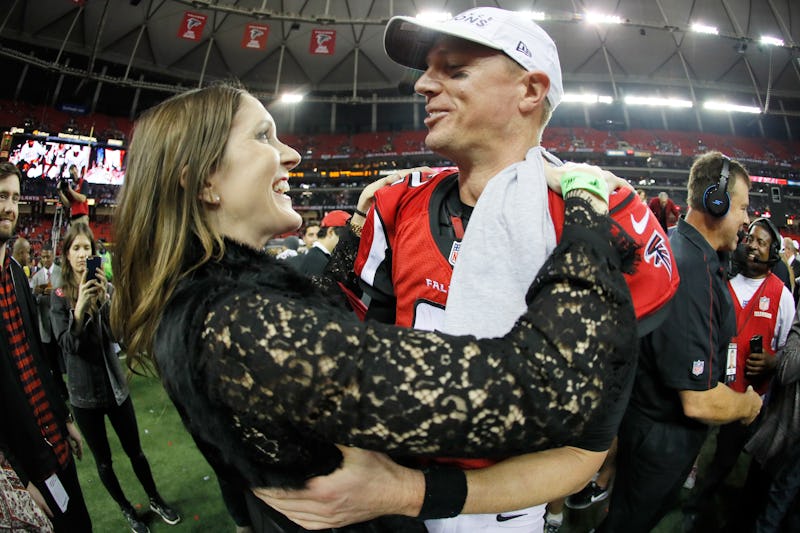 Kevin C. Cox/Getty Images Sport/Getty Images
Thanks to Kristen Bell's hilarious comedic performance, it's practically impossible to forget Sarah Marshall — the TV star ex-girlfriend who Jason Segel just couldn't quite get over. But in real life, down in Atlanta, Georgia, a different Sarah Marshall is more than the wife of Falcon's quarterback Matt Ryan. Ahead of the 2017 Super Bowl, it's time we learn some more about her.
Heavy.com reports that Marshall is a super busy career woman, who is involved in sports herself. In fact, the site says she was dubbed Maine's Female Athlete of the Year when she was just a junior in high school. Marshall's talents as a point guard led her to become a starting player on Boston College's basketball team for three years, according to the Portland Press Herald.
It was also at Boston College that Marshall met Ryan. She told the Gwinnett Daily Post she would frequently run into Ryan in the weight room and their love bloomed by sophomore year. "It started out as a friendship," Marshall said to the Daily Post in 2013. "We'd see each other in the hallways and we had the same group of friends and one thing led to another."
Marshall shared that her first date with Ryan was actually a group outing to the movies with three of her teammates. "But he was a good sport about it," she said. "Right then I knew I had a good one."
When Ryan visited his alma mater to retire his jersey on Nov. 19, 2016, he told the crowd of students that meeting Marshall at Boston College was "probably the most important thing that happened during my five years here," according to the college's website.
Back in 2013, Marshall told the Press Herald that the 2008 NFL Draft caused her to fly away from the land of the Patriots to the Falcons. Interestingly enough, the two teams will duke it out on Sunday, Feb. 5 at the Super Bowl. "I was 100 percent a Patriots fan," Marshall said to the Press Herald. "People ask me if I still root form them. But, you know, as soon as Matt was drafted, I switched my allegiance to the Falcons. That was a no-brainer."
Although Marshall's man is all football, she's a baller at heart. After marrying in 2011, Marshall went on to serve as the sponsorship sales consultant for the WNBA's Atlanta Dream. "It's a thrill to return to basketball, even in a non-playing capacity." Marshall said in an official WNBA press release. "I'm passionate about sports and bringing attention to the women who play them. I hope my perspective as a former player can open people's eyes to how great this team and the WNBA are."
As the Falcons attempt to soar over the Patriots, you just might spot Marshall in the crowd.