Camila Cabello's Rumored BF Has A Career That's Actually All About Dating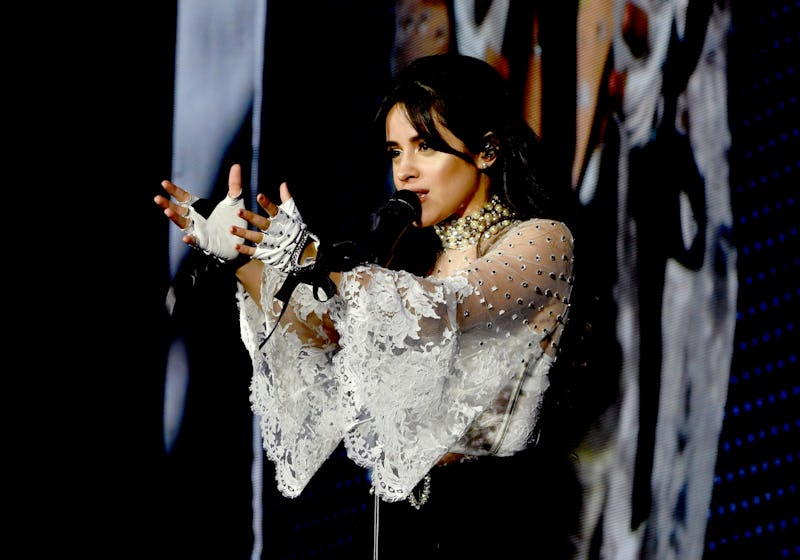 Kevin Winter/Getty Images Entertainment/Getty Images
Camila Cabello hasn't confirmed she's dating anyone, but that doesn't mean fans aren't speculating about her love life. Rumor has it that Cabello is seeing someone new: Matthew Hussey. Speculation that Cabello and Hussey might be dating started in February, when the two were seen kissing on a beach in Mexico, according to Us Weekly. But who is Matthew Hussey, anyway? The British dating coach has a lot to say about relationships, even if he and Cabello haven't confirmed theirs.
In case you're curious about his backstory, Hussey is a well-known dating coach and the author of a relationship column for Cosmopolitan. Some of his articles include stories like "5 Flirting Mistakes to Watch Out For" and "4 Signs That He's Really Invested In You."
And in addition to writing for Cosmopolitan, Hussey is the author of a dating book and the host of a dating web series. He also hosts retreats and has online programs. According to his website, his most recent retreat in Florida included topics such as "understanding people's motives" and "knowing how to build your self-worth." If that wasn't enough, Hussey also has more than 1 million followers on his YouTube channel, where he shares videos filled with dating tips. And he has an iHeartRadio show about relationships, too.
If Hussey and Cabello really are together, it sounds like has plenty of insight about how to make a relationship work. And while they haven't confirmed anything yet, in the photos E! News published in February, the pair do look quite cozy. As E! also pointed out, Cabello mentioned in a Beats 1 radio interview with Zane Lowe, not long before the beach sighting, that there was "maybe" someone new in her romantic life. She had written a song lyric that said, "I can't say your name without smiling." For now, though, it sounds like she's keeping the specifics of who exactly she meant to herself.
And as a separate E! News report from February noted, Cabello seemed to take an interest in Hussey's work before the photos were released. During a different interview with Z100, Cabello asked interviewer Elvis Duran if Hussey was in the studio, as he's recorded interviews with Duran in the past. "I love him. He's great. He gives good advice," Cabello said to Duran, referring to Hussey. He wasn't there that day, but it may have been a clue that Cabello's admiration for the dating coach could have been more than platonic.
While Cabello and Hussey haven't spoken out about the dating rumors, an unnamed source did share some details with E! News. "Camila recently started dating Matthew," the source claimed. "It wasn't something she expected, but she knew of him and really enjoys his work."
The source also told E! that Cabello "was a fan" of Hussey's before they started dating, which lines up with the Z100 comments. It also might make fans wonder if he, too, was a fan of Fifth Harmony and Cabello's solo album before the two met. After all, how cute would a mutual fandom be?
Cabello is performing at the Billboard Music Awards on Sunday night, and it's possible that she'll bring Hussey as her date. If they do show up together, it would definitely clarify some of the rumors. Cabello is also nominated for multiple awards at the show, including one for Top Female Artist, and having a familiar face cheer her on in the crowd would be so sweet.
If these two don't attend the awards show together, though, don't expect Cabello to comment on the dating rumors anytime soon. In an interview on the Dan Wootton Interview podcast in March, Cabello described herself as a "private person," saying she wanted to "keep some things sacred." Of course, it's up to her whether she decides to reveal any details about her love life, but that won't stop fans from eagerly awaiting any clues along the way.