The Woman Who Won The $700 Million Powerball Jackpot Bought Her Ticket Yesterday On A Whim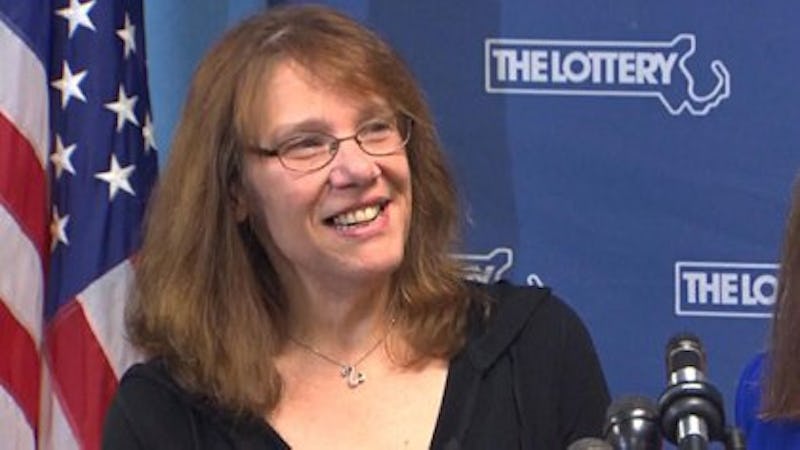 WBZ-TV
A medical center worker from Braintree, Massachusetts, Mavis Wanczyk, has been identified as the Powerball winner. She is the sole winner of this jackpot, $758.7 million, the largest sum ever won by a single lottery winner. (A larger, $1.6 billion prize had previously been split among three ticket-holders.)
Wanczyk is a 53-year-old mother of two who bought her winning ticket at the Pride gas station in Chicopee, Massachusetts. She discovered she had the winning numbers Wednesday night, and quit her job at the Mercy Medical Center on Thursday morning.
"My numbers were kind of basically random, like maybe with our birthdays, one from here, one from there," Wanczyk said in a press conference on Thursday afternoon. "I just happened to choose, and it worked to my advantage."
Wanczyk chose to take her winnings not through annuity — receiving a certain amount every year for 29 years adding up to the total of $758.7 million, but as a one-time lump sum. This actually lowers her prize — she receives $480,500,936 all at once, for which she will have to pay about $144 million in taxes ($120 million federally and the remaining in state and local taxes), leaving her with expected final winnings of $336,350,655.
The winning set of numbers was 6-7-16-23-26. The odds of picking all six of them correctly was close to one in 292.2 million.
In addition to Wanczyk's $758.7 million prize, Pride gas won an additional $50,000 for selling the winning ticket. The owner of the store, Bob Bolduc, has announced that they intend to donate the prize to a local charity.
Initially, the Massachusetts lottery mistakenly announced that a convenience store in Watertown, Massachusetts, Handy Variety, had sold the winning ticket while Pride had sold just a $1 million winner, but corrected itself Thursday morning, blaming the mix-up on human error.
Wanczyk says she intends to do nothing for the time being after winning the prize, especially since she has already left her job. "The first thing I want to do is just sit back and relax," she said at her press conference.
"I had a pipe dream, and my pipe dream finally came true," Wanczyk said. She had previously planned to leave her job at the medical center early, after 32 years working there, and was able to retire due to the unexpected windfall from the Powerball.
A total of 9,397,723 people also won the Powerball, for amounts less than the big jackpot, totaling $134,981,575 around the country.