This Mayor's Story Of Her Son's Death By Overdose Is Heartbreaking, But So Brave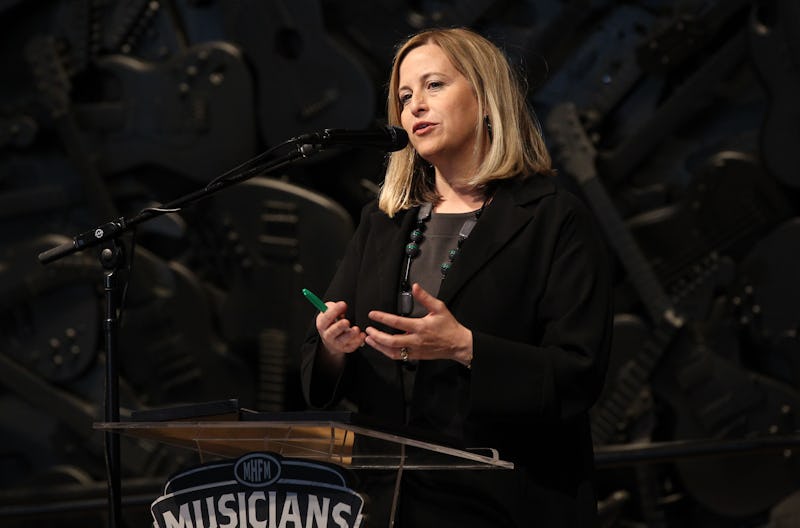 Terry Wyatt/Getty Images Entertainment/Getty Images
Mourning the loss of a child is never easy, and when you're in the public eye, the constant reminder could be unbearable for some. With drug overdoses rising around the country, it's more important now than ever that people are aware of the problem and work together to help those who may be most at risk. In July, Nashville Mayor Megan Barry's son died of an overdose, and she is using her platform to spreading awareness and starting conversations among parents and kids.
Barry's 22-year-old son Max died of an overdose in Denver on July 29. He had graduated in May from the University of Puget Sound in Washington. In Denver, where he died, paramedics administered the anti-overdose medicine Narcan, but it was not able to save his life. According to USA Today, Barry said her son attended a rehab program last summer in Florida for a month before returning to college in Washington.
According to NPR, Barry took nine days off of her job as mayor before returning to work, determined to help others. On her first day back on Monday, she handed out supplies and backpacks to elementary kids returning to school.
At a press conference, Barry spoke of her son's death and encouraged parents to have what may be a tough conversation with their teenagers with the goal of possibly preventing other overdoses. She said:
I don't want his death to define his life, but we have to have a frank conversation about how he died. The reality is that Max overdosed on drugs. My hope is that it may inspire and encourage other parents out there ... and that if that saves one life, what a blessing.
Max was in the process of moving to Denver when the overdose occurred, Barry told reporters during the press conference. Although the official toxicology report has yet to be released, the family is aware that Max had taken drugs before he died.
The county in Colorado where Barry's son died saw a 100 percent increase in drug overdose deaths from 2002 to 2014, according to the Colorado Health Institute. And in Davidson County, TN, there were 245 overdoses in 2016, according to USA Today. According to the Centers for Disease Control and Prevention, more than half a million Americans died of drug overdose between 2000 and 2015.
Barry described how life has changed in the last week for her and her family, telling CNN:
The new normal for me is I get to get up every day now, and I don't get to ever talk to my son again. Max, as most kids his age, was a regular texter. The normal is Max is not going to text me back. The work of our city goes on. Every day I'll get up and do what needs to be done.
For now, Barry will continue to work with the community to fight against the opioid epidemic that's affected many lives.