Meghan Markle's Dad Got His Start In Hollywood, Too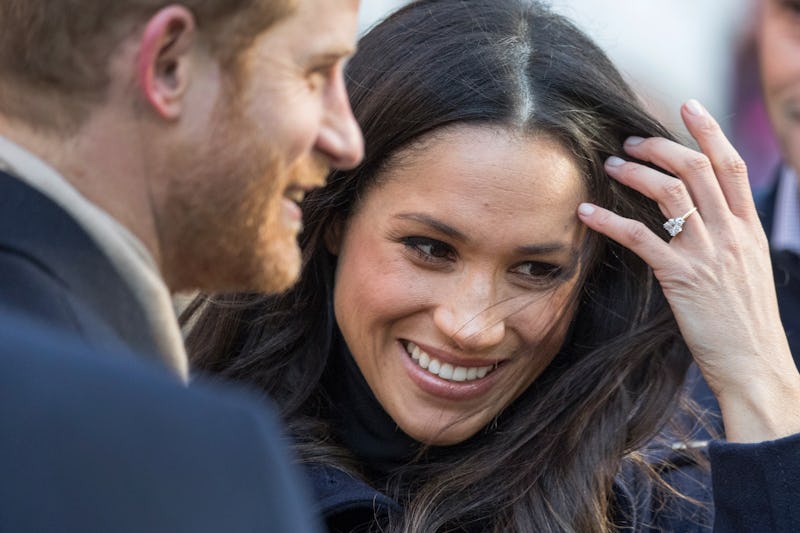 Christopher Furlong/Getty Images Entertainment/Getty Images
Since the American Revolution (probably), Americans have been obsessed with the comings and goings of the British royal family. The drama! The intrigue! The outfits! Luckily for Anglophiles like myself, an actual American is becoming royal. Actor and philanthropist Meghan Markle is engaged to be married to Prince Harry, fulfilling the wishes of many a person on this planet. But while people may know a lot about the Royal Family, Markle has a family, too. Who is Meghan Markle's father, Thomas Markle?
Meghan's mother, Doria Radlan, is seen out and about with the soon-to-be royal, but her dad is by choice a little more private (Radlan and Thomas Markle divorced in 1988, when Meghan was six years old, according to Time). It seems he doesn't fancy all the attention, because, as reported by The Daily Beast, Thomas lives a simple life in a "slightly run-down seaside town in Mexico." The 73-year-old lives in Rosarito, located in Baja California, enjoying views of the Pacific Ocean and Coronado Islands. He also has a place in Los Angeles. In his early years, Markle was an Emmy-winning lightning director for shows like General Hospital and Married… With Children before heading south of the border.
When the news first broke of his daughter's engagement, he and Radlan released a joint statement: "We are incredibly happy for Meghan and Harry," they said. "Our daughter has always been a kind and loving person. To see her union with Harry, who shares the same qualities, is a source of great joy and passion for us parents. We wish them a lifetime of happiness and are very excited for their future together."
Later, Britain's Daily Mirror tracked down Thomas in Mexico, where he reportedly said that he was "delighted" that his daughter was getting married and that he would "love" to walk her down the aisle on her big day. He couldn't say much else, which is understandable given the public profile of the couple, but it's nice that he's excited about his daughter getting married.
Unfortunately, it hasn't all been rosy for Meghan and her family as she dated Prince Harry. See, Thomas Markle is white and Radlan is black, and Meghan's biracial ethnicity was the source of many inappropriate, racist comments. Things got so bad that the Royal Press Office issued a statement on behalf of Prince Harry asking for people to treat his then-girlfriend with respect (imagine that). It read in part:
The past week has seen a line crossed. His girlfriend, Meghan Markle, has been subject to a wave of abuse and harassment. Some of this has been very public — the smear on the front page of a national newspaper; the racial undertones of comment pieces; and the outright sexism and racism of social media trolls and web article comments ... He has asked for this statement to be issued in the hopes that those in the press who have been driving this story can pause and reflect before any further damage is done.
In a 2015 column in ELLE, Meghan wrote of how she came to terms with her heritage saying:
"Just as black and white, when mixed, make grey, in many ways that's what it did to my self-identity: it created a murky area of who I was, a haze around how people connected with me. I was grey. And who wants to be this indifferent color, devoid of depth and stuck in the middle? I certainly didn't. So you make a choice: continue living your life feeling muddled in this abyss of self-misunderstanding, or you find your identity independent of it. You push for color-blind casting, you draw your own box."
Meghan is a strong, confident woman, but her happy occasion must be dampened slightly by the fact that people choose to negatively comment on the fact that her parents have two different skin colors and decided to have a baby. Meghan, Harry, and their respective families are overjoyed at their union, and that should be all that matters.